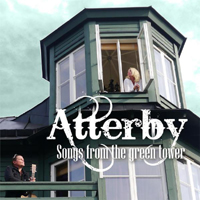 Atterby
'Songs From The Green Tower'
(Green Tower Recordings, 2014)
www.atterbymusic.com


As the beautiful picture on the album cover already shows us: the biography of the Swedish country band Atterby is basically a love story! A husband who wants his wife to be the lead singer in their new group - how romantic can you get?
Adam Atterby already works as a full-time professional in the music world for over fifteen years now. He crossed paths with many well-known Swedish entertainers, actors and the country's finest musicians. With his cover band Bigfoot he played shows all over Sweden, also in Finland, Norway, Denmark, England and even the United States. In 2004 he formed the roots reggae band Urban Tribe Stockholm and subsequently they released four studio albums to great critical acclaim. On 'Who Is The Enemy?' (2006) Adam got to sing a duet with one of his childhood idols: David Hinds of the legendary British reggae band Steel Pulse. They made contact when Urban Tribe Stockholm opened for Steel Pulse during their Scandinavian tour of 2005. Urban Tribe Stockholm toured Germany several times and they became the first ever 'white' reggae band to tour Jamaica in 2008.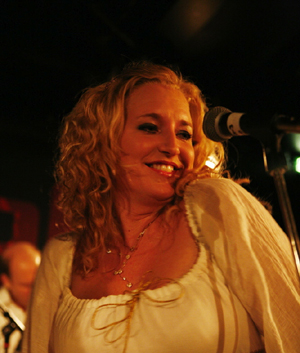 Charlotte Atterby has been singing all her life, but it wasn't until she and Adam became a couple twelve years ago, that she started to sing professionally.
Heading up the backing vocal section, she has been an integral part of Bigfoot and Urban Tribe Stockholm. It's very rare to find Adam on a stage without Charlotte by his side. They are married for ten years now and have a son named Rasmus.

As a loving husband Adam thought it was just a bit of a waste of Charlotte's talent, that she was only a harmony singer. The idea for the band Atterby took shape with two goals in mind: putting the spotlight on Charlotte and exploring new musical ground with a different type of roots music, drawing on influences like Emmylou Harris, Bonnie Raitt, Sheryl Crowe, Daniel Lanois, Steve Earle and many others. He recalls how he more or less forced Charlotte to take the plunge and start singing lead: "The step from backing vocals to lead vocals is a bigger leap than most people would imagine and some mild persuasion had to take place (plus, at times, a whisky or two...) to get her to let go in the studio and find the unique timbre of her own voice. Still remember when it happened, it was when we recorded "Falling At Your Feet" - all of a sudden it just clicked. Extraordinary! An other extraordinary thing is, that I finally had to learn how to sing harmony (remember, I'd always been singing lead, which is a different kettle of fish altogether). And I just love it! In the end I ended up singing lead on a few tracks that Charlotte thought would fit my voice better though". If Adam hadn't been so busy with the latest Urban Tribe Stockholm album 'Better Days' (2012), the idea would have come into fruition much earlier, as some of the songs for Atterby were written as early as the year 2009. Charlotte has also co-written one song on the album: "Let's Leave It All Behind Us".

Bassplayer Lars Frick was adopted into the musical fold to complete the core line-up of the band. Lars became the bassplayer for all of UTS's live shows as well as the bassplayer of choice in Adam and Charlotte's cover band Bigfoot.

In 2013 the making of the debut album began. All songs were recorded in the attic of Adam and Charlotte's home in Värmdö, outside of Stockholm.

On 'Songs From The Green Tower' Charlotte Atterby sings lead vocals. Adam Atterby sings harmony and lead vocals, plays guitar and percussion, he wrote the songs and produced the album.

Bassplayer Lars Frick sings backing vocals. He has been playing with Adam and Charlotte in their other bands Bigfoot and Urban Tribe Stockholm since 2008. Music is for him a hobby, he plays a mid-70s Fender Jazz bass in a variety of music genres and he has been playing in different groups over the years, from soul, reggae, punk, rock and pop to disco and country.

Let's take the disc from its pretty looking packaging with lyrics booklet and many beautiful pictures!

1. "Free": Perfect catchy opener. Charlotte has a lovely voice, she certainly deserves her place in the spotlight, singing lead vocals. I hear a fine pedal steel crying (played by guest musician Rikard Brandén) in this country song.

2. "Whisky And Rye": A more rocking, bluesy sound, sung as a duet by Adam and Charlotte. Very good electric (slide) guitar parts! The slide guitar for this album was played by Micke Hujanen.
3.
"We're Going Down"
: Lovely ballad, showing off Charlotte's sweet voice again. Only the truly great voices have a timbre like that and she has a quite wide range too. Such a good combination with the powerful choruses.

4. "Shake A Little": Another guest here, Frank Rönningen on the piano. I like the unusual twist in the melody. This is the only cover on the CD, written by Michael Ruff.

5. "Time (Will Bring You To Your Knees)": This track makes me think of those great folk rock songs from the early seventies. The violin is played by Sara Edin up until the very last note! I like the smart way most of the songs end.

6. "Waiting For The Tide To Turn": Charlotte and Adam sing the whole song in harmony and it's very clear they have been singing for many years together. They make me think of The Woodys, but The Atterbys are not so overly sweet. I always need a pithy touch!

7. "Let's Leave It All Behind Us": This is the song the couple wrote together. Very hopeful, upbeat and optimistic sounding. Just as all the tracks very professionally recorded and mixed.

8. "Take The Edge Off": Adam himself as the lead vocalist, in a classic country drinking song, with a bit of a Waylon Jennings sound.

9. "Falling At Your Feet": The violin is back for this soaring love song. Both Charlotte and Adam are obviously used to singing in English for the longest time already, as I don't hear any accent.

10. "My Love": Another love song. "You always seem to be the one to rescue me / When I'm dancing on the edge of that great black hole I have inside of me." That's exactly what it is all about in a good relationship!

11. "Nothing That I Can Do": Adam, with acoustic guitar, sounds like Kris Kristofferson here. Then an amazing accordion, played by Frank Rönningen, joins in and Frank also sings back-up. Very convincing end of the CD.
I like this album very much! It's positive and loving, the breath of fresh air we all could use in these troubled times. I don't see (or hear) any down sides. One piece of advice: keep working to make your lyrics better all the time! As the native speakers always have an advantage on us (I include myself): study the works of songwriters you like and ask advice from friends in English speaking countries, it can only make your next album even better!

It was a very smart move, made by Adam Atterby when he nudged his lovely wife Charlotte into the spotlights and recorded this country flavored album. As he puts it convincingly and nice: "Life is a journey with many twists and turns".
-----
Written by Johanna J. Bodde - November 15th, 2014.
=====