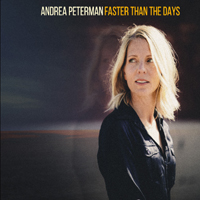 Andrea Peterman
'Faster Than The Days'
Self-Released, 2015)

Most artists have the very nice habit of introducing their friends to me and I love that! It was Terry Lewsader (see an item elsewhere on this page), who collaborated with Andrea Peterman on one of his projects and did the introduction in this case. Andrea released her own beautiful first album 'Miles To Go' in early 2008.

Born in Minneapolis, Andrea spent her early childhood in Minnesota, Michigan, and rural Wisconsin, and her teen years in the mountain town of Missoula, Montana. She headed back to the Midwest to attend Northwestern University, where she studied classical voice, acting, and dance, and earned degrees in music and history.

Before writing and performing her own material, she spent a number of years in theater, eventually making her way to New York City, where she used her vocal skills in musical theater and acted in theater and film. She started performing with live bands after a move to Los Angeles, singing jazz, blues, and pop standards.

Her first song was written for a character in a screenplay. The response was so positive that she wrote more and soon she was playing her altcountry originals in clubs and bars around Los Angeles with her band, The Alternators. Andrea currently lives in Seattle with her husband and two kids.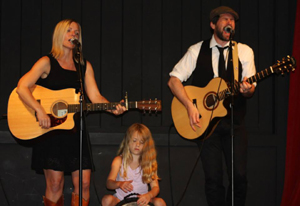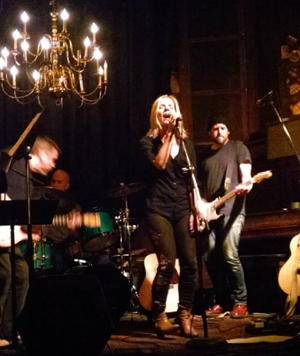 Here is Andrea's second album 'Faster Than The Days'. She is lucky to have a sister, Erika Peterman, who is a gifted photographer. Which is a guarantee, that the artwork of the CD looks the best way possible: Andrea's portraits, studio pictures and I also like the image of buildings on the back. Erika took part in the writing of the song "Sister's Crying", together with Katie Peterman McDougall, a third sister I assume. Three songs are co-written with lead guitarist Justin S. Davis, the other six are Andrea's very own efforts. The core band on the album features, besides Justin, drummer Travis Yost, bassist Keith Lowe and Robert Lee Mitchell on various keyboards.

I always like it, when an album starts off with a song about farewells! In this case: "100 Ways To Say Goodbye". The guitar sounds come in from the left and then I hear Andrea's wonderful strong voice again... It's been a while, but I remember immediately why I love her music so much! There's something in the combination of her crystal clear voice up front and the stellar band behind her. The lyrics have not been posted on the website yet, but they're good too, trust me. Guest musician Trevor Krieger plays fiddle on the sisters song: "Sister's Crying" builds up in a powerful way to the choruses and for a moment this track gives me the same feeling as Eliza Gilkyson's "Rosie Strike Back" as sung by Rosanne Cash, although this is more soulful than just rocking. "One Step" features great story telling and strong electric guitar solos, the second guitar is played by Gary Westlake. More of this all in "Highway", which is somewhat slower and gets an enchanting, rolling arrangement.

The Hammond organ, played by Joe Doria, gives "I Used To Live Here" a convincing soul touch. I like song titles that speak to the imagination... Everybody sees a different picture here and yet all pictures mean just as much.

"Lord Have Mercy" is a very special song, with influences from blues, old time and gospel. Great harmony vocals by the little soul choir and Kelly Van Camp plays the harmonica. "Charlie" is an intimate, sad and sweet song - kind of like "Jody And The Kid" by Kris Kristofferson, Andrea is only accompanied by an acoustic guitar. Sometimes music can really get under your skin and bring tears to your eyes... I like variety, but I wouldn't have placed "What A Fool" directly behind this track, it is not bad but just an uptempo, cheerful trifle. We're back on track with melodious "Bitter/Sweet". Last song is "Where Are You Now", with a fine piano part and acoustic bass, I hear a bit of Mary Chapin Carpenter here. Altcountry at its very best!

Andrea wrote me a note about the CD: "It was a lot of fun to make and I'm really proud of it..." The dedication and the sheer fun of playing music shows in every note of this excellent album. Andrea and her band have every right to be proud and I urge you, music lover, to check out this very talented singer-songwriter!
-----
Written by Johanna J. Bodde - January 3rd, 2014.
=====