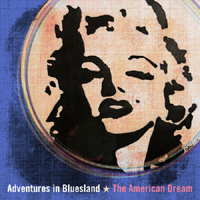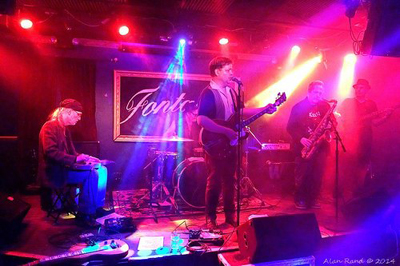 Last year we reviewed 'Adventures In Bluesland' by Phil Gammage on this page. Phil works his best magic leading a team, so after his highly praised collaboration with John Sinclair, we are not at all surprised that he comes back to us now with a band: Adventures In Bluesland - and the music even got better!
The Adventures In Bluesland BIO:

An explosive and dynamic force of musical nature, Adventures in Bluesland began their journey as an acoustic trio put together in late 2013 by Phil Gammage (vocals, guitar, harmonica, songwriting) to promote and support his most recent solo album. Over the next few months new players were added to the mix and Gammage began to realize that the group had a remarkable chemistry that was something special. The name the group was using 'Phil Gammage Trio' was dropped and they were soon renamed after the title of Phil's solo album 'Adventures In Bluesland'. Soon after that, the group began touring America's East Coast while garnering significant fan support and critical praise.

Adventures in Bluesland's debut album is 'The American Dream'. It features eleven songs: nine written by Phil Gammage plus the band's renditions of two early 20th century songs, Blind Lemon Jefferson's "One Kind Favor" aka "See That My Grave is Kept Clean" and Geeshie Wiley's "Last Kind Word Blues". Since coming together, the group has created a sound that is built upon taking traditional roots music and playing it in their own unique style. Their music swings, it rocks, it boogies, and it conjures ghosts of our country's past like no other music you've ever heard. It is about exploring what is at the heart of the American music experience.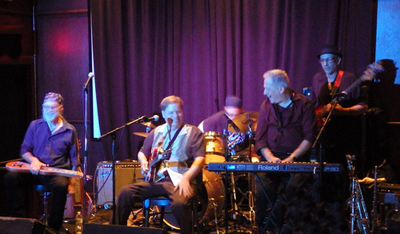 Driven by the vocals and songs of native Texan Phil Gammage, the New York City based band - whose current lineup includes Don Fiorino (lap steel guitar), Johnny Cement (bass), Robert Aaron (saxophone, keyboards), and Kevin Tooley (drums) - have been performing extensively in the past year as they made trips to the recording studio to complete the new album. Music audiences got a first taste of the band's recordings with their debut single "Ruler of My Heart" (2014).

While the band itself is relatively new, the collective works of this group of musicians is not. They have all played and recorded together in numerous combinations in the past as session and touring musicians. Their resumes are impressive and include working with a diverse range of artists including David Bowie, Julee Cruise, John Cale, Melissa Etheridge, and others. In live performance, Adventures in Bluesland are an ever-shifting combination of incredible musicianship and kinetic dynamics between the players. For their audience, the interplay between the musicians is a one-of-a-kind experience.

"The songs on 'The American Dream' explore several traditional American music forms and we never hesitated to expand those ideas and take it in our own different direction if we felt it worked. The result is something new and fresh that looks forward to the future while using the past as a foundation. By deconstructing the music and rebuilding it, we've reinvented a music and art form from yester year that is different, current, and totally our own," says Phil Gammage. "Our backgrounds are jazz, rock, blues, and swing," he continues. "We didn't approach the sessions with any preconceived ideas of what the music should or shouldn't be or how it should sound, we chose to trust our instincts and let that define itself as recording of the album progressed. Adventures in Bluesland is about musical freedom and that comes through in a strong way on these songs. This isn't singer songwriter ultra-structured etched-in-stone over-rehearsed music… it's about artists playing off each other, creating a fluid dynamic between themselves, and not being afraid to cut loose and take chances. When we play these songs in concert they have a life of their own and they are never the same from performance to performance. That's what makes them so great to play."

Phil adds: "I built the lyrics I wrote around the blues and its themes. A few songs are like novellas, three verses in three minutes and then you're out of there. For a songwriter that's always a great challenge - to be that concise and to the point with your words. There is some reference to history too. Not the history they teach us in school, but history that often falls through the cracks and doesn't get discussed." For Gammage, 'The American Dream' is a culmination of several years dedicated to the craft of songwriting and playing music. "Sometimes when jamming in an informal setting you get a sense of music's potential and possibilities and it was like I was hit with a thunderbolt the first time we were all in the same room playing together. I knew then and there that what was going on musically was very special. It is fortunate that we were able to record 'The American Dream' and share our music with the world."
Long-time Gammage colleague Kevin Tooley returns to produce and play drums on 'The American Dream'. Upon listening the high quality of his production work speaks for itself. The recordings have a vitality and energy that captures each song's true essence.

Phil Gammage has an extensive discography of solo albums and his two landmark albums 'Night Train' (1991) and 'Kneel To The Rising Sun' (1992) on France's legendary New Rose Records helped define and create the music genre that has come to be known in the subsequent years as Americana. His most recent solo album made numerous 'Best album of 2014' lists internationally and received radio airplay throughout Europe and the U.S.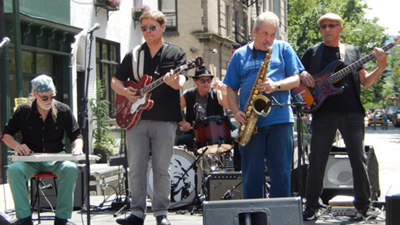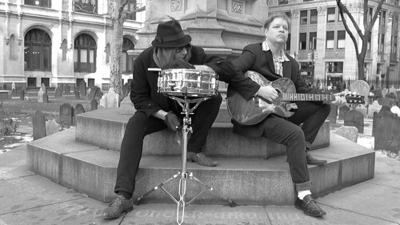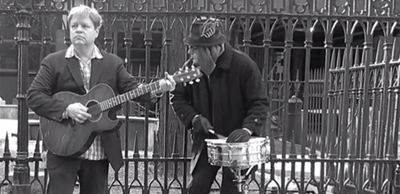 The TRACKS

(including comments from songwriter Phil Gammage)

:

1. "One Kind Favor": A brilliant opener, this rhythmic haunting version of the old song. The band is respectful to its origins, yet giving it their own interpretation. Phil's voice stands out, among the many somewhat similar sounding singer-songwriters in the roots music. His range is rather limited, but he compensates in depth, drama and with a remarkable vibrato. Or he plays the harmonica!

Phil: This is the Blind Lemon Jefferson song from the 1930s. Also known as "Please See That My Grave Is Kept Clean". Don Fiorino (lap steel guitar) introduced it to me a couple of years ago. The lyrics are a little frightening in that early 20th century blues kind of way that I love. No one writes lyrics like that anymore, they're about a world from the past that no longer exists. Our version takes the song to a different place. It brings out the drama in the song. Minor key blues. I think that's one of the most intriguing music forms ever and I would record an entire album of them if I could. This is one of my favorites from the last century.

2. "Creepy In The Woods": One of Phil's originals, a new song on the excellent traditional base, fitting perfectly after the previous track, with the same kind of intriguing lyrics.

Phil: Built around an old-school Chicago blues style three string guitar riff. It almost sounds like a horn riff and it swings hard. I wrote the lyrics from the viewpoint of someone who is deeply religious and is involved in such things as hearing spirits talk to him / her, drinking poison as a form of worship, speaking in tongues, and handling snakes at church (also as a form of worship). Not the kind of person I normally spend time with! But I'm intrigued by anyone who chooses that path both as a religion and as a lifestyle. This person is confessing. There is an element of deep regret, like horribly wrong choices were made in the past and now those opportunities are long lost.

3. "Float And Sting": Here's for a different, but just as striking sound. Keyboards and beautiful saxophone solos! This track sounds familiar, like a top 40 hit from the seventies, when the hit songs were still worth listening to and music lovers were purchasing vinyl singles.

Phil: Two ex-lovers run into each other and one doesn't want to acknowledge their past. So the other is hurt and tries to figure it all out. As if anyone ever can figure all that out. A minor key shuffle. Maybe the closest thing to a pop song on this album. The chorus lyrics are from a chant the great boxer Muhammed Ali and his side kick Bundini Brown used to say to each other all the time: 'Float like a butterfly, sting like a bee, rumble young man, rumble'. This was the young Ali of the 1960s before he got drafted.

4. "I'm Drifting": We stay in the same relaxed, hot summer in the city vibe. There's again a bit of that funky psychedelic pop rock present.

Phil: A smooth laid back groove that just drifts by, in no particular hurry. Robert Aaron's sax adds so much to this song and gives it a hint of the New Orleans feel. I wrote about someone who is down and out, who is obsessed with comparing himself to someone who is more successful and more together. '... It must feel good to be back on top. I wouldn't know that feeling, my good luck stopped'. Admiring the other person while at the same time putting themselves down.

5. "Booze, Blues & New Tattoos": Sturdy blues rock on a classic boogie riff. The band is on their way to Mobile and encounters trouble in the Deep South... Bad mojo! We believe Phil immediately, thanks to a slide lap steel guitar feeling right at home in that area. Favorite!

Phil: Based on the boogie riff that first became popular with Detroit's John Lee Hooker and has been used by blues and rock groups through the years such as The Rolling Stones, Canned Heat and ZZ Top. I love that riff. Everyone and anyone who likes to boogie loves it. Like all my songs it's fiction that is sometimes very loosely based on a personal experience. In this case it's a Greyhound bus ride I took as a teenager from Beaumont, Texas to Houston.

6. "Watching The Traffic Flow": We go back to the feel that "I'm Drifting" gave us already. Traffic on a busy city boulevard, chrome on blacktop. Lap steel guitar and a gorgeous harmonica solo. When Phil and his band get more in that pop rock mode, they sometimes vaguely remind me of songs by The Doors.

Phil: 'Noir Blues'. Moody and dramatic. It's dripping in vibe with a lot of 9th and 11th chords. When we recorded the basic track I asked Kevin (drums) and Johnny (bass) to 'not play much, if at all' and 'let's see what happens'. The result is this song with lots of space in it, but it feels far from empty. The drums, guitars, and bass are so minimal. It's Johnny Cement's bass that keeps this one rolling down the tracks. I approached the harp part in the same manner and kept it simple but soulful. I played harp through my '83 Fender Super Champ with a 10" speaker. All the harmonica on this album was played through that amp. It's real sweet for getting a great harp sound in the studio.

7. "Our Lucky Day": Bluesrock, with more of Phil's great harmonica and teasingly growling guitars over a tight beat.

Phil: I wanted to write a song that repeated the same chord progression over and over with no variation. I came close with this one... The only change in the chord progression is during the refrain at the end. This is the album's optimistic song. You've got to have at least one of those. Making your dreams of a better day become your reality. Having faith that it will happen.

8. "Feel The Music": This is a track with a fine, improvised jam band feeling, over a very simple blues riff. Yes, the saxophone is back and the organ too!

Phil: The lyrics are all about losing yourself in music. Really letting music take you to another place emotionally - a good place that is an escape from your everyday life. If you've never done that then maybe this song will motivate you to try. Some people already do, so perhaps I'm just preaching to the converted with this song. However I feel it's a strong message that never gets old. It starts out as a mean edged shuffle. The end of the song... well, the band 'let ourselves go' musically. It's a one chord jam. We recorded two takes of this song and chose the second. I had written the song a few weeks before our session and recorded a demo at home but this was the first time the band had ever played it. It was magic and was one of those nights that you can never prescript. You just let it go the way it will and if you're fortunate it will come out great like this did.

9. "Last Kind Word Blues": Just Phil's voice and the acoustic guitar, adding up to this impressive cover version!

Phil: While mixing the album producer Kevin Tooley suggested I consider recording an acoustic song to include on the album. This is the result. A few years ago I did a computer search for 'spooky old blues song' and a song I'd never heard before called "Last Kind Word Blues" written and recorded by Geeshie Wiley came up. Like so many others since then I've been entranced by its strange beauty and mystery. My interest in the song was piqued when I found out Ms. Wiley was from my hometown of Houston, Texas. There are many great 78 records from the 1920s and 1930s having that other worldly quality but this one is special. It has gotten much publicity in the past few years thanks to a great article in The New York Times Magazine about its history and the story of Wiley. I recorded this track at home. I had never played it before but got lucky when I tried a drop D tuning and came up with a great way of playing it that works for my style. Somewhat different from the original recording which is two guitars. The vocals are one take. The entire recording process from learning the song to recording my guitar and vocal tracks took me a half hour. Normally recording music never falls in place so quickly for me. I take that as a sign I was meant to sing and record "Last Kind Word Blues".

10. "Walk On The Beach": A playful carefree blues shuffle, again with the saxophone, while the guitars (electric and lap steel) go full out and then the organ joins in. "Bury my troubles in the sand" - yes, let's do that!

Phil: When there's snow on the ground I love to sing this one. It's about the beach and the state of mind one can have while there. Not giving a d*mn about much at all and unwinding and all that... There's something about being at the beach at night that's inspiring.

11. "Come To Me": We stay on the beach, with this fine sultry latin tinged song. I sense a bit of seduction. Perfect timing, Phil, to release this album before the Summer!

Phil: Call it 'mambo blues' or call it 'latin blues'. It's the blues tonality or a blues form played over a latin rhythm. "Come To Me" is an extension of that musical idea. Robert Aaron plays Fender Rhodes piano on it and it fits beautifully. Don's lap steel guitar adds some nice touches.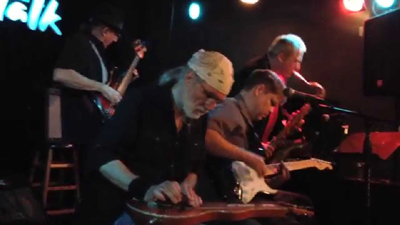 This is a very nice enjoyable collection of blues songs for the Summer! The originals are great finds, some even on their way to become classics and the traditionals fit seamlessly inbetween, as Phil makes them his own. I like all of this dedication, power and urgency. Phil and his bandmates obviously love their music with a deep passion and that shines through on all the tracks of this fine record!
Written by Phil Gammage & Johanna J. Bodde - May 3rd, 2015.
=====