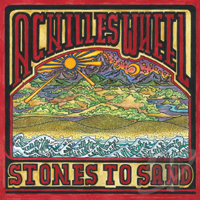 Achilles Wheel's BIO:

Achilles Wheel is a high energy, highly danceable rock'n'roll, roots and world music band from Northern California, featuring award winning songwriting, played on numerous stringed instruments and the rhythmic earthquake of two full drum sets. In the wake of their breakout performance at the 2012 Kate Wolf Music Festival, the band has been burning up stages all across California, including the Strawberry Music Festival, the legendary Sweetwater Music Hall and a repeat performance at the Kate Wolf Festival in 2013 that is still being talked about.

Achilles Wheel was formed roughly four years ago and we released our first CD, '13 Hours', shortly after that. '13 Hours' was recorded live at the historic Nevada Theater in Nevada City, California with the echoes of Mark Twain and Lola Montez bouncing around in the rafters. There we put together a raw and live feeling CD that reflected well the celebratory nature of our music and since then we've been lucky enough to have played at some of the biggest music festivals in California. Which brings us to today…

The new CD 'Stones To Sand' is just being released and fully embodies the exciting musical growth Achilles Wheel is experiencing. Two sold out shows for the release party at the Crazy Horse Saloon in Nevada City on a balmy Summer Solstice weekend didn't stop the large crowd of people, who couldn't get in, from dancing in the street, since the doors and windows to the club were all open. This enthusiasm for Achilles Wheel ultimately earned them a spot at the 2014 California Worldfest through a 'fan choice' vote. And the Strawberry Music Festival also gave the band a call asking them to join the party last September when that festival re-emerged in its temporary new home at the Grass Valley Fairgrounds.

The fiery epicenter of Achilles Wheel's sound is Jonny 'Mojo' Flores on lead guitar and vocals, surrounded by Paul Kamm and Shelby Snow on rhythm, bass and vocals, and Gary Campus and Mark McCartney on drums and vocals. The seemingly disparate backgrounds of the band's five members is what creates a unique fusion of styles and musical influences. Award winning singer/songwriter, guitarist Paul Kamm, comes from the well known modern folk duo Paul Kamm and Eleanore MacDonald, while lead guitarist and songwriter Jonny 'Mojo' Flores performed for years with the popular Sacramento Blues Review. Mark McCartney, on drums, has had a colorful career playing with many bands including Shanna Morrison, while Achilles Wheel's other drummer, Gary Campus, can point to working with internationally renowned Scottish Fiddler Alasdair Fraser as one of his many musical lives. Shelby Snow on bass guitar, he studied at the College of Marin Music Department, has worked with some of the finest California bands and has shared the stage with the likes of Carlos Santana, John Cippolina and Steve Kimock, playing with Grateful Dead drummer Bill Kreutzmann and the late John 'Marmaduke' Dawson of the New Riders of the Purple Sage. All of this pours out of an Achilles Wheel show like fresh water on a hot day.

As original songs go, Achilles Wheel's are some of the most accessible around and will stay with you long after the excitement of the show is over. These writers have been acknowledged by many of the biggest music festivals in the country including Kerrville, Telluride and Rocky Mountain Folk. Two of their songs, "Got A Tattoo" and "Let The Dream Begin" have been recognized in the 'Race to TRI' song contest, which many on the West Coast will recognize as a premier audio-video production studio run by Bob Weir.

So if you love to dance and celebrate life, come see an Achilles Wheel show and make a joyful noise. They'll be waiting. Peace.....

-----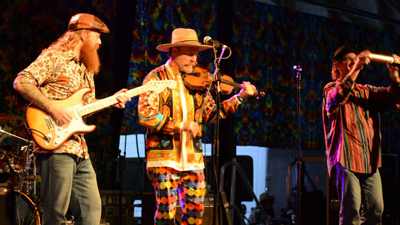 Achilles Wheel's

SHOWS

:

(b
y Tyler Blue - Crazy Horse Blog):

We've never needed a special occasion for people to get excited about seeing Achilles Wheel at the Crazy Horse. On June 20 and 21st, 2014 we had two occasions to up the ante on the celebration - Summer Solstice and the release of their new album, 'Stones To Sand'. It was also the first time they had played two consecutive nights here. The buzz had been building for quite awhile. This was a big deal for fans and band alike.

Following a six month hiatus, the Wheel and the Horse were ready to make magic again. They played here so frequently during 2013, we anointed them our house band. We were starting to miss them. Going through the recording process for the album clearly had a transformative impact. Of course they still hang their hats on improvisational prowess, but the overall presentation carried more precision than ever before.

Certain people have lazily considered Achilles Wheel a Grateful Dead cover band. No doubt they are able to represent that coveted songbook better than most, but that is only part of their identity. With 'Stones To Sand', they have shed their skin and emerged more confident with original material. Throughout the two nights, they played most of the songs on the album, fitting them into the repertoire with natural ease. Like most bands with such proclivity for jamming, it was in the live atmosphere that they really shone. Such is the inevitability when feeding off a crowd like the one at the Crazy Horse. Given the venue, it was especially apropos to hear "Nobody Drinks If The Bottle's Dry". With this album, rhythm guitarist / vocalist Paul Kamm further cements his reputation as a songwriting sage.

The place was full each night but always comfortable. The energy was different from Friday to Saturday in subtle yet notable ways. Friday seemed to have more of a psychedelic edge. A few of their jams had a way of picking up velocity as if generated from a source beyond the earthly plane. Saturday was a super-charged rocker which saw the band playing at an electrifying clip. Each night the album's title track was an improvisational highlight, even more so than usual. During Friday's version Jonny 'Mojo' was levitating as he tapped in to an absolutely divine flow of creativity. It was the musical embodiment of freedom and joy. Saturday's "Stones To Sand" put more emphasis on the drum solo break which catapulted the final section towards a rousing climax. Like all the greatest guitarists, there is a total effortlessness surrounding Mojo's peak moments.

Each night featured a healthy dose of Dead later in the second set. On Friday they did a bunch of tunes in a row, wrapping up with a transcendent take on "Franklin's Tower". When the drum duo of Mark McCartney and Gary Campus get going, they drive the grooves with startling force. Such was the case on Saturday with standout versions of "Eyes Of The World" and "I Know You Rider". The latter was particularly thunderous, inspiring a scene of communal catharsis on the dance floor. It's always so fun to watch bassist Shelby Snow completely immersed in his instrument. You can practically see the music circulating through the man's DNA. He was born to rock.

No one can ever claim they didn't get their money's worth out of an Achilles Wheel show. They always play as long as possible. On Friday, they played for a total of four hours, only taking a brief set break. Saturday was a little shorter but not by much. Each night they left us on a heartfelt, sentimental note. On Friday, the last song on 'Stones To Sand', "Hallelujah One More Time", was a sweet kiss of a goodnight lullaby. On Saturday, "Ripple" served as a warm, musical hug and expression of gratitude as Achilles Wheel reminded us yet again why they are Nevada City's most beloved band.

-----

Achilles Wheel's
ALBUM
:

The group is committed to using their voice and music in a positive way. At the core of Achilles Wheel is the philosophy and the goal of bringing joy and connectivity to a fragmented world. With this new CD they try and reach a growing audience as they travel ever further from home. The fourteen songs on 'Stones To Sand' have been a regular part of their live shows for long enough now that the band knew it was high time to finally get them recorded. Like every jam band Achilles Wheel has some resemblance to the Grateful Dead, but maintains their own unique sound. Blending rock (country rock, southern rock, jam rock, psychedelic rock, blues rock), folk, blues, world music and even little bits of bluegrass and psychedelia. In a truly extraordinary jam band, quality songs set the stage for the improvisation that follows. Both Jonny 'Mojo' Flores and Paul Kamm are guitar wizards, Jonny somewhat resembling Dickey Betts at times, while Paul is playing a rock solid rhythm. Experienced bassist Shelby Snow, versatile drummer Gary Campus and killer percussionist Mark McCartney form the three-headed rhythm section. The production keeps everything balanced and blended, no instruments drowning out others. Paul Kamm, involved in the writing of ten out of fourteen songs and his band mates add great songs to their musical portfolio, catchy and crafty melodies with intelligent lyrics (to be found on the band's website).

All four guys (Jonny, Paul, Shelby and Mark) sing their heart out! They play like no other band... Although they have their broad range of influences, I like especially those touches of the Nitty Gritty Dirt Band, The Flying Burrito Brothers and Poco in the country rock songs and the David Lindley influences on their world music.
-----

1. "The Truth Is What You Know": Written by Paul Kamm. - What a pleasant rhythm, here's the twin drummer attack! Fiery guitars with a wah wah pedal. Excellent singing. While the Grateful Dead preferred to stay out of politics, this is a socially conscious song. "All the white flags getting hung out to dry." Cool statement.

2. "From The Fire": Written by Paul Kamm & Eleanore MacDonald. Energetic track (drums and percussion, two people, remember), with a sultry Latin groove that brings Carlos Santana to mind. Delicious guitar solo. Idealistic lyrics: "And when all of the prophets come to tell our stories one by one / So we don't lose what they had won you made a song".

3. "Heal My Soul": Written by Jonny 'Mojo' Flores. A female revival choir is featured, with Eleanore MacDonald, among others. One of my favorite tracks, a very convincing non-religious gospel: "If you always keep a song in your heart then you know / It takes a little music to heal my soul." The guitar goes full out too and the track ends in enthusiastic answering by the choir to the lead vocalist.

4. "Let The Dream Begin": Written by Paul Kamm. The Single, that was preceding this CD. Nostalgic Californian country rock, with emphasis on the lyrics: "We got people camping out in the street / Trying to make it in the land of the free / Oh and Jonny's got a gun / And it looks just like they lost his vote / And all night long you can hear it blowing in the wind / They're not sitting here waiting to let the dream begin." The song aims at the so-called American Dream. These days people are jobless and living in city camps, trying to make it in the land of the free! I do like that eternal optimistic feel of this band though.

5. "We Dreamed Of Flying Cars": Written by Paul & Chris Kamm. Edgy and intriguing uptempo song: "Now we're dancin' on the qwerty keys!"

6. "She'll Wait (Until The Time Is Right)": Written by Paul Kamm. This is an obvious wink at Paul Simon's 'Graceland'. Smartly constructed song on an African inspired rhythm. Percussion solo! "And you wander through the night like a ghost / And your thoughts are getting torn apart." That's beautiful!

7. "Everybody Gets The Blues Sometime": Written by Jonny 'Mojo' Flores. "Tough times come and go, it's just like standing in the rain / I feel a whole lot better when you're calling out my name / A hard rains gonna fall and you better sink or swim." Cool blues rock track with superb guitar and frantic harmonica. Lots of tongue in cheek blues song title & cliche checking!

8. "Nobody Drinks If The Bottle's Dry": Written by Paul Kamm. Yes, let's throw a party! Uptempo track with the potential of a summer hit. Just when you think it's over, the guitar feels like playing some more awesome licks.

9. "Let's Stay Together": Written by Paul Kamm. A guest on washboard, Chad Connor Crowe. Swampy blues rock with awesome long slide guitar solos. "Standing one more time at the crossroads." Favorite!

10. "Village Foliage": Written by Shelby Snow in 2009. I hear a little bit of The Byrds here, in the melody and the gorgeous singing by the two vocalists. Of course the sturdy enthusiastic electric guitar is totally different and gives the song its very own sound.

11. "Celebrate Today": Written by Paul Kamm. "I've seen your crooked smile and I've seen your scars / And I've been hungry for you right from the start / I'll be the moonlight dancing with your broken heart." Lyrics that leave more questions than they answer. In the way I like to listen, it's a hopeful love song.
12.
"Seventh Ocean"
: Written by Paul Kamm. More wonderful southern swamp rock with slide guitar! Although, in the poetic as well as prophetic lyrics we hear some influences of the Grateful Dead's songwriter Robert Hunter.

13. "Stories To Sand": Written by Jonny 'Mojo' Flores. Very impressive long instrumental, even with a drum solo. The real die hard Grateful Dead fans hear influences here too, in the poly rhythms by drums and percussion and in the lead guitar sound.

14. "Hallelujah One More Time": Written by Paul Kamm & Eleanore MacDonald. Lovely acoustic closer, a country ballad with four part harmonies. "See how the birds still sing when we're down and the sun is dancing in the sky / See how tomorrow comes and turns you around to sing hallelujah one more time". Ending on an inspirational, hopeful feeling.
---

For the previous album thirteen tracks were recorded in exactly thirteen hours. It doesn't say how long these fourteen tracks took. The results are superb! Lots and lots of variety here. This record is just as colorful as its lay-out, as the band's website and pictures. Mostly cheerful, even giving more serious lyrics an optimistic twist and always dynamic, catching the essence of their upbeat and spontaneous improvisations on disc. An Achilles Wheel live show must be some unique experience!
-----
Written & compiled by Johanna J. Bodde - February 12th, 2015.
=====