Playlist "American Roots Music"
(Non commercial local radio)
Date:Nov 16th 1999
20:00 - 22:00 p.m.
This Playlist was influenced by the discussion board "Postcard 2" with regard to the question what alt.country is.
Thanks to all Jeff Wall's who gave me some stimulation and so many new ideas, heh!
Sorry for not playing some music even though I've promised you I would do it... perhaps next month or the month after next...that is too bad! Don't be angry about that. "Right place, right time" or "Make the best of a bad situation!"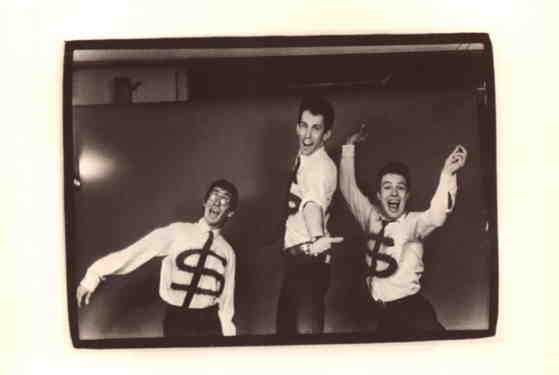 Dead Kennedys
(from "Coast To Coast" Punk/Rock Images, f-Stop Fitzgerald)
| | | | | |
| --- | --- | --- | --- | --- |
| Artists | Song | CD | Label | Year |
| Violent Femmes | American Music | Hollowed Ground | Slash | 1984 |
| The Setters | I wanna be your dog (Stooges) | More miles than money | Blue Million Miles | 1994 |
| Alejandro Escovedo | Sex Beat (Gun Club) | Bourbonitis Blues | Bloodshot | 1999 |
| Mike Ness | Six More Miles | Under the influence | Arista | 1999 |
| Social Distortion | Drug Train | Social Distortion | Epic | 1990 |
| Mike Ness | I'm in love w/My car | Cheatin' at Solitaire | Arista | 1998 |
| Mike Ness | Let the jukebox keep on playing | Under the influence | Arista | 1999 |
| Mike Ness | Six More Miles (Hank Williams) | Under the influence | Arista | 1999 |
| The Ditchdiggers | You win again (Hank Williams) | Cow Patty Bingo | Ditchdiggers | 1998 |
| The Ditchdiggers | One more time | Light & Salvation | Ditchdiggers | 1999 |
| Jason & TheScorchers | White Lies | Essential Jason & the Scorchers | EMI | 1992 |
| Jason & The Scorchers | If money talks | Essential Jason & the Scorchers | EMI | 1992 |
| Steve Earle & the Supersuckers | Before they make me run | Steve Earel & the Supersuckers | Sub Pop | 1997 |
| Robert Bradley's Blackw.Surprise | Don't bogart | Hempilation 2 | Capricorn | 1997 |
| Hank Flamingo | The dope smokin' song | Hempilation 2 | Capricorn | 1998 |
| The Sadies | It's nothing to me | Pure Diamond Gold | Bloodshot | 1999 |
| Supersuckers | Must've been high | Must've been high | Sub Pop | 1997 |
| The Swindles | My Mama's Jaguar | My Mama's Jaguar | Drunk for your amusement | 1998 |
| Wayne Hancock | Brand New Cadillac | That's what Daddy wants | ARK21 | 1997 |
| Left Over Salmon w/Lucinda Williams | Lines around your eyes | The Nashville Sessions | Hollywood | 1999 |
| Trailer Bride | Pasture | Whine de lune | Bloodshot | 1992 |
| The Geraldine Fibbers | You do right | Butch | Virgin | 1997 |
| Damnation TX | Down the line | Half Moon | Sire | 1999 |
| Buddy Miller | Cruel Moon | Cruel Moon | Hightone | 1999 |
| Buddy Miller | Somewhere trouble don't go | Cruel Moon | Hightone | 1999 |
| Slobberbone | I'll be damned | Barrel Chested | doolittle | 1998 |
| Farmer Not So John | For you I will pretend | Receiver | Blue Rose | 1998 |
Next Radioshow: Dec 14th