Page Wilson with Reckless Abandon
"Bridge of love"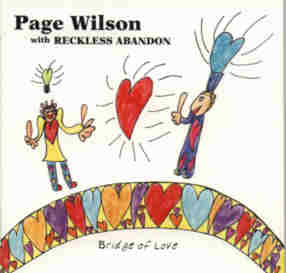 Page Wilson has roots that run deep in Virginia soul.
The millenium marks 25 years of making music fulltime for this coun tryibluegrassiblues troubadour.
After two criticaIly acclaimed albums in the '805, this singer, songwriter, picker, and producer took to the airwaves with his "Out 0' the Blue Radio Revue" which broadcasts every Saturday night on Richmond Public Radio, WCVE. Here Page has hosted dozens of national, regional, and local artists in an informal environment from around the "kitchen table'.
Bridge of Love is Page's most recent project, and it reflects the diversity of American music played on his show- bluegrass, country, and blues. He enlists help from his allstar band Reckless Abandon, which includes Billy Lux (Heights of Grass) on vocals and upright bass, Chris Fuller on vocals and mandolin, Jay Gillespie on acoustic guitar, Charles Arthur on dobro, and of course, Page himself on acoustic guitar and lead vocals.
Bridge of Love was recorded live in the studio at Richmond's flagship recording facility In Your Ear with Velpo Robertson and Joe Sheets at the helm. The result was a warm and friendly representation of the band's performing and songwriting abilities . The polite and attentive audience added just the right ambience for the project. Page and the boys have shared the stage with Seldom Scene, Nitty Gritty Dirt Band, Stephen Stills, Taj Mahal, Kris Kristofferson, Jerry Jeff Walker, Junior Brown, and many others. Reckless Abandon also backed Nitty Gritty Dirt Band alumni John McEuen and Jim lbbotson for a "live in the studio" session to be released in the near future on Planetary.
"It Is not only the name of the group, but also the approach to the music: to play with reckless abandon!"
"(His songs) convey the unfabricated personality and broad musical grounding that make Wilson such a credible and durable ilve act... a collection of snapshots-in-tune from the side roads and city streets, sharply focused and unmistakeably real."
Richmond Times-Dispatch

"Wilson sings of lonesome roads, flaming sunsets.. his lyrics speak of the inlustice and pain of everyday ilfe. Music for the common man...
Throttle Magazine

"One of the most soulful and inspired records I've heard in quite awhile"
Tor-Redeye Distribution

PLANETARY RECORDS 2614 W. CARY ST., RICHMOND, VA 23220 ph.(804) 355-0079. fox (804)340-0728
email info@pIanetaryrecords.com
http:IIwww.planetaryrecords.com
Track Listing
1) This Bridge of Love
2) Nouveau Beaujolais
3) Skinquarter Curve
4) The Ocean Keeps Us All
5) Swim Nekkid
6) This Old Guitar
7) Eagle on a Chain
8) Virginia
9) Road Flower
10) Chicken Thigh
11) Richmond Blues
12) Rider
try It at www.mp3.com/pagewilson