Loretta Cooper
"New Generation"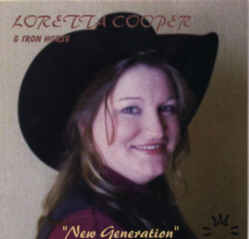 There are some forttinate people in this world that can make what would be a difficult task for many of us, seen quite easy. We've all marveled at Tiger Wood's ability to play golf, Wayne Gretsky's hockey skills or George Jones when he takes a country ballad and wrings every drop of emotion out of it. In some quarters these people are referred to as "naturals".
Loretta Cooper is a "natural" when it comes to singing country and she does make it sound so easy. Based on her MP3 Internet music files, the reviewer for SNAP.COM had the following to say about Loretta and her music:

Loretta Cooper is a talented young chanteuse from Point Marion, PA, who sings New Traditional country music like it was something she was born to do. The warm and textured vocal inflections gently coo two-part harmonies over outland fiddle swipes and a pedal steel that weeps notes like a heartbroken entity unto itself One thing that sets Cooper apart from other female singers trying to make it in the country world is her bold ability to put pain in the music; she's not afraid to bleed in her songs a little. SNAP.COM Jan. 19/2000

We are pleased to provide you with a copy of Loretta's CD "New Generation". This is country music that was once described as classic country and is now being referred to as alternative country or New Traditional. By any name these are songs sung in a style that many people remember as just plain country music. The songs are about everyday people and events and when they get the vocal styling of Loretta Cooper they remind us ofjust what a great music form country really is.
Choosing a first single from this CD was not an easy task and after much deliberation we decided to go with "Losin' My Memory" a great two steppin' tune about a lady that's having a fme time getting over a previous relationship. We gave strong consideration to "Mr. Man In The Moon" but decided that perhaps radio was not ready to give a new artist some spins with a power ballad. Give them both a listen and I think you'll agree that it wasn't an easy decision to make.

Jerry Knight