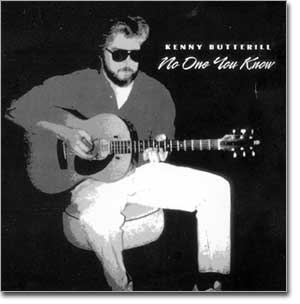 KENNY BUTTERILL
"No One You Know"
No Bull Songs
2000
Kenny Butterill's first album "No One You Know" offers a great bunch of bluesy roots music, ranging stylistically from Tony Joe White, J.J. Cale to Mark Knopfler. The first time I listened to these laid-back songs, I felt like hanging loose or cruising my car through the rural countryside of the Emsland. Kenny is a gifted singer/songwriter from Canada living high in the mountains of Northern California. His debut release presents 12 self-penned tunes on which Kenny plays acoustic guitar and sings with a rich, earthy voice. He is supported by Peter Morrison, a veteran musician and true guitar virtuoso and strings player. Daoud Shaw, former Jerry Garcia and Van Morrison-sidekick, engineered and coproduced this album as well as performed and drums and percussions.
The sound of the CD can be described as "great driving music for the open road".... it just makes me feel good.
Additionally, Kenny released an impressive tribute single to Townes van Zandt in November 2001, the acoustic "The Townes You Left Behind".
You can find more infos at: www.nobullsongs.com