Who the hell is Jonathan Pointer, you will ask. That's exactly the question I asked Mary Gauthier shortly after her recent album "Filth & Fire" was released. It contained a beautiful love-gone-wrong-song titled "For Rose", written by one Jonathan Pointer. Jonathan was a struggling singer-songwriter starving in New York, she told me. A few weeks after the interview appeared on the Rockzillaworld website (www.rockzilla.net/ebertowski4.html), Jonathan knocked on my electronic door to say thanks that I bothered to mention his name. In the meantime Mary had been kind enough to provide me with Jonathan's most recent CD "Love Songs From The Outskirts Of Bliss" (self-released in 2001) featuring his own version of "For Rose". I got interested. Who was this mysterious guy who could write a song that would fit a fairly "off-the-wall" character like Mary Gauthier like a glove? Well, who would be able to provide a better answer than "La Gauthier" herself.

"Jonathan is a freaking genius," she wrote a few hours later, "which is not necessarily a good thing in the music business. Just look at what's selling records, and you can see that truly brilliant people have a hard time of it right now. Jonathan's work is complex, extremely well thought out, and full of fantastic characters. When I heard Jonathan's song 'For Rose' for the first time, it knocked me out. Goose bumps appeared on my arms, and I knew I would record that song, even though I never record other writers' songs. It is a song that I wish I had written."

Well, what could I possibly add to that? Pointer had already convinced me with his sense of humor and two albums full of brilliant songs even though his songs initially annoyed me with "difficult" chord progressions that didn't quite meet my simple-minded "three chords and the truth" criteria. But they grew on me and, hey, anyone who can write a song like "For Rose" deserves to be worshipped, right?

"So, Jonathan, in Europe you're developping cult status for writing 'For Rose' for Mary Gauthier. But, obviously, there's a lot more to you. You've recorded two CD's so far,'Scarecrows Burn' (1996) and 'Love Songs From The Outskirts Of Bliss' (2001). What's it like to be a singer-songwriter in New York with two self-released albums and a lot of praise from insiders?"

"First of all, I have to admit I certainly like the idea of achieving cult status. Really? You're kidding, right? The notion of teeming throngs hanging on my every word is terribly satisfying. Where were we? How does it feel? It feels like being a parent of a 5 year old with two self-released albums & a load of laundry to do. Of course, it's always nice to know that people are listening & responding favorably to your efforts. That's the strawberry atop the waffle."

"How do you pay your bills and what's a working day for you like?"

"A working day for me involves sitting in front of a Macintosh with a 6 string baritone ukelele in my lap, staring at the wall, smoking the occasional cigarette & carefully plotting my next move."

"Have you been performing a lot recently?"

"As much as I can, but not as much as I should. Sometimes it's difficult to keep one's priorities in the proper order. I just acquired new representation & booking, so it appears that the juggling of schedules is set to intensify."

"Tell me something about your youth and how you got into music and songwriting. As far as I know your background is intensely religious and you had to make a living by performing the strangest jobs?"

"I had a deliriously happy childhood living amongst the methodists of rural Missouri about 8 kilometers from the banks of the Missouri river. The methodism of my youth seemed to have a kind of moderately progressive neo-Wesleyan vibe that set the stage for the sexual revolution of the late '60's. These days, protestant christianity, when compared to other theologies, seems fairly noncommittal. By the same comparison, maybe that's a good thing. It's hard to imagine methodists killing baptists or visa versa. My people, while being truly devout, weren't snake-handlers or bible thumpers or anywhere near the extreme. They believed in their faith & did their best to uphold it. me, I just never bought it. The notion of 'whatever gets one through the night' seemed much more intriguing at the time. When I was a child, a lot of time was spent drawing pictures & making up stories to keep out of trouble. I wanted to play the guitar, but my people insisted that I play the trombone. A few years later, I formed a band with some friends called "The Unwanted" & I was the lead singer. When I was 17, I finally got a guitar & started writing songs (as I recall, really bad songs). I graduated, got a job in a factory, lost a finger, & went off to college. After a year of college, I dropped out & decided to see how well I could do with the knowledge I had acquired in my 19 years on earth. I promptly found work in a state mental hospital. That lasted until I discovered that it was difficult to tell the difference between patient & staff. Next I tried my hand at dog catching. Then there was gas pumping, pizza delivering & ultimately, deciding that maybe I'd give college another try. Over the next 4 years I received formal training in jazz, which set me on a path in which, creatively, I sought to evoke a mood, rather than tell a story. It wasn't until several years later that I started writing songs again."

"Your recent CD "Outskirts..." is produced by Crit Harmon. How did you meet him?"

"I met Crit at a festival several years back when he was working with Mary Gauthier & I was working with a really gifted New York producer named Jud Dean. Jud produced my first record & would have worked with me on 'Outskirts,' had he not quit the business to become a lawyer. Next came an ill-fated relationship with Columbia Records that lasted over a year & left me with a bad taste in my mouth, in addition to a fair amount of material to record. While trolling for a new producer, a friend & benefactor in Cambridge, Massachusetts suggested I turn to Crit Harmon. I needed someone who would approach the production as a collaboration & he turned out to be the perfect choice. In the process, we became close friends & probably had more fun than you're supposed to have while recording."

"You play about a dozen of instruments yourself on the album(s). How did you learn all that? What's a "noble starlet" and, when you write songs, what instrument do you use to compose?"

"I give most of the credit to my years at the music conservatory. I had to pass a keyboard proficiency, I learned to play the cello, & somewhere along the line, started picking up other instruments like mandolin, ukelele, accordian & banjo. The noble starlet is an accordian I bought many years ago for $100 at a pawn-shop in Kansas city. Apparently, it's a child's instrument."

"Tell me something about the other musicians (the 'Danged Yankees') who play with you, especially the co-operation with the Westwood Philharmonic Orchestra and "the Pessimistics' (I like that!)."

"When I recorded 'Scarecrows' I thought I'd give the musicians a band name & liked the sound of the 'Danged Yankees', back then, I had an old friend from the midwest named Bryan Hicks on upright bass, Doug Morrow on drums, a friend from my days in Brooklyn on mandolin named Andy Resnick, Carol Sharar on violin & viola, Michael
Viseglia on electric bass, Richard Bell (who played in the last versions of 'The Band' and with Bruce Cockburn) on b-3 organ & accordian, & Jud Dean on piano. 'Outskirts' was recorded in Massachusetts, so I used musicians from the Boston area. I had John Troy on electric bass, Paul Kochansky & Andrew Mazzone on upright bass, Eric Parker (Joe Cocker) on drums, Ian Kennedy on fiddle, Michael Ward-Bergeman on accordian, Brad Hatfield on piano, organ & synth (the Westwood Philharmonic), Steve Sadler on dobro, lap steel, & mandolin, Dave Brown (Billy Joel) added some cool electric guitar & Concheta Gordon sang back-up vocals. The Pessimistics are me."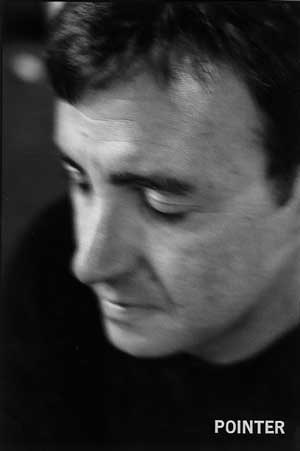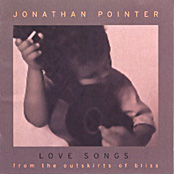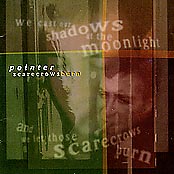 "I LOVE the cover photo (and the one on the back). Just out of curiosity: tell me something about the artist, please."
"The cover is a picture of my son, Harry that was taken by a New York photographer named Susan Johann. I don't know much about her. I saw it on a contact sheet & it touched me in a way that transcended the way one feels when looking at a photo of one's own child. It had a sort of Dutch renaissance quality that I felt was the perfect vibe for the cover. The tray card & back cover of the booklet are by an old friend from Missouri named Megan Wyeth. We go way back to when we were teenagers. She is my all time favorite photographer & deserves widespread recognition. I find such profound resonance in her images, it's almost as though she's taking pictures of my songs. We just used another image of Megan's--a lovely snowscape--on a new tour poster."
"You get described as a cross between Randy Newman and Tom Waits. Are you happy with that comparison? (Thank God, your voice is better than that of both of them together.) I would say, there's a bit of Warren Zevon there as well..."
"I've always been drawn to those writers who employ the untrustworthy narrator. You don't believe his story, but you're going to listen to it anyway. The first time I heard a Randy Newman song, I was hooked. It was the early 70's, I bought a record called 'Nillsson Sings Newman'--I knew nothing of Harry Nillsson, nor Randy Newman, but on recommendation from a friend, I bought this record & didn't listen to anything else for months. It was nothing like what everyone else was doing. Tom Waits ballads, for me, are the measure by which all other ballads are judged. When these guys are at their best, it's not about the voice, it's the song. That probably inspired me as much as anything else since I don't consider singing my strong suit. I've never been much of a Warren Zevon fan. Having said that, it's hard to imagine a better lyric than 'love conquers all, you can't start it like a car, you can't stop it with a gun,' or anything sillier than 'Werewolves Of London'."
"There's a certain European feel to your songwriting (French and Slavic, Austrian (thirties) and even German (God help us :)...), especially in the way you use the accordian, but somehow in the approach to songwriting in general. Have you got any sort of affinity/history with/in that direction, and, especially for the Belgians among us, do you know/appreciate Jacques Brel?"
"I love France, I love the French & I have a long standing affinity for Claude Debussy, Francois Poulenc & Eric Satie, Edith Piaf and - for the Belgians among you: Jacques Brel (when I was a kid, I loved 'If You Go Away"), Kurt Weill, I'm sure I'm leaving someone out. I have a recording of Yves Montand singing a song called 'Rue St. Vincent' that is as good as it gets. I'm embarrassed that I can't remember the name of the songwriter. Anyway, I have a fantasy that involves me being adored in Paris."
"Jonathan, you write songs like 'I don't hate myself' that sum it all up, don't they, that horrible doubt between 'not having done too badly' and the feeling of 'not having done good enough'. Awesome piece of self-doubt or is that just my interpretation?"
"When I was writing the material for 'Outskirts' I suppose that I unconsciously plumbed a little deeper in terms of human frailty & its various manifestations. Compared to 'Scarecrows Burn,' there's much more vulnerability in the tracks."
"'Scarecrows' (featuring a very dominant fiddle) is slightly more country- and folk-influenced than your recent one: 'The Psalms Of Owen Tabor', GREAT song, by the way, "Highway 13"). Is there still something of a country boy in you after years of New York? Still glad you left 'Highway 13' behind?"
"I went into the first CD with the intent of keeping the sound as organic as possible, so it naturally has more of a folk vibe. With 'Outskirts' I wanted to make a different kind of record by taking more of a George Martin approach to the production; half of the songs were less developed at the onset & called for a lot of experimentation that at times seemed like a search & rescue operation. In the end, I think the differences between the two projects are mostly sonic & there remains a definite consistency in the songs themselves....'Highway 13'-- every time I think I've washed all the country off of me, I find a spot that I missed. As much as I long for my people back home, I'd looked at that landscape all my life & needed to get away from it. Now, I don't think I could live there because it's too far away from Europe. New York is perfect, Paris would be better.
"'Scarecrows' is a very melancholy album. The first song 'Yard Sale' and the title song are very gripping 'end of love songs', but they're written 'less directly' than most songs in the genre. The pain lies in the description of objects, landscapes...You're a very 'introverted writer'...
"I work hard to maintain a certain visual quality in my writing--even if it's a single lyric--just something that puts the listener in the room with the narrator. I suppose I am a bit introverted, if only in my approach to telling a story. as a rule, I try not to use my writing as a venue for baring my soul to others, yet, on occasion, a song like 'I don't hate myself' will tumble off my tongue & dribble down the front of my shirt."
"There's a line in 'Ascension Day' that touched me. It says 'as for me, I still have problems with religion, but I'll be okay'. It's a very recognizable sentence for me. Looks like being 'burnt by religion" is very much a part of your life?"
"I think, to some degree, the whole world has been burnt by religion. Those who believe in a literal interpretation of the bible frighten me. 'Man shall not lie down with beasts'--who would ever believe such nonsense?"
"Where do you find your inspiration to write song lyrics?"
"I could try to say something profound right now, but it really is impossible to say where I find inspiration. It could be something I heard on public radio or the BBC, or it might come from something I saw on the street. I have no formula."
"Jonathan, you were telling me recently that you developed writer's block after 9/11. How did you experience 9/11 and how are you at the moment? How's the song writing coming along?"
"I got out of bed on 9/11 at 9am, turned on the radio & heard that a small plane had hit one of the towers, so i turned on the television & called my wife into the room. We watched as the 2nd plane hit & from that moment it was as though my thoughts went static. All creativity seemed forever knotted up in that moment of horror as the towers collapsed. By the 2nd day, the wind changed & the smoke reached our neighborhood on the upper west side, so we drove to Vermont for a week. Thankfully there was no television, so we were spared the constant repetition of horrific images. Just in the last month or so, I've started writing again. But i don't force it. If there's nothing there, then there's nothing there."
"Finally, the obvious question., how did you come to write 'For
Rose' and how did you come to know Mary Gauthier?"
"Mary was down in Key West, Florida writing new material with Crit Harmon & I had been playing around on guitar with this chord progression that was in need of a lyric. So i thought I'd try to write something with her in mind. The lyric came fairly quickly & I sent a rough draft down to ms G. & she liked it. So i recorded a rough demo & soon learned that Mary was performing it live, then got the news that it made the cut for 'Filth & Fire.' What makes it especially gratifying is that I'm such a fan. The original title of 'Outskirts' was "Jonathan Pointer IS Mary Gauthier."
"What do we have to do to see you here in Europe?"
"Spread the word. Ask me over. I'll be there in a heartbeat."

---
Information:
http://www.jonathanpointer.com