BLOODSHOT
Revival
present never-before-released recordings of country music classics:
Hank Thompson
- Hank World -
We're talking about a busy man here, people:
· 60 million records sold, worldwide.
· 21 Top 20 hits.
· First live country album.
· First country act to headline Vegas.
· Elected to the Country Music Hell of Fame in 1989.
· First country act to have a traveling sound and light show Ideveloped by
electronics whiz Hank himself -- he went to Princeton, for cripes sake))
· We're talking "Six-Pack to Go" and "The Wild Side of Life."
· We're talking about the other Hank. Yap, for the past five decades in country
music, Hank Thompson has been the man to beat. And the list goes un and on...
Introducing Hank World - the third CD in the Bloodshot RevivallSoundies series of never- before-released transcription recordings from the 1940's to the 1960's. following the critically ballyhooed CDs from Rex Allen and Spade Cooley released earlier this year. Hank World continues this fine tradition, with songs Isome never heard in any recorded version, anywhere before) recorded in the 1950's in Hank Thompson's then-state-of-the- art home studio for The World Transcription Service, then re-mastered to perfection in 1 999.
These'23 tracks Ihand-picked by Thompson) feature hits like "Rub-a-Dub-Dub" and "Humpty Dumpty Heart," and sharp-as-a-tack covers of BOB WILLS and BENNY GOODMAN tunes that stand tall alongside undiscovered gems like the lead-off track "New Deal of Love." There are clever lyrical twists and spotless musicianship for the country purist. and enough spit for you country punks. This is the man responsible for "Cocaine Blues," after all -- and at 73. he's still playing honky-tonks. And still kicking ass and taking names. It's Hank's World, people. We just live in it.
Bloodshot Records
www.bloodshotrecords.com
---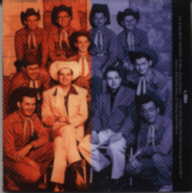 CHICAGO READER
JULY 16, 1999
Post No Bills
by Peter Maugasak
From the Old Country
In 1950 country star Ernest Tubb pulled strings to get a 25-year-old fellow Texan named Hank Thompson a prized spot on the Grand Ole Opry. Though Thompson had already scored a couple of top-ten country hits, Tubb's favor was his ticket into the heart of the country establishment. Right off the bat, however, Thompson got riled that the conservative showcase wouldn't allow him to use drums, and by the time he collected his $9 fee, he'd decided he'd had enough of Nashville to last him a lifetime.
By then Thompson was recording for Capitol Records, but unlike many of the musicians on the label's young country roster he didn't move to the west coast. He stayed in Texas -- and went on to forge one of the most succesful careers any country singer has ever had, racking up nearly 80 hits between the late 40s and the early 80s. His band, the Brazos Valley Boys, played a driving take on western swing fueled by a twin-fiddle front line, but Thompson's cleanly articulated vocals were straight out of honky-tonk. (George Strait would later put this blend to good use.) Thompson is still best known for the 1952 smash hit "The Wild Side of Life," which not only topped the country charts for 15 weeks but launched the career of Kitty Wells, inspiring her answer song "It Wasn't God Who Made Honky Tonk Angels."
He became the first country artist to take his own sound-and-lighting system on the road, the first to tour with corporate sponsorship (from Falstaff beer), the first to record a stereo album, the first to play Las Vegas, the first to take a country band into swanky midwestern and eas-coast ballrooms, and the first to cut a live album. In August he'll release Hank World, a collection of previously unreleased radio transcriptions (meaning versions recorded exclusively for broadcast) from the early 50s, on Chicago's "insurgent country" label, Bloodshot Records. All 23 tracks were cut in a home studio he'd built for himself, another first for a country artist.
Thompson's stardom waned in the 1970s with the advent of country pop, and he's no longer an active recording artist. He still plays about 100 dates a year, between county fairs, TV appearances, and the occasional nightclub gig, but he reckons his gig at Schubas on Saturday night is his first in Chicago since the 70s. In an interview from his home in Keller, Texas, Thompson compared the industry today to the one he remembers from his prime. "Back then country record labels weren't interested in the short haul," he says. "If they took you they had the idea that you were good enough and different enough that you would be a seller for years to come, not for just one or two hit records like they do today, where they cookie-cut you."
Thompson's most recent encounter with Music Row was in 1997, when he recorded Hank Thompson and Friends (Curb) - a series of nostalgic duets with current stars like Vince gill and Lyle Lovett as well as fellow legends like Wells and George Jones. "It was enjoyable to get back into the studio, but we had a lot of problems," he says, explaining that the labels to which the various singers were signed weren't particularly cooperative. He also gripes a little about the modern recording process: "We used to be able to cut three or four songs in one three-hour session, and now you're lucky if you can even get one done."
The forthcoming Bloodshot release is part of the label's "Revival" series, which also includes radio transcriptions by cowboy singer Rex Allen and western swing fiddler Spade Cooley. Thompson says he hasn't heard any of the contemporary bands on Blooshot and knows nothing about the alternative country movement. But he understands why such a movement might be interested in his work: "We get a lot of younger people that come out, and they appreciate the music of the porary stuff that comes out of Nashville today," he says. "It had a lot more substance."

---