Gary Eaton

King Size: Bigger than a sand box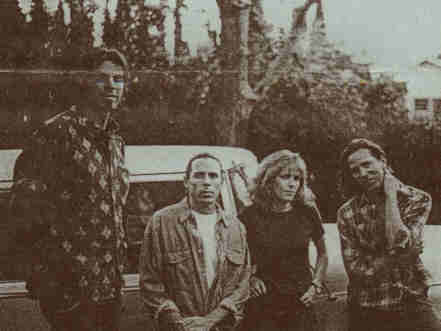 On any day of the week, you can find the sand box and slides of Studio City's' Beeman Park mobbed with clamorous kids,who will keep the pedal to the metal until they are told otherwise by the moms and nannies watching from the sidelines. There's one dad who's a regular as we'll:
King Size frontman Gary Eaton. He's the one in the ratty jeans, purple thrift-store shirt and blue suede skate-rat shoes. He's smoking cigarettes, reading' John Fante prose and chatting up some of the moms while keeping tabs on his 5- year-old son, Sam.
If it's strange to see Eaton there, it might be even to experience the post-rehearsal chatter among the several King Size players, which includes four single dads. "We all sit around and talk about our kids or golf and our exes and how to deal with shit like that," says Eaton, laughing. "It's like a support group sometimes."
But prior to such conversations, the band is in its stuffy rehearsal room hammering away at the King Size vibe, an Americana stew that combines a Band-like grooviness, a Parsons weariness and aTom Petty-esque radio-ready rockfeel on songs such as "Blue" and "The Beautiful North". Eaton brings to the feast a Crazy Horse guitar crunch and a stunning, country-soul vocal delivery that shimmers even more when hugged by Kristi Callan's sweet harmonies.
Callan was once in the paisley-popping Wednesday Week, while the four others - guitarist John Wood, bassist Ron Botelho, keyboardist Danny McGough and drummer Adam Maples - have links as varied as cowpunkers Blood on the Saddle, the poppy 7 Deadly S, and, in the case of Maples, hard rocking stints with Legal Weapon, the Sea Hags.and even Guns & Roses. That these musicians all came of age in the indie '80s gives King Size its muscle. That they were raised on '60s and '70s roots-rock and blues creates its stoned looseness.
Eaton discovered the gospel of country in G as he grew up in Wichita Falls, Texas, after hearing such sounds bleed through the walls of adjoining apartments. He's been enamore.d with the style and lore of Lone Star State ever since. "This old state just keeps getting bigger and bigger" he sings in a ode titled "The Rollin' Vatican Blues." Elsewhere, he notes that "all roads leads to Dallas," (Perish the thought...)
Eventually, though, all roads led to L.A., where Eaton did time with Steve Wynn, Giant Sand, the garage-psychedelic Viva Saturn, and the Ringling Sisters. And before a falling-out, Eaton was featured prominently in the rootsy Continental Drifters, one of Hollywood's most promising bands a few years back. "Too many egos," he says of his departure from that band, which is now based in New Orleans. "Too many fucking thiefs - me one of them." Eaton took the split hard, but it led to the forming of King Size, a vision that rivals the excitement the Drifters created in their early days.
King Size continues to play around town and seeks a deal with their demos. It's no different than the routine the 38-year-old Eaton has fol lowed for several years, but this time he carries with him a wiser perspective. "You take [music] seriously, but you have more fun. Before it was always like, 'Music is my whole life."' Now, he says, scanning the park for his son, "You have something else that makes you feel worthwhile."
-Neal Weiss

---
The Gary Eaton Band
Here's been a micro-movement in this country recently that has edged the genre-bending American rock sounds back into the spotlight. While it's no grunge takeover, bands like the Jayhawks, Wilco, Son Volt, and others have reminded fans, from post-hippie boomers to college rockers, that the mix of twang 'n' crunch is alive and well. Historically, Los Angeles has played a prominent role in that genre, as late-'60s efforts by Buffalo Springfield, the Byrds, and the Flying Burrito Brothers helped define the sound that, years later, the Eagles homogenized for the mass audience.
Locally, today's best bet of this type might be the Gary Eaton Band. You might recall Eaton's role a few years back in the roots-rocking Continental Drifters (and prior to that as the man behind the music for the mid-period Ringling Sisters.) It was Eaton's contributions that gave the Drifters their deepest soul. But the big "buzz" band soon fragmented, and when their remnants moved to New Orleans, Eaton stayed home to begin forging his own vision. After about two years of suffering though a revolving door of musicians, Eaton has amassed a six-piece that effortlessly blur the lines between muscle and tenderness, swing and drive. Lontime locals Kristi Callan, Adam Maples, Ron Botelho, Danny McGough, and John Wood bring their own flair to a brew that might suggest Gram Parsons, Neil Young, and Little Feat - but remains something to call their own.
"When you're a solo guy, you've got to line up players, and they're all asking for cash," says Eaton. "It's a lot better having a band situation. Everybody's into the vision." In fact, don't expect the Gary Eaton Band to remain the Gary Eaton Band much longer. The frontman hates that his name is out there, acknowledging that Callan's harmonies and Maples's edgy drumming, for example, are as much a part of the chemistry as are his own talents. Regardless of the name, though, the band delivers 100 percent genuene Americana.