Frog HoIIer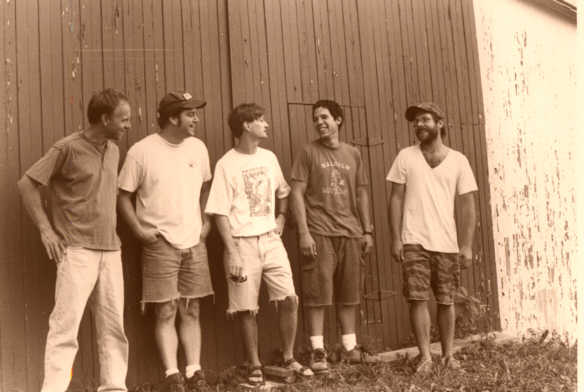 Motto (every band should have one):
The Song Is King.

Who:
Darren Schiappich- songs, vocals, left-handed acoustic & electric guitars
John Kilgore- electric & acoustic guitars, lap-steel guitar, vocals, songs
Josh Sceurman- bass Toby Martin- drums
Ted Fenstermacher- fiddle, mandolin, vocals
honorary frogs:
Mike Lavdanski - banjo, lap-steel
Will Dennis- mandolin, bass
Todd Bartolo- lap-steel
Joe Gombeda- fiddle
Where:
Frog Holler was formed and remains in Northern Berks County, Pennsylvania. Darren was born and raised there. All the others met in and around Kutztown University. The band's maliftig address is Virginville, but calls Shoemakersville home. Both places are lovely.
When:
Formed in the summer of 1996 as a Bluegrass trio, before evolving into its current five-piece form.
What:
Songs. That's what we're all about. Don't belleve you have to be the best picker or singer , but you better damn well mean it!
We Like:
Bill Monroe, The Stanley Brothers, ice cream,The Replacements,
Muddy Waters, sleep, Yuengling beer(all flavors),The Beatles,
Lucinda Williams, Ween, wiffle ball, Norman Blake, Brian Wilson,
Uncle Tupelo, Northern Exposure, Del McCoury Band, Bob Dylan,
The Freight Hoppers, Willie Nelson, The Sea and Cake, The Simpsons
See, just a little over two years ago this whole "thing" started. Seems like a lot longer than that, but there's so much crammed into it. From me and Will playing at the Camp Strauss Fire Co. Bluegrass night in the middle of nowhere, to playing for the first time as a flill band at a Christmas dance for a naval shipbuilding college in Long Island, New York to where we're at now, which is just releasing an independent record that we're darn proud of.
Berks County is a beautiflil place, especially in the northern part where we all live. The thing is, its culture is a little(lot) lacking. Too many people stuck in too few ways. See that's what makes this whole thing so amazing. That "thing" I keep talking about is Frog Holler and the community of friends, musical or not that I found, at 29 , when I had resigned to work, T.V., and sleep.
See I'd spent my twenties not knowing what I wanted to do with myself. I'd always loved music, but was just a record junkie who knew a couple of R.E.M. and Led Zeppelin riffs. Oh Yeah, I knew the G-C& D chords which would be crucial in the events that followed.
So while I'm wasting my time away, some friends introduce me to this music I'd never really heard before. Thanks Joe and Chris.! Absolutley floored by the songs of Bill Monroe, the voice of Carter Stanley, and the guitar of Norman Blake! Bluegrass music, after all this time Bluegrass.
As it turns out there's a whole loffa Bluegrass songs that use those three chords I knew, G-C & D. So I got my old guitar out and that's when it all started happening. I started writing these little songs that people seemed to get a kick out of I met Will who played the mandolin and Mike who picked the banjo. And then Mike brings John over to play lap steel. Turns out in addition to that the guy's a nppin electric guitar player and he writes songs, Songs! All we need know is a drummer. Enter Toby. After all we were all into rockin too, so why not do both. Add Josh, a heart flill of music to pump the bass, and Ted, the "real deal" on the fiddle, and your where we're at today... still writing and playing songs, Songs! Try to play 'em as best we can. Never perfect, but always like we mean it. Let us know what you think:
Frog Holler
P.O. Box 0006
Virginville, PA 19564 or e-mail at zobird@enter.net.
Darren
---
What they're saying
"Their CD, "coudn't get along", captures the spirit of the alt-country movement in a, striking way and brings to mind the much-loved Son Volt Frog Holler is the coolest band without a, record contract"
-Jesse Lundy
New Park Entertainment


"very impressive and promising debut"
-David Goodman
Modern Twang

Frog Holler's CD, "coudn 't get along",remains one of the best local releases in years."
-Jim Speese
Reading Eagle/Times


"Mostly acoustic, banjo-driven Appalachian-influenced country rock. The layered instrumentation recalls The Band on occasion, but the lap-steel and periodic feedback drenched guitars announce this as a child of the '90's Alt- Country"
-Miles of Music

"It's fun and it's catchy. It's country and it's punk. It's bluegrass and it's pop. And the songs themselves kind of describe the bizarre world they're coming from."
-Jim Speese
Reading Eagle/Times