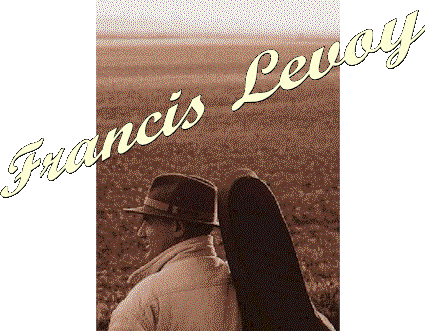 Francis Levoy – …hobos, bordercollies and seven children
Zealand talent gets a lot of coverage on BRTO
by Jos van den Boom

In case you haven't noticed, you don't have to go abroad to find good singer/songwriters.
In the Netherlands we got some fine ones like J.W.Roy, Ad van Meurs (aka The \Watchman) and Ad Vanderveen who can live up to their foreign peers quite well. You don't even have to look that far to find a singer/songwriter winning the favor of the listener's ears as a musician. Frans Hallegraeff from Zealand's Ijzendijke.
In ordinary live he's a school teacher and as Francis Levoy he has been making music for quite a number of years now. During those years he developed a talent for writing good folksongs, in which the influence of his great examples (Bob Dylan, Pete Seeger and John Gorka) ring through. You wouldn't give Francis the credit he deserves when saying that his debut album "…hobos, bordercollies and seven children" was a result of a hobby which got out of hand. Here we find a musician who deserves a record deal with a major Label.
On the album Francis, in the company of his regular back up band (The Blowrags), performs 13 excellent original compositions. For the most part these songs are made up of melancholy lyrics, without for one moment becoming artificial. Moreover Francis uses a rich musical pallet as a result of which the listener never gets the chance to lose attention. You'd better keep an eye on this Southerner!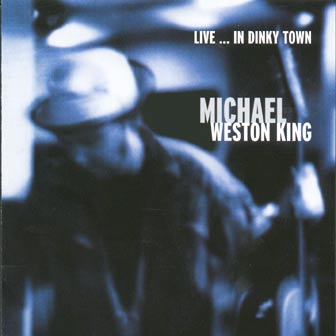 Michael Weston King - Live - . . . In Dinky Town - Twah 121
Fourteen beautiful songs, stripped to the bone
by Bert van Kessel


The German Twah label presents itself as a label for "tunes with a heart" and this exceptionally beautiful record is without any doubt a worthy specimen of this philosophy. It is a collection of live-recorded songs by the frontman of the (now deceased) British alt.country ensemble The Good Sons at all sorts of acoustic performances in small clubs and radio shows in Holland, Germany, Spain, England and Texas during a period of 5 years. One man, an acoustic guitar, a warm, clear voice and fourteen great songs that are delivered with care, passion and conviction. Back to basics, and how!
In the past 15 years this Costello-fan (Almost Blue in particular has been decisive in Michael career) has built up an admirable oeuvre , initially with The Stormkeepers and later with The Good Sons; also, there was the dark solo album, God Shaped Hole, but this acoustic live-album constitutes the irrefutable summit of his career, with an excellent tapestry of Michael's repertoire plus some covers, for of course his other idol, Townes Van Zandt, cannot be omitted. (Lovers' Lullaby and Waiting Around To Die); also there is Ronnie Lane's Annie and the closing tune Easy was written by Michael together with his son Oliver. The excellent Good Sons-guitarist Phil Abram adds his occasional support, as do friends like Dave Lowe and Andy White. But centre stage is taken by the voice, the guitar and the songs of Michael Weston King, proving that being a true singer-songwriter is by no means an American prerogative. With this gem Michael Weston King emphatically applies for a pole position to take over the torch from the established greats.
****.5 (out of *****)