ELECTRIC RANGE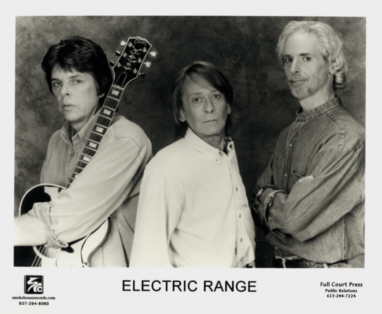 BIO
"ft's a one life stand no victims of circumstance
it's all ift the feel
ft's a turn at the wheel
ft's Destiny 'S Deal"
"Destiny's Deal" is the title ofthe just released second album by Electric Range, but it is also Destiny's Deal that any album ever got recorded by this talented trio.
Billy Darnell, John Mden and Peter Bradstreet were all living and working in music in Los Angeles in the early 1970s. In 1971, they formed a band called Starbuck, signed with Clean Records, a label partially owned by Atlantic Records (Delbert & Glen also recorded for Clean), and began work on what would be their debut album, which was being produced by Don Everly
More than half way into the recording all work on the album abruptly stopped. When an impasse was reached between the band and the label, everybody went their separate ways, ~nciuding the members of the band.
The music that they recorded remains locked away in a vault somewhere in the confines of Atlantic Records, never to be heard.
Following the demise of the recording project, the three principals remained friends and drifted in and out of various musical aggregations with each other. Billy and Peter recorded with Dewey Martin 0(1 his first solo album, and Billy joined in with the brief rebirth of the Buffalo Springfield aptly titled Buffalo Springfield Again Both Billy and peter also served a short stint in Doug Kershaw~s band.
John Alden moved back to his home state of Ohio. and while continuing to write songs joined up with Peter in a band called The Dayton-Yellow Springs Band, also known as DYS. Billy later went on to record and tour with Dr John. Moby Grape, Hoyt Axton and the Byrds among others.
At the urging of mutual friends, Billy, John and Peter reunited in 1995, rehearsed a little, worked on new songs together and played a few gigs. Destiny's deal was finally playing its hand in 19% as the three entered the recording studio with Randy Meisner. an original member of The Eagles, as producer. The result being their long-awaited (25 years in the making) first fi~ill4ength, self titled CD released on Smokehouse Records.
The album's 12 songs garnered excellent reviews from newspapers and music magazines all across North America and Europe. The group toured in support of their debut disc, playing a variety of venues throughout the country.
In early 1997 and armed with a passel of new songs predominantly written by John Alden -- with some help from Peter and Billy - Electric Range began work on "Destiny's Deal~" this time, prnduced by Allen Day and Billy Darnell
The new album continues the band's commitment to lyric-driven songs that may have once been called "country-rock" but now wear the moniker of "Americana." Whatever you want to call it, however, Electric Range were destined to make their music, even if it took 27 years fo~ them to discover '~Destiny's Deal."
---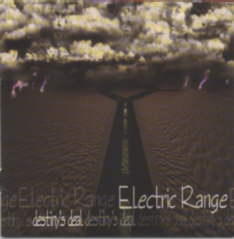 SONG x SONG
"Destiny's Deal" is the title of the second album from the Dayton, Ohio-based band ELECTRIC RANGE. Produced by Allen Day and band member Billy Darnell. the album features 11 songs written predominantly by another band member John Alden. Below, John discusses each of the songs on "Destiny's Deal" in his own words.


I. "One Tear" - written by John Alden
"A table for one. A lifetime of love played out in the dark."
2. "Gambler's Tune" - written by John AldeiiIl'.itrick AiclioltzlS~ndy Kreitzer
"This is a big ol' western morality play. When the devil was heavy into spurs and a notion persisted that given a second chance we could actually learn from our mistakes and stay in the game."
3. "What Are We Gonna Do Now?" - written by John Alden
"Look around the room, remember where you are. Your life will never be the sanie. It's about the first breath you take after falling in love."
4. "No
Hard Feelings" - written by John Alden
"This is a song about the great lie -- when your heart is left standing alone, betrayed by a brain that up until this moment hasn't had one clear thought of its own since she left, and this one is wrong.
5. "Drifting Ships" - written by John Alden and Dana Keller
"A straight ahead love song. Two people -- he says: 'Will you be mine, you lovely creature?' She says (later. after the song is over): 'Why, yes I will' and thev dance off together. Sweet.
6. "Weathered Heart" - written by John Alden and Sandy Kreitzer
"A song about the heart. The heart that keeps us young as it pretends to grow wiser
keeping us strong through its fragility speaking the prose of love while our lips are
silent. It searches for another heart traveling a different path to reach the same place."
7. "Ramblin' Boy" - writtenby Tom Paxton
"Bittersweet. I stood along a snowy highway in Indiana and sang this song a hundred times to help me make it through. I can't imagine singing this song without sensing the road beneath my feet and missing a few 'good ol' boys.' Thanks. Tom."
8. "Say Hello To Baby" - written by John Alden and Peter Bradstreet
This song was written on a rooftop in Los Angeles after a migration from the Midwest for some who didn't make the journey. The first thing to do when starting a trip of some distance is dont look at the map.
9. "Fifty-Two Saturday Nights" - written by John Alden
"Very basic -- we're alive! I think you're cool! Let's dance!"
10. Choir Of Mandolins - written by John Alden and Billy Darnell
"A song about the moon and moonlit things. A turtation with a 'dashboard angel.' Illusion, mystery and intrigue. Was she on the radio or was she in your head? Or was she simply humming to a choir of mandolins. It's about spatial relationships."

11. "Tender Years," - written by JohnAlden
"For the artist whose work is never complete but has captured the moment. We are who we were -- works in progress, and there is no distance between then and now. It's for the band. That's the deal."
---
SOUNDBOARD/The Dayton Voice/Mar 5-11/ V.6N.9
By Don Thrasher, Music Editor
Some people we going to start mistaking Soundboard for resurgent country magazine, No Depression, thanks to all the ink I've been giving acts like Cheri Knight, Elvis Stewart and the Led Wagons, Birddog, and now Electric Range. Dayton seems to be experiencing a roots rock renaissance of late, so what you we reading is a reflection of that. Irreverent country rock nutjob Elvis Stewart celebrated the release of his debut CD ewlier this week at Gilly's. The Hip Shakin' Daddy's have a swell new CD of country swing and rockabilly tunes set to pop later this month. Country rock outfit Electric Range will be releasing its second flill length within the next few weeks.
In a way, Electric Range could be considered one of the weas founders of this nascent scene. This group of veteran musicians- John Alden, Peter Bradstreet, Bill Darnell originally played together in the late 60's/ewly 70's California-based outfit, Starbuck. The band recorded one record with Don Everly, of the Everly Brothers, but problems with the record label Clean (then a division of Atlantic) caused the record to be shelved unfinished. Rather than sit and lick their wounds, the musicians "scattered like high notes on a cold wind" as Peter Bradstreet once put it, and continued to make music.
Alden and Bradstreet eventually returned to Ohio and enjoyed a stint with the Dayton Yellow Springs Band and other local outfits. Darnell remained in California and established himself as in-demand sideman playing with Doug Kershaw, the Byrds, Dr. John. Gene Clark, Hoyt Axton, Moby Grape and countless others.
In 1996, Alden, Bradstreet, Darnell and Stwbuck druminer/vocalist Patrick Aicholtz, regrouped inDayton - after 25 yews apart - and recorded a self-titled LP for locally based Smokehouse Records. That record, produced by Randy Meisner, hwkens back to the ewly 70's when bands like the Eagles, the Flying Burrito Brothers, Poco and the Desert Rose Band trafficked in a harmony rich blend of country music and smooth rock n' roll.
L ast week I met up with guitarist Bill Darnell at his apartment on the western ftinges of Kettering to discuss his musical alliance with Alden and Bradstreet. Despite almost 30 yews in the business, playing alongside a host of legendary musicians, or perhaps because of this, Darnell is a very non-effected, down-to-earth guy. "John writes great songs," Bill Darnell says. "That's the thing I look for. I've always felt if you're going to play music you should find the best material you can. John writes some damn wonderfiil songs. I've admired Gene Clark for years because I always got the feeling from his songs that he had really been in love at some time. I get the same feeling from John's songs. His chord changes aren't so much like Gene's, but he has the same sincerity in his lyrics. "
Electric Range, with a new rhythm section - Kelly Goenner (drums) and Dick Roll (bass) - recently completed their second LP, Destiny 's Deal, at Refraze Studios. The record features many of the Cali-country rock touches that shone like diamonds on the first release like multi-part vocal harmonies, winsome tales of faded love, rich acoustic guitar, allegories about life and the great outdoors and jangly Byrdsian guitars.
One of the new standout cuts, "What Are We Gonna Do Now", is a sparse tune driven by tender finger-picked guitar and Alden's sweet tenor voice. This beautiftilly tragic song carries with it a great sense of longing that will remain in your ears hours after you've heard it.
I)estiny's Deal, is a much broader LP than its predecessor. This time in the studio, Alden, Bradstreet and Damell allowed for a certain amount of experimentation and the results are impressive. "We had a broader pallet of sounds to choose from and I think we made a very distinct sounding record", Darnell says. '1We took a lot more chances. We had more time to work on it and mess around with it. It gave us more time to work up double instrument harmony parts and solos. We tried to tailor each track to the song.
The most out-of-left-field track is "Choir of Mandolins", the one track Darnell sings. The song, co-written by Darnell and Alden, sports a dirge-like keyboard line and has an almost Lennon-esque feel. "That song," Damell says, "is so different than the other ones on the CD that we really had to think about what to put it after so we could set it up and it wouldn't seem so weird. I had a tough time leaving it on, but everybody else thought it should stay because it added more texture to the record."
It's nice to see that after all these years in the business, the members of Electric Range still have the ability to make a record like Destiny's Deal. Their unending dedication to their craft, desire to create another great LP and willingness to experiment is highly commendable and should serve as an inspiration to other maturing musicians in the area.

Reprinted by permisision/copyynght 1998 The Dayton Voice
---
THIS MONTH AT THE ROOTS REVIVAL
Electric Range
"Destiny' Deal" is the title of the sophomore release by Electric Range. An excellent collection of country and roots rock written predominantly by acoustic guitarist John Alden with help from guitarist Billy Darnell and keyboardist Peter Bradstreet. Electric Range specialize in lyric driven songs that thoughtfully portray the human condition. All members of Electric Range have impressive resumes working with the likes of Dr. John, Moby Grape, The Byrds, Doug Kershaw and Buffalo Springfield Again. Back again at The Roots Revival to support their new album, Electric Range were destined to make their music.
---