Dirt Ball
"Turn up the barn"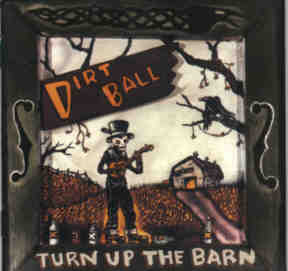 TURN UP THE BARN was recorded this past summer in a retired dairy barn on the far western edge of Goochland County. The band set up in the hayloft while the recording engineer monitored and taped the session from the ground floor.
Recording engineer Phil Stoneman set-up the session at his family farm in Goochland. Phil does sound support for many regional and national acts and often makes live recordings of the bands. The experience led him to the idea of trucking his recording equipment to the family barn as an impromptu recording studio. As Phil points out, "sometimes our departure became impromptu. If a big thunderstorm was comm' on we'd quickly pack up the gear and get it to my house before it hit. The barn is not exactly weatherproof."'
"...the atmosphere of the rural country-side and the barn heav ily influenced the character of this recording" said Josh Camp, co-pro ducer. In many cases sounds from the barn itself became an integral part of the songs; from the chirping barn swallows in June to a rain storm in late August. The surrounding sounds were Included as a part of the experience.
"We even found this old piano in the barn, to use on 'My Surrender'. It wasn't exactly in concert-pitch but fairly in tune with itself, and it added a great dissonance to the song." - Jeff Liverman.
Wes Freed, singer for DirtBall, says "I've never been more at home in a recording session than in this here barn. The setup was just right for our kind of music. The band spent days and nights out on the farm throughout the summer, sleeping in the hayloft or in tents and driving to Fork Union for a little grub."
DIRTBALL
Neal Furgurson-bass
Mark Snyder-drums
Wes Freed-vocals
Jyl Freed- vocals
Jeff Liverman- guitars
Josh Camp- accordion
Phil Stoneman- engineer
"Wes Freed's rock-dust whine and the combination of acoustic and electric instruments give this music a real edge. The folk scene needs this kind of kick in the pants..."
OPTION MAGAZINE

"Don Everly called it 'white soul', Gram Parsons called it 'Cosmic American Music', and Dirtball has dubbed it 'Hillbilly Soul'-- an American Music mutt that's country-based, but brings in strains of blues, R&B, folk, and rock 'ri 'roll..."
COLLEGE MUSIC JOURNAL

PLANETARY RECORDS 2614W. CART ST., RICHMOND, VA 23220 ph.(804) 355~79 . fax (804) 340-D728 email http://www.pIanetaryrecords.com