BLOODSHOT Records
Heads up specialty shows:
BLUES, ACOUSTIC, COUNTRY & FOLK!!
DEVIL in a WOODPILE
Country music. As in rural.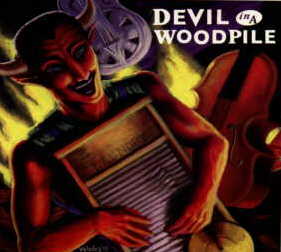 On their self-titled debut CD, Devil in a Woodpile cook up a sound that transcends the notions of time or critical delineation. It is blues. It is ragtime. It is country -- presented in its primal, pre-war (we're talkin' the one against the Kaiser, kids...) acoustic glory -- music from a time when there weren't any genres, formats, or specialty sections in record stores. It is the music of back porches on sweat-soaked summer nights -- staring down a hard-baked stretch of dirt road and getting crocked on the homemade stuff. It's all here and then some.
Devil in a Woodpile is the handiwork of Rick "Cookin" Sherry (vocals, harmonica, washboard, jug, bass drum), Paul Kaye (National steel and arch top guitars), and Tom Ray (stand-up bass, ukulele). Rick and Paul have been making time in the past few years backing renowned Delta bluesman Honeyboy Edwards (a protégé of none other than Robert Johnson himsell), while Tom has been busy with his bass work in the BOTTLE ROCKETS, PINE VALLEY COSMONAUTS, and The WACO BROTHERS. There's even some guest work on tuba (keeping that low, LOW end) from the world's greatest soundman (Son Volt, Freakwater, Lounge Ax, etc.) Gary Elvis. All of this was recorded in three days flat at Uber Studios in Chicago (Freakwater, The Blacks, Neko Case, Moonshine Willy) in the manner that suits them best: LIVE.
This disc lovingly -- and mojo-rattlingly -- recreates the sounds of the birth of virtually all roots music in America. It's the stuff pilfered repeatedly down the years by the likes of Bob Wills, Hank Williams, Sonny Terry and Brownie McGee, Jimmie Rodgers, Carl Perkins, Flatt & Scruggs, Muddy Waters, Leon Redbone, and the Bad Livers. Even them Led Zeppelin bums. Now it's your turn -- this shit is jumpin'!

BLOODSHOT RECORDS 912 W. Addison Chicago, IL 60613 USA
www.bloodshotrecords.com