RAMBLIN'
RECORDS
LUND NASHVILLE AUSTIN

DEEPTONE
"Let Them Be Wrong"

"Deeptone is the brilliant Swedish parallell to the late (and sorely missed) Jayhawks."
Metro, May 3 1999
Perhaps one of the best Swedish Rock albums of 1999 has already arrived." Olle Berggren
ExpressenlGT/KvP
"An impressive debut!"
Pierre Hellqvist Sound Affects #42
"I Was Here Today - Still beautiful enough to make even the rockers of Almhult cry."
Lennart Person
Nöjesguiden - "Best Right Now" column, June 1999
"...and I realize that Almhult has produced yet another dead cool band."
Martin Röshammar
Jönköpingsposten, April 16 1999
"Let Them Be Wrong may be the beginning of something big."
Anders Martensson
Kristianstadsbladet, April 17 1999
"Melancholy Rock-Country that sticks as bad as a tick."
Magdalena Väpnargard
Hennes Tecken, June 1 1999
"Real strong Swedish debut with its roots in American Country Rock and alternative Country."
Gunnar Hagberg
Norrköpingstidningar, June 2 1999
"It's not every day you run into Swedish Americana, and certainly not of this caliber."
Torkel Bohjort
Ljusnan, May 10 1999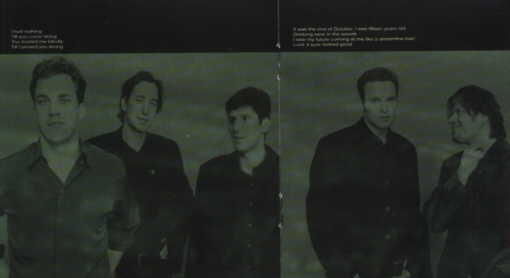 Exxpressen
April 23, 1999
by Olle Berggren
Almhult Strikes Again
The most incredible thing is that Almhult has produced a band that is ready to compete with the current American No-Depression bands like Son Volt and Backsliders.
Deeptone is the group that was born out of the remnants of The Creeps and The Daffodils. As these gentlemen matured a bit, one discovered that the clever Pop and R&B songs gradually got a bit more twang in the choruses.
This isn ~t Country, it's more of a rootsy mix of Country and Rock'n'Roll. Like Keith Richards when he experimented together with Gram Parsons. Deeptone never plagiarize their American roots. They go their own way, providing the Americana genre with new ideas, like mixing banjo with distorted guitars. Possible radio hits are "All Because of You" (the best Swedish Rock track this year), "Mrs Free" and the pensive Country-duet "Sometimes" with Susanne Berggren playing the part of Emmylou Harris.Perhaps one of the best Swedish Rock albums of 1999 has already arrived.

Metro
May 3, 1999
Staff review
Deeptone "Let Them Be Wrong"
Deeptone are a debuting band from Almhult whose musical influences come from the American South and the Bluegrass tradition.
What they have managed to find in the forrests of Sma land that jells so well with their musical influences is a mystery, but the result is strikingly good. Deeptone is the brilliant Swedish parallell to the late (and sorely missed) Jayhawks.


Norrköpings Tidningar
June 2, 1999
by Gunnar Hagberg
Don't Miss Deeptone
Real strong Swedish debut with its roots in American Country Rock and alternative Country. Deeptone, from Almhult, celebrate and high-light the exciting branch of Country Music commonly known as No-Depression, a genre wich has given us bands like Son Volt, Whiskeytown and Old 97's.
Deeptone also remind me of sadly underrated and forgotten (?) The Daffodils, and, sure enough, two of Deeptone's members were also in this band. With twelve unusually strong tracks, Deeptone instantly assume a position among my favourite Swedish bands right now.
If you missed Daffodils, don't make the same mistake with Deeptone.


Aftonbladet
April 16, 1999
by Hakan Steen
Deeptone "Let Them Be Wrong"
In contrast to certain other bands in the Swedish alt.country wave, credibility has never been a problem for Deeptone. They're over 30, hail from Almhult and have chosen not to move farther away than an hour from the local honky tonk Nanny's Pub. Deeptone, with members from Creeps and Daffodils, love American Rock and Country, but manage to add their own roots to the mix. This is prairie and Bourbon, but just as much fir tree forrests and lukewarm vodka. Steady, strong and melodious, especially in "This Town". A little lacklustre vocals from time to time, though.

Nöjesguiden
June 1999
by Lennart Persson
Monthly column: Best Right Now
Das Modell Dwight Yoakam

Deeptone: I Was Here Today (from the album "Let Them Be Wrong") Still beautiful enough to make even the rockers of Almhult cry.
Shania Twain
Ginman/Jorgensen

Kristianstadsbladet
April 17, 1999
by Anders Martensson
From Smaland With Twang
From the ashes of Creeps and Daffodils, the new pride of Almhult arises. Deeptone is Rock'n'Roll with Twang. At times ("End of October") keeping the Bruegrass heritage in the rear view mirror, in other moments ("This Town") with Jeff Tweedy's work in Wilco and Golden Smog as their guiding light. Let Them Be Wrong may be the beginning of something big. It sounds tight, yet airy. Pared down and yet well produced. Opening track "I Can't Wait" ought to be a bullseye radio hit. On this song, Deeptone borrow Springsteens intro from "Hungry Heart", build a Spector-Wall behind it and proceed to explode in their coolest Pop chorus.
A strong debut on new Lund label Ramblin' Records that really should be one point higher in our index. The only reservation is that Martin Lorentzson' 5 voice seldom changes it pitch. But, all right, the harmonies are dead-on and the duet with Susanne Berggren ("Sometimes") is a vocal spine-tingler. So, to be really honest, Deeptone's biggest problem is probably the fact that master [Tom] Waits has elected to release his new album the same week.


Smalänningen
May 1, 1999
by Lars Davidsson
Deeptone "Let Them Be Wrong" 4/5
Most Swedish bands get their spiritual nourishment from British Pop, while a minority seems interested in seeking out the source. The source that is usually spelled rootsy Americana and which lately has been called No Depression. Almhult-based Deeptone are both willing and brave enough to seek it, and the question is if there is another Swedish band today more at home in the territory where Rock and Country meet. The band contains former Creeps (Patrick Olsson) and Daffodils (Steve Nilsson and Dino Viscovi) members. Together with guitarist Kent Karlsson and singer Martin Lorentzson they have made an album that's been occlipyinq my CD player tor Lhe last week. The groups forte is hardly their originality; it's more about preserving the inheritance from The Band (the album cover carries an obvious reference to Music From Big Pink) Byrds and Gram Parsons. Deeptone, thus, join the company of Wilco, Wallflowers, Son Volt and Whiskeytown, and Let Them Be Wrong can actually stand the comparison. Big words, but they seem justified when applied to this very strong album with (almost) nothing but very strong tracks.

Norra Skane
May 5 1999
by Mikael Ankarvik
Almhult Is Back

Deeptone are from Almhult, a town with a certain tradition when it comes to Rock music. Most remember The Creeps, while The Daffodils perhaps had a briefer flowering than they deserved. Deeptone is made up of members from both bands, but doesn't really sound like any of them.
Instead, we're talking real American Rock in the borderland between Country and 'Folk. Alt.country is the common name for it, and it's just as common to namedrop bands like Uncle Tupelo, it's two branches Wilco and Son Volt, and other groups like Whiskeytown, Nadine and early The Jayhawks. And even if these bands come from large American cities like Saint Louis and Minneapolis it is common to claim that the music hails from dusty, windswept little towns in the American Midwest where you can find genuine and sad, flannell-clothed people roaming the streets, looking ruggedly relaxed.
This must be why one reviewer ventured the opinion that Deeptone don't have to worry about credibility - They are, after all, from Almhult.
Well, I don't think that's anything these mature gentlemen will worry about, even if they try to score hick-points with lines like "The city folk will never know/Where the action is/They can't keep quiet long enough".
A whole different side of the matter is that this is the best Swedish Folk-Country I have ever heard. Loosegoats will have to step aside, because there really is a deeper tone to this. Sure, most of it seems familiar, but Deeptone sound like they are for real. Earnestly and ardently they stand there, on the fine line between toughness and fragility, and the I sound, which producer Martin Hennel in Malmo has helped create, fits like a glove. If there hadn't I been a certain amount of Swenglish, albeit very K little, Deeptone could very well have been a band from one of those mythological little burghs in the Midwest.
Nor do they have any trouble finding catchy melodies and smooth choruses. Opening track "I Can't Wait" and "Mrs. Free" are good examples of this. Brilliant songs, both of them. As is the moving duet between Martin Lorentzson and Susanne Berggren in the Country ballad "Sometimes".

Hennes Magazine
May 1999
by Magdalena Väpnargard
Deeptone "Let Them Be Wrong"
Four handsome young men, approaching early middle- age, and the fabulous former The Creeps-drummer Patrick Olsson. Melancholy Rock-Country that sticks as bad as a tick. Born in the nostalgia and Hillbilly-friendly reality of Smaland's dark soil, Deeptone deliver a full-scale whopper of an album, that carries the scent of a sun-warmed back seat in a Convertible with the top down. How about giving me a ride?

Barometern
April 26, 1999
by Tommy Granlund
Deeptone "Let Them Be Wrong"
Almhult-based Deeptone, with members from Creeps and Daffodils, sound American in a very credible way. Not at all forced or contrived, and Martin Lorentzsons vocals are genuine.
I heard the first version of Deeptone as early as the first Lollipop festival, when they played covers of artists like [Steve] Earle and [John Cougar] Mellencamp. These days, they write their own songs, in the same vein. Their music is placed squarely on Country soil, with a lot of feeling for the country outside the big cities, and played with a Rock attitude.
Deeptone sound best when the songs have a solid Rock foundation. Excellent Folk-Pop in Sometimes, Mrs Free has a rocking heaviness, and All Because Of You which sounds pretty much like The Daffodils Pop are examples of really good songs. Hurt, a kind of low key campfire ballad, doesn't impress me as much. In general, the songs are great, and elegantly performed. Deeptone have produced a terrific debut album that only lacks the last little notch to be truly great.

Nerikes Allehanda
April 30, 1999
by Hakan Pettersson
Deeptone "Let Them Be Wrong"

With no directly commercial intentions, some of the guys from Creeps and Daffodils have formed this outfit, a Country band from Sma land with an American flavour. They play alt.country, as the genre is known in the U.S, and they do it with pride and and a lot of charm. They never take the coward's way out, resorting to traditionalism, copying or throw-away hook phrases. You'll find banjo and distorted guitars on the same track, End of October, a wonderful slide part performed by American artist Neal Casal and a whole bunch of well-written but irreverent songs. Country is growing in Sweden, and Deeptone are definitely part of the wave.

Jönköpingsposten
April 16, 1999
by Torsten Braf
Deeptone "Let Them Be Wrong"
If The Rolling Stones had played barefaced and brassy Pop instead of gritty Rock, they would probably have landed somewhere in the vicinity of Deeptone from Almhult. Another possible reference is Black Sorrows, which means that this has a true Sma land swing to it, which makes me very happy. The only thing missing is that one song that would open up a number of important doors for Deeptone. But if you take your time and listen patiently you will discover that Let Them Be Wrong contains a whole string of really neat songs.

Ljusnan
April 30, 1999
by Torkel Bohjort
The Swedish Alternative

Deeptone hail from IKEA-country, that is to say, Almhult! (Excuse me while I get myself up off the floor...) It's not every day you run into Swedish Americana, and certainly not of this caliber. And on the few occasions you do, you're guaranteed to be knocked out of your chair.
Under the fitting motto "The Shape Of Country To Come" the Ramblin' Records label from Lund has specialized in releasing new Scandinavian acts in the territory beytween Country and Rock. Deeptone is just one of the raisins in the corn bread biscuit. The band consists of an experienced gang with a past in groups like the Creeps (drummer Patrick Olsson) and Daffodils. Deeptone's debut album is an - almost - flawless affair from start to finish.

Let Them Be Wrong is an album of twelve songs that tell of bleeding small town hearts. Of dreams and longing, in and out of the everyday life. They're all delivered like dog-eared and dusty postcards, postmarked somewhere on the Smaland prairies. Let Them Be Wrong opens up in much the same manner as Wilco's latest offering Summer Teeth. From that point, it continues onward in tracks that could come from an album by a little rougher The Jayhawks (Mrs Free and I Was here Today) ora Swedish Whiskeytown (Angel Came Down, This Town and Hurt). On Time Is Right, they've invited Neal Casal to play a slide guitar part - how about that!
Alimony and Ben are other up-and-coming bands in the Ramblin' rosteer. Perhaps it's time I got myself a steadier and deeper chair?


Jönköpingsposten
April 16, 1999
by Martin Röshammar
Deeptone "Let Them Be Wrong"
I Can't Wait completely blows me away! Is it possible for a Swdish album to start out better? Actually, this is Tom Petty-Rock when Petty is at his very best. Martin Lorentzson' 5 voice warbles in a wonderful way, and I realize that Almhult has produced yet anoLher dead cool band. It only seems natural that drummer Patrick Olsson should have been in The Creeps.
Country and Rock are woven together and made into an extremely snug and comfortable sweater. This is what 90's Country should sound like. Nob in Lhe leasb dated or un-hip, but fun, madly vital and incredibly rocking. To be sure, Let Them Be Wrong doesn't offer anything. unique, but it sure makes me happy! Deeptone is definitely a band to be taken seriously.