Demolition String Band
by Marianne Ebertowski


I have to admit, I owe it all to Bruce Robison: if he hadn't bored the hell out of me during the Blue Highways Festival, I would never have dragged my tired bones to the small stage where the Demolition String Band were playing at the same time and ... would have missed one of the sensations of the day. They already sounded good on the staircase: hair-raisingly beautiful close harmonies of a female and a male voice, searing guitar, stomping bass and that sort of drumming which you feelin your toes and stomach. Somehow that sound was too good to be true and almost too good to get into the packed hall. Once I had wormed myself in and found some space to stand among the mass of sweating bodies, the sight turned out to be even better than the sound.

Center stage a cheeky looking, tight-muscled small women with a wild mess of dark hair swaying on her head along to the rhythm like some sort of exotic furry animal is teasing her mandolin as if she were Big Mon's grand-daughter on an illegal substance. She is singing something about a dress of roses hanging in a closet and how she feels her lover is still making love to that garment's owner rather than to her or something as dramatically intense as that.

Next to her a tall blond guy (not a natural blond, I figured, but it did look good on him) moves around playing guitar in a frenzy. Behind them towers a nose-ringed lanky figure all dressed in black, sporting a big cowboy hat and an even bigger grin on her face. She doesn't move. Only her fingers do and they're giving those bass strings one hell of a time. The sight of the three of them together is so amazing that I cannot remember what the drummer looked like. What I do remember, though, is that he added something very essential to the overall excitement. They sound like Blondie meets Tammy&George, like late seventies New York meets early seventies Nashville. These guys give me goose pimples! They speed through their show like Billy Joe through Georgia on a fast train. They play songs you could sing along too, were it not that your jaws stay open in awe. And some of the lyrics are just too poetic to handle at this pace. What the hell is this? Country? Honky tonk? Hillbilly? Bluegrass ? Rock'n'roll? All wrong, because now they come up with a funky country soul version of Aretha Franklin's "Son Of A Preacher Man", just before treating us on a steamy tongue-in-cheek gospel tune ("Somebody touched me.. it must have been the hand of the Lord.") That cheeky dark-haired vocalist sings it with such a mean twinkle in her eyes that it makes us all crack up and disturbs our community singing. Suddenly, it is all over. We plead for more and the organization gives in: the blond guy unpacks his banjo and they play us a hillbilly tune with such frantic commitment that it would have made the Soggy Bottom Boys look really old. After that they have to make room for Greg Trooper and I rush to the CD-stall to buy their new album, "Pulling Up Atlantis". I put it in the CD-player as soon as I come home and that is exactly where it still is. So here I am now, doing my homework on the Demolition String Band. I guess I should have done that before going to Blue Highways, but hell, I had never heard of these people! Now, here is what I learned in the meantime.
The Demolition Stringband was founded by Chicago-born Elena Skye and Richmond, Virginia native Boo Reiner in 1996. The two of them had been picking a bit of bluegrass on mandolin and banjo respectively in the front room of Elena's bookstore (situated in New York of all rural places) for a while. I'm not sure what they were on when they decided to play some real "Hardcorngrindgrassdeepshackfullbarntwangadelica". Maybe this is what drinking too many Buds does to people. Anyway, it sounds like the type of music you might need some more people for to play along with. After they found some new play mates, they took their show on the road supporting acts as different as wildly charismatic New York new wave queen Patti Smith, zealous bluegrass preacherman Ricky Scaggs, veteran country/folk hero Ramblin' Jack Elliot and the wacky Handsome Family.

The Demolition String Band's debut album "One Dog Town", produced by Greg Garing and John Siket, saw the light in1998, followed by two singles "Dress of Roses" and Madonna's "Just Like A Prayer" in 1999. Don't get too upset if you can't get hold of these singles, because both songs are to be found on "Pulling Up Atlantis", their latest album, released on Okra-Tone just a few months ago. It's a killer album, produced by Eric "Roscoe" Ambel who was last seen accompanying Texan heavy weight Steve Earle on guitar and harmonies on his European tour.

I hope their overwhelming success at Blue Highways will stimulate the Demolition String band to play their Hardcorngrindgrassdeepshackfullbarntwangadelica brand of music for their newly won European fans as soon as possible, and, hopefully, they will do that with their Utecht line-up which includes Joey Ramone-look-alike Anne Husick on bass and drummer Michael Smith. In the meantime give "Pulling Up Atlantis" a good listen, and when you do, pay special attention to Sacred Steel player Robert Randolph. That young man is simply amazing, and so is Sacred Steel. But that would be another story.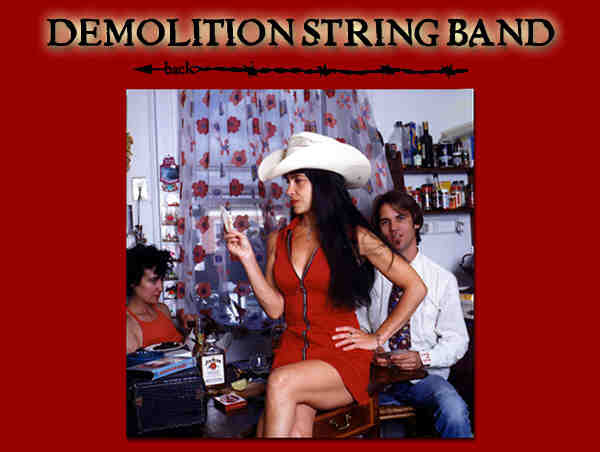 Elena Skye & Boo Reiners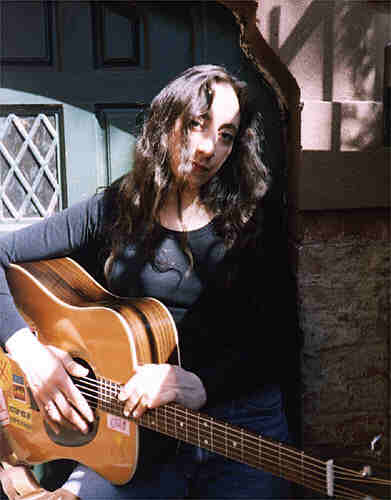 Anne Husick