Interview
The Dark Horses
by Indy
What do "Demolition String Band", "Tandy", "Star City" and "The Dark Horses" have in common? They all hail from one and the same music scene of New York City. Now, this wouldn't be unusual at all, but the fact that these bands are country rock bands creating a rural musical style in the metropolis pricks up your ears. "The Dark Horses" whose debut "Come along" is a beautiful, coherent "Country meets Westcoast" album prove that this encounter need not be a contradiction, as they transport a feeling in their record that you'd rather expect from sunny Californian coast resident bands. With the aid of well-known pedal steel player John Graboff they create new highlights in the tradition of bands like Poco or the Flying Burrito Brothers. Here's a short interview with Dark Horses singer and songwriter Sam Park ....

Indy: Sam, please tell me something about your musical past ...
Sam: We've been together since 1997, and individually we've each been playing for two decades or more. Philip used to be in Woodpecker and still plays for Tom Clark & the High Action Boys. Doggie (J. D. Hughes) has been in dozens of bands, including the Queers, the Vacant Lot, and the Rogues' March. I have been in lots of bands you have never heard of, most (in)famously, the Ventilators.
Indy: It seems as though a very creative alternative country scene exists in New York at present. You constantly hear of new bands from Big Apple, all of whom are much praised. Now, what are the facts about country from the urban area? It seems rather unusual ....
Sam: Having a band in New York can be very difficult these days. There are fewer and fewer places to play, and most of them suck. Lots of us play at Roscoe's bar, the Lakeside Lounge. We all try to help out where we can, but there are not really that many opportunities to do so. Actually, though, there has been some kind of country scene here in NYC for a long time. About ten years ago, it was mostly centered around the Diesel Only label, including the World Famous Bluejays. Diesel Only put out a whole series of compilation albums called "Rig Rock Jukebox". And of course, there was Beat Rodeo, who still gets back together once in awhile.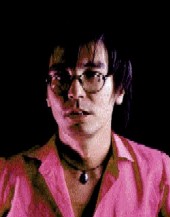 Sam
The Dark Horses
Indy: Your debut album "Come Along" was produced by Eric "Roscoe" Ambel who has been "the" producer in Americana / Roots Rock for quite a while. How did you come to cooperate with him and what was work with him like?
Sam: We've known Roscoe for a long time. The challenging thing about working with him was that right after we started recording the album, he got the gig playing guitar on tour with Steve Earle. So we finished the record on his breaks from the tour schedule, one or two days at a time over the course of several months, stop and go.
Indy: What are your plans?
Sam: Just keep playing music. "Come Along" is getting great response, especially over there. We get more email from Europe than we do from the States! You might think it's a little odd to have a country scene in New York, but I think it's even funnier that so many people in Europe really like this kind of music. We'd love to tour over there if we can find a way to do it. Stay tuned!
Indy: Would you like to leave a message for your fans in Europe?
Sam: (Please excuse my terrible German!) Guten abend! Wir haben es sehr gern, dass Leute in Europa unsere Musik hören können. Bitte schreib uns ein E-mail (mailbag@thedarkhorses.net) oder besuch uns hier in New York.
Danke!
Sam: (Please excuse my terrible German!) (and in German:) Good evening! We really appreciate the fact that people in
Europe listen to our music. Please write us an email (mailbag@thedarkhorses.net) or come to see us here in New York.
Thanks!
(Indy)
Roadtracks