Curley Ennis
"On The Job"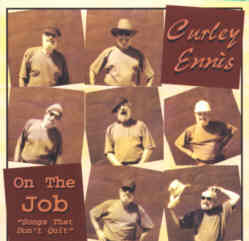 What they are saying:
'A wonderful program for our students!"
Brenda Louthian, Music Specialist Hardy Road Elementary School
'A magnificent job! Your performance was very much enjoyed by all present.'
Lee Garret, Chairman
Roanoke County Board of Supervisors
Roanoke All-American City Celebration
"A memorable experience for the students and one which allowed them to have flin and to learn at the same time."
Linda LaPrade, Gifted Program Coordinator Salem City Schools
"Your choice of songs was wonderful... your performance of traditional music was excellent."
Mitchell D. Bowden, Executive Director
Roanoke Valley History Museum
Adventure Station Series
"He and his music greatly enhanced our program · . . and I recommend Curley to you."
Christina M. Dawson, Asst. Professor, VA Tech Educational Leadership and Policy Studies
"These are beautiful songs. They harken back to old values. Music that feels good."
Dan Taylor, Entertainment Reviewer Omaha Sun Newspaper
"The staff were as captivated with your music as the children were."
Peter M. Pufki, Executive Director Children's Home Society of Virginia
"His easygoing style of telling tales through music, topped by his unique vocal quality, quickly warmed the hearts of the audience."
Scott's Bluff Star Herald.
"I like the honesty about it, the truthfulness in it. It's the music of the people. It's not canned. It's human, it's live. It's like a work of art."
Jeff Bahr, The Lincoln Star, Nebraska
"It was an enriching experience for my class and I was able to integrate this work into many areas of the curriculum."
Sharon Souders, Alexandria Elementary School
· . . a great asset to our show."
Linda Wickline, Art by the James Committee


Hello! I'd like to thank you for taking a minute to look through this brochure. I have included general information on what I can offer you, your school, club, festival or organization. Let me know how we can work together to bring about a successful program.
Curley Ennis specializes in traditional and contemporary folk songs and folk tales.
This versatile musician accompanies himself on the guitar, dulcimer, banjo, song-bow and harmonica as he presents songs of the cowboy, the railroad, bluegrass, blues, Irish, children's songs, pioneer and contemporary life, original selections and songs of people and places throughout the United States. Along with the songs, Ennis weaves stories and tales about the music and about people he encounters in his travels.

Appeared with
John McCutcheon
The Omaha Ballet
The Omaha Symphony
Asleep At The Wheel
David Bromberg
The Bluegrass Cardinals
Reverand Gary Davis
John Hammond
Tom May
Steve Gillette & Cindy Mangsen
Tony Rice
Hot Rice
Richie Havens
Jean Redpath
Bill Staines
Tom Paxton
Joe Mabus
Mike Seeger
Anne Hills

Phone (540) 342-3257
Curley Ennis
Traditional & Contemporary
Folk & Acoustic Music
806 Ruddell Road
Vinton, VA 24179
Road Ranger Productions