Cattie Ness & the Revenge
- October 99 1999 -
Talk about an exciting year for a Fresno band. Just recently Cattie Ness & the Revenge returned from playing the world famous Greasebail in San Francisco. A month ago, they held one of the prestigious spots at the Hot Rod Deluxe Parly put on by Hot Rod magazine at the LA County Fair, and now the band is scheduled to play Viva Las Vegas (the world's largest rockabilly show) in April 2000 for the Purist Records showcase "Good Rockin' Tonight".
Cattie Ness & the Revenge has been playing traditional rockabilly for the last four years. They are Rebecca Caraveo on lead vocals and rhythm guitar, Kevin Thomason on upright bass, Rich McCulley on lead guitar and Kym Kilgore on drums. The music is fun and up tempo; the lyrics tongue in cheek from a cattie woman's point of view "I was standing by the door when I saw ya stagger up to the gate. Well I grabbed a rolling pin but it's just about a second too... "Mean"--you never stop talking, it's time your start walking, just shut your mouTh and please go .... "99 Bottles" --the ever popular Maddox Bros. and Rose cover "Wild Wild Young Men" ... wild, wild young men scandalize my name... and the not-too-romantic love song "Baby Maybe Then I'll Love You" You're not the first, your not the last, if you want to love me, start working fast, baby, ...
For over a year the band hosted shows in the Americana genre at their local hangout, Tokyo Garden, as well as other venues in Fresno. These shows have ranged from Cowpunk to Western Swing to Psychobilly and boast the likes of Big Sandy and His Fly-Rite Boys, Deadbolt and Deke Dickerson.
As for recording, the band just finished up 5 songs as a start to their upcoming self-produced CD "Fresno Rockabilly" planned for a spring release. Some time soon they will be going into the studio with Deke Dickerson for their contribution to the Purist Records compilation "Good Rockin' Tonight", also due out in spring of 2000.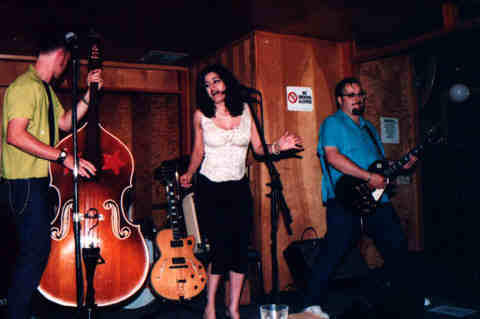 They'II Make You Pay!
Cattie Ness & the Revenge, Fresno's only rockabilly band, will bring their take-no-prisoners show to SLO Brewing Co. in SLO Town this Saturday, Sept.18. The 4- year-old four-piece features Kym Kilgore on drums, Kevin Thomason on the stand-up bass, Mario Jimenez on the lead guitar, and Rebecca Caraveo singing lead vocals and playing rhythm guitar. They're Fresno's rockabilly ambassadors.
"We've brought many acts to Fresno so that we could play with them.....Big Sandy and His Fly-Rite Boys, Deke Dickerson, and Deadbolt, to drop a few names," said Caraveo. "We've been playing the southern part of the state for the last few months and have been getting a tremendous response. We've played the Bowl-a-Rama, Jacks Sugar Shack, and the Foothill Club -all big names in the scene.
"We've also played some of the hot rod shows, including the Shifters' (a SoCal car club) Fourth Annual Shindig -and they only invite hands they really like!-the Authentic Zombie Hot Rod Wear's Sideburn Circus, and last week we played the Hot Rod Deluxe magazine party at teh L.A. County Fair.
We play traditinal rockabilly from a cattie woman's point of view;" continued Caraveo mysteriously. "We'll be recording our first CD at the end of this month and will appear on the Purist Records compilation 'A Tribute to Sun Records,' produced by Deke Dickerson. Check them out if you dare!

---

Subject: Re: Becky & Hot Rod
Date: Mon, 25 Oct 1999 14:36:55 GMT
From: "Rebecca Caraveo"
To: settler@mailer.uni-marburg.de


HI Hans:)

Just this week I put a 5-song demo CD in the mail. I thought you would like Hot Rod Deluxe. The party was good. The b/w on the website is from that show. My web guy is lagging, but soon I hope to have some HRD pics as well as the Greaseball (in SF) where we were invited to play for the first time (but have been to every one).

Hope you like our CD. We plan to have an MP3 on the website soon also. Please let me know how you like it. The songs are:

My Life's Ambition
99 Bottles
Everybody's Tryin'
I Need a Man
Wild Wild Young Men

Becky

Take care.
Rebecca Caraveo Bio