The Old Cowhands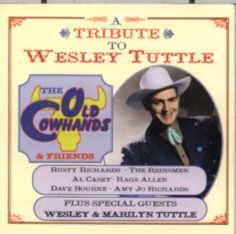 Buffalo Rick Galeener, featured on bass & vocals, is Arizona's Unofficial Tourist Attraction, and has served as Official Wild West Ambassador for both Phoenix & Scottsdale. In addition to 20 as a road musician, Buffalo Rick is an accomplished songwriter, winning an award from the state for his song "Arizona". He has also had a successful career as an actor, with work in several motion pictures, TV, radio and commercials. The Old Cowhands was conceived out of Buffalo Rick's association with several western TV & motion picture stars. and his love of the old west. It's just natural for an Arizona boy to play western music.
Rags Allen, a veteran of the Nevada circuit has performed frequently in Las Vegas, Reno and Tahoe.ln addition to touring the U.S. and Canada with his own band, Rags has played with Waylon .lennings,l)obie Grey,Willie Nelson, Charlie Pride, Freddie Hart,Wynn Stewart and Barbara Fairchild.
An accomplished studio player, Rags has recorded with Lee Hlazelwood, Snuff Garrett, Hal Blaine, Al Casey, Billy Strange, and Neil Diomond's band. As an educator, he has been teaching piano,keyboard, accordian and theory, at Arizona Music Center for eleven years, while continuing to produce lead sheets, chord charts and copyrights for vocalists, instrumentalists and songwriters all over the country.
Al Casey, although raised in Phoenix, spent of his adult life in California, where he finally ended up in Hollywood in 1965. From 1965 to 1983 Al was doing studio with just about everyone, including Glen Campbell, Frank Sinatra, Elvis Presley, The Beach Boys, Neil Diamond and many more. Al also worked on the Martin Show for three and a half years, before semi-retiring back to Arizona, where he records on occassion and does some live appearances and teaches.
Ron Rutowski, a multi instrumentalist, is featured on fiddle & vocals. He has worked with country, blue grass, and jazz groups both in the Phoenix area and on the road. For the last thirteen years, Ron has been a member of the Phoenix based Jeff Dayton band which also works as Glen Campbell's back up band. Over the last eight years Ron has toured with Glen all over the United States and in England. A veteran of many Phoenix recording ses sions, Ron recorded the solo fiddle line, that for one season was used as the theme music for the CBS sit com, Evening Shade.
Sue Harris Raised in Phoenix, Anzona, Sue Harris has a special love for the West. 11cr father, who was a singer md fiddle player with manaehi Isitids in his youth, filled her young head with such songs as "Streets of Laredo" and "Rancho Grande". During high school, she discovered folk and cowboy music, picked up the guitar, and has been singing and playing ever since.
Sue is a featured performer at such venties as Scottsdale Center for the Arts, Desert Botanical Garden, Kerr Cultural Center, and folk festivals through out the state, aud is currently on the roster of perlorl~ing artists for The AZ Commission on the Arts. Her solo CD, "Where Have I Been All My Life" has received airplay all over the world, with enthusiastic reviews from as far away as Israel and Australi~For the past seven years, she has presented cow boylwestern programs in schools all over the Valley for the Coors Rodeo Showdown, and has presented many pro grams for Scottsdale Center for the Arts Education Outreach.



Knix Magazine - January 1998
TOWN ROUND
Buffalo Rick:
How I spent the
last two years...
Years ago country and western worked to describe a style of popular music. It hangs on today. used by people who are not quite in the loop. fans or neither country nor western music.
Sticklers for honesty in musical pigeonholdng have coined "cowbov and western" for the heritage music of the Old West and both old and new western swing and cowboy lifestyle songs. And why not? Cowboy and western is a legitimate format. It has passionate fans and practitioners who create their own events to enjoy a style of music that refuses to die, or even to go underground.
And so it was that Buffalo Rick Galeener met the venerable Wesley Tuttle at the Western Music Festival in Tucson two vears ago. Galeener performs locally in a trio called The Old Cowhands. He thinks it's time someone put the "West" back in western music! Certainly the "West" has disappeared from country and western. but who knew it was missing from western music? Bless the purists. They keep things, well, pure.
In any case, Galeener had conic across an article about Tuttle (who is 80) in a 1950s issue of Country Song Roundup. A contemporaty of Tex Ritter, Gene Autry. and Roy Rogers, Tuttle sang with several musical groups and on the radio in the '30s and '40s; then was a Capitol Records artist for over a decade.
He also appeared in early western movies as a singer. One of his biggest hits (1946) was a fetching swing tune called "Detour," which is still recognized readily.. lf you've heard it once, you'Il remember it forever.
Galeener found Tuttle's histor, interesting enough to want to learn more about his music (when you're an Old Cowhand, you don't get new material off the Billboard charts. Lo and behold, who should he stumble onto at the \\'estcrn Music Festival. but the aged Tuttle, now nearly blind, signing photos and cassette reissues of his old recordings. lifted from other media. They talked for a long time, and "clicked," as Galeener puts it.
He visited Wesley and Marilyn Tuttle at their Southern California home in San Fernando, and the friendship grew. "It was like being with my own folks, only my folks had turned into musicians, Galeener laughs.
The more he learned. the more intrigued he became. Marilyn had been in Shirley Temple movies and knew Dale Evans before Dale knew Roy Rogers. She still works, though her husband is retired. In fact, she had asked for additional hours at her lob to raise money to attend the Tucson festival.
Galeener has been a scrambler all his life. but he was in awe of how productions were pulled off in Tuttle's day. "Imagine this," he says. "Wesley was music director and co-host for the Town Hall Party in the '50s. It was a four-hour ~ show, simulcast on two radio stations, broadcast live in front of an audience of 2,7'00 people!"
Not enough Wesley Tuttle music exists in truly listenable form. Galeener decided. after hearing more tapes. preserved as "historical" recordings, but not competitive as commercial product. The faithful deserve quality. even though they'll buy anything, he believes.
He negotiated a three-way deal with Fred Goodwin, who produced the existing Tuttle tapes, Clarke Rigsby of Tempest Studios, and himself. to produce a Wesley Tuttle commemorative CD project. Goodwin put Galeener in touch with anybody he could find connected with the original Town Hall Party players, who would be familiar with the style of music he wanted to recreate.
Tuttle sent every. tape he had, and Galeener pored over them, finally selecting 15 songs. some familiar, some long forgotten, for The Old Cowhands & Friens: A Tribitte to Wesley Tuttle. The musicians, all of whom donated their time, include himself on bass and vocals. Funny, you hear a guy singing around town for 20 years and you think you know his voice. But Galeener has never sounded better, more perfect for the music, than he does on this CD.
The versatile Bob "Willard" Henke takes back-up vocals (lead on "Vaya Con Dios" ). plus guitar. accordion. and piano dury. Multitalented genius Ron Rutowski, also an Old Cowhand. plays a deliciously frisky fiddle, banjo. and mandolin, plus covers back- up and lead vocals. Al Casey soars on steel (triple neck. no pedal - his first instrument). Specialists Rags Allen and Dave Bourne are ultra-tasty on piano. No drums!
Other contributors are Rusty Richards. who sang with the Sons of the Pioneers for 20 years; and his daughter, Amy Jo. who has performed ince age seven. Also participating arc The Reinsmen. for 30 years one of America's premier western singing groups;
.
Tuttle himself makes a spedal appearance on "Detour," and doesn't need any excuses. His vocals arc right on. The CD was engineered and mixed by Rigsby. (Coincidentally, Rigsby once played guitar with West Coast music legend Tex Williams, who also co-hosted the Town Hall Party TV show.
Galeener hopes that between his efforts and Goodwin's contacts they can expose the CD successfully through western music events and "alternative radio stations nationwide If they can make a little money. a portion of it will go to Wesley and Marilyn Tuttle. But whatever the outcome, he's already done right by them. He's given two years of his life to a deserving project and he has a very. special body of work to show for it.
KNIX MAGAZINE. JANUARY

---
The Old Cowhands & Friends
A Tribute To Wesley Tuttle
(self-released)
Wesley Tuttle was a Capitol Records country-western recording star in the 1940s and 1950s. Somehow in the age of CD reissues, Tuttle has been over- looked even though he enjoyed several hits and a 1945 No. 1 with the song With Tears In My Eyes. Buffalo Rick Galaneer of Cave Creek's Old Cowhands met Tuttle and and his wife Marilyn in 1995 at the Western Music Festival in Tucson and this CD grew from their frieridship.
Recorded with Emmy-winnig engineer CIarke Rigsby, The Old Cowhands are joined by other musician friends including tuttle himself on 15 rerecordings of Tuttle's hits.
The songs are not revamped, for the '90s; they're reccorded much as they would have been 40-50 years ago and therefore evoke an era o,f American musical history. The playing is fantastic, the harmonies stirring and the songs themselves sparkle. Only 500 collector copies of this disc have been pressed To order one, call 992-4578
Thomas Bond
---
A TRIBUTE TO WESLEY TUTTLE
BUFFALO RICK, RUSTY RICHARDS, ETC.
This is another candidate for 1997 Album of the Year. To those who might Isay it's not all Western, I would point out it's performed in the I 940s style that was so popular in B-Westem movies and it's superbly done!
I'd never heard Buffalo Rick's music before listening to this newly recorded album of songs closely associated with Wes Tuttle's career. Now that I've heard it, I'm a fan. Not only is he an excellent -producer, he does some fine vocals as well.
He kicks off the album with a livel version of Round Trip Ticket; followed by Tuttle's beautiful old ballad, Until Dawn. Another highlight of the album is Wes Tuttle's guest appearance, taking the last verse on a terrific Western Swing version of Detour, the song he introduced on Capitol Records in 1946.
Rusty Richards turns in outstanding performances with the Reinsmen on Strawbeny Roan, with his daughter, Amy Jo, on I'd Trade All Of My Tomorrows (for just one yesterday), and along on Yodelling Boogie. Dave Bourne, of the Lobo Rangers, plays piano on a couple of tunes and a cast of other outstanding vocalists and musicians join on others. The fiddle work by Ron Rutowski is reminiscent of the beautiful violin solos Margie "Fiddlin' Kate" Warren used to play on sessions with Wes in the 50s.
This one's a must! $19.95 ppd from the Old Cowhands, P.O. Box 355, Cave Creek,AZ85331.
O.J. SIKES

---