http-equiv="Content-Type" content="text/html; charset=iso-8859-1"> < name="Author" content="Hans Settler"> < name="GENERATOR" content="Mozilla/4.6 [de]C-CCK-MCD QXW0320c (Win95; I) [Netscape]">


Borrowed Tunes
"Local Flavor"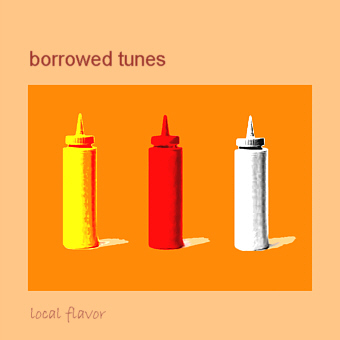 'Local Flavor' is the name of the new CD by Borrowed Tunes.This beautiful,six song EP was just released on Hausmusik in Germany and features the deeply moving songwriting of Klaus Patzak and one, softly sad song from Phil Hurd.

Borrowed Tunes are a band from Southern Germany with a strong Neil Young/Townes Van Zandt influence and deep attachments to Austin. When they were asked to perform at the Austin Acoustic Music Festival they were delighted to accept the invitation, but would not be able to bring their lead guitar player, due to impending fatherhood. Fortunately their friends at "Local Flavor", a great Austin, TX record store, helped match them up with Phil Hurd, who can fill any guitar need. Klaus Patzak, Axel Ludwig, and Phil Hurd met in this store for the first time, practiced on cold November nights for one week, and gave the festival crowd a beautiful performance. The next week they recorded these six songs in a South Austin living room. All six are perfect, honest, and personal.
"Perfect Solitude"
"The Ballad Of A Loaded Gun"
"Path Of Misery"
"Goodnight Baby"
"Pretending"
"Some Truth"
The Borrowed Tunes
(Official Website)
Hausmusik
German Label