http-equiv="Content-Type" content="text/html; charset=iso-8859-1"> < name="GENERATOR" content="Mozilla/4.6 [de]C-CCK-MCD QXW0320c (Win95; I) [Netscape]">
Bill & Audrey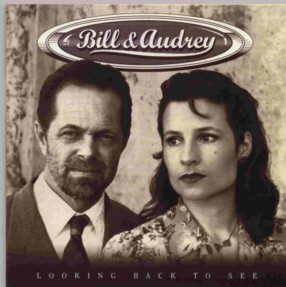 Meet Bill & Audrey. Together these artists bring a new sound to the Australian music scene, with close harmonies that echo the classic country traditions.

Think of your favourite duet partners, such as George Jones& Thmmy Wynette, Dolly Parton & Porter Wagoner, Gram Parsor& Emmylou Harris and The Everly Brothers. Bill & Audrey taketheir musical inspiration from these musical roots and fuse them with a style all their own.
At a time when people are looking for entertainment which leaves a lasting impression, Bill & Audrey present a fun show filled with a variety of styles. In Audrey you can hear - and see - the influences of the great song stylists of the 50's. Combine this with Bills crazy antics on electric guitar and you have a high energy show that's guaranteed entertainment.

Bill Chambers, founder of the Dead Ringer Band, is one of our best known country artists. With three Mo Awards (1996,1997,1998), an ARIA Award for Best Country Album in 1996, and three Tamworth Gold Guitars (1992,1995,1998) Bill's success has won him many fans right acr~~ss Australia.

Audrey Auld made an impressive debut with the rel~ase of her CD in 1997. Her single ~Fake Love With Me" scored well on the HOT-FM charts and continues to receive national airplay. Audrey was a song\vriting finalist in the Thmworth lnd~pendant Artist Recognition Awards (1997) and nominated for Best Female Vocalist in the Spirit of Thmworth Awards (1998).

Performing as a duo or fronting their own hand Bill & Audrey's blend of traditional music with their own unique style has a warmth and magic that's both heartfelt and highly entertaining.
---
LOOKING BACK TO SEE
'~What a nice surprise. An albumi of duets exactly as they used to be made back in the '50s, an act of reverence... delivered with the gentleness and simplicity of yesteryear This is an album of solid honky tonk delivered with an honesty that would scare certain American acts jumping on the retro bandwagon.'
* * * * Craig Baguley, Country Music People, UK

"... their musical ethos is a lot like Bany and l]olly Tashian. Their influences include The Louvin Brothers, The Carter Family, Kitty' Wells and George & Tammy. A pleasant album of genuine country music,... sung by two people who complement each other in every way."
* * * * Frank Bradshaw, Country' Music International, UK

"..... the pair rejoice in the sassy type of duets you used to hear from the likes of Ernest Tubb and Loretta Lynn,... or Rick and Thel Carey, to whoiii this album is dedicated. . . these songs are of the highest order of real country. That is simple heartfelt and direct songs of deceptive subtlety a real contender for Australian indie country release of the year."
Keith Glass, Rhythms Magazine and Sunday Herald Sun, Aust.

"...these are songs that have been around for a while and some are brand new but they all have that unmistakable sound that it is a country record full of tiue country songs. There's love and heartache and even death.... This is a 'true country' album..."
John Nutting, Country Update, Aust.

"In this day and age of techno, overproduced Countrythere is a definite place for some real Country Music... Bill & Audrey delivery the goods on this album.... This set recks of honky tonkin'. hillbilly sassiness and genuine Country heart aud soul. If you miss the sounds of real Countiy Music in the style of Hank Williams and the greats of '40s, '50s and '60s, you'll love Looking Back To See.. Maybe some of ourr current so-called stars could take some paraphrased advice and Look Back To Hear where your heart and soul should be."
Jon Farkas, Capital News,, Aust.

'Here's a little beauty for fans of the old honky tonk style of traditional American Music, when country meant Hank Williams and Rose Maddox.... a deliberate feel from the fifties while still very much set in the nineties. lt's right on the money.".
Rosie A dsett, Country Update, Aust.
---
post office box 52 woy woy new south wales 2256 australia
www. reckless records .com

---
LOOKING BACK TO SEE
Psst! You wanna hear some real country music, the kind heard back in the '40s, '50s and 60s, music that Nashville has forgotten how to make?
Then slip Looking Back To See into your disc player for a flill dose of the classic country duet sound oilginally popularized by legends like The Carter Fainily, George & Tamrny, The Louvin Brothers and Gram Parsons and Emmylou Harris.
While the pairing of Bill Chambers and Audrey Auld is a new one and Looking Back To See their first recording -- the pair bring years of experience in a variety of settings to the project.
Indeed Bill Chambers earned his first major Australian music industry award in 1992 when Slim Dusty's version of his composition, "Things Aren't The Same on the Land" was chosen "Song of the Year" by the Country Music Association of Australia (C.M.A.A.). As lead guitarist and harmony singer in Dead_Ringer Band~ Chambers earned more C.M.A.A. Awards when they won "Group/Duo of the Year" honors in 1995, 1998 and 1999. They also won a 1996 A.R.I.A. Award, the '1down under" equivalent to the "Grammy" in 1996 for their Home Fires album. Dead Ringer Band recently signed with EMI/Australia and will issue their fifth album in early 2000.
Audrey Auld is a Tasmanian native from a musical family. Her early performance training was in theater but she soon started writing songs, forming The Cowbelles, an acapella trio, in 1993. She established Harmony Grits, an acoustic western swing outfit, in 1995 and then created Audrey & The Rhytlim Wranglers to perform swing and traditional country in 1996. Audrey released her first, eponymously 4itled EP in 1997, a four song disc inspired by '40s and 'SOs traditional country. She and Bill joined forces to start Luke & The Diifters in 1998, an ensemble which pays tribute to Hank Williams and the classic country music of the 'SOs. They also established the weekly "Bill & Audrey's Hillbilly Jam" in Sydney last year, Australia's only regularly scheduled presentation of authentic "old-timey" country music.
Nashville may have forsaken the sounds that put them on the map but that timeless music lives on with Bill & Audrey's Looking Back To See.



U.S. contact: Kinetic Management
John Lomax III
Box 120316 Nashville, TN., 37212
T: (615) 356-4684 F: (615) 356-4666 lomax3~mindspring.com
---