http-equiv="Content-Type" content="text/html; charset=iso-8859-1"> < name="Author" content="Hans Settler"> < name="GENERATOR" content="Mozilla/4.6 [de]C-CCK-MCD QXW0320c (Win95; I) [Netscape]">

The Bandidos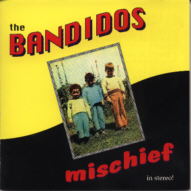 When it comes to music, The Bandidos steal only the best, giving it all back to audiences who dig rock'n roll, Texas and Chicago blues, surf rave-ups and swinging, country beats that never go out of style. Coming together as a band in 1992, The Bandidos have been kicking around roots music circles for a good deal longer.
Bob Elliot - bass, vocals Raised on the bayou of Augerville, Connecticut, Bob trod the boards for twelve years as bassist and singer with B. Willie Smith, one of New England's rootsiest rocking r&b bands. Wildly successful in the 1980' on the Rhode Island-Connecticut club scene, the popular sextet released two albums, toured regularly from South Carolina to Canada, and shared stages with B.B. King, The Blasters, and many other greats. Their members included guitarists Chris Vachon (Roomful of Blues) and Young Neil (Young Neal & The Vipers), as well as saxophonist Bill Holloman (Danny Gatton, The Gatlin Brothers). When the B. Willies's folded their cards in the late 80's, reuniting to back Danny Gatton for a rare CT visit by the late guitar genius, Bob became the resident sound engineer at Toad's Place, New Haven's premier music club. In 1992 Tom and James told him to get off his
butt and back on the bus. Boy, was he ready.
James Montez - guitar, vocals After a youthful stint with B. Willie Smith, guitarist James Montez joined The Chryslers, the musical equivalent of the '65 New Yorker he's still driving. In 1986 he joined Dance Committee, a Connecticut blues-influenced classic rock'n roll outfit, in whose ranks he honed his craft in bars and ballrooms from The Big Apple to Block Island. In 1991 the earnest Mr. Montez went to work for himself, doing custom design work for other well-known New England guitarists and driving The
Bandidos sound.
Tom Smith - drums, vocals The son of a big gand drummer, Tom worked in New Orleans and England before meeting James Montez in Dance Committee in 1987. His good manners and big beat have earned Tom invites to sit in with Sleepy LaBeef, Ernest Ranglin, and Mighty Sam McClain, as well as Studio and sub work with New Orleans' Vic Trix & his Beatniks and a passel of New England rock, blues, country, and alternative bands.
The Bandidos have kicked off succesful concerts by NRBQ, Roomful of Blues, The Fabulous Thunderbirds, Buckwheat Zydeco, Robben Ford, Steve Forbert, Southside Johnny & Asbury Jukes, Al Anderson, Magic Dick & J. Geils' Bluestime, and Candye Kane & The Swingin' Armadillos. Their first cd, "mischief" was released on Troutcat Records in September 1995. "They appear to be able to play anything and do so on this debut cd which held my interest throughout," wrote No Dig This. "I can well understand one reviewer exclaiming, "This is all the band I'll ever need!"
See also:NASH! online roots magazine Issuie 3.02 April-June 1997
Info: e-mail troutcat@snet.net or call Tom Smith (203) 272-3844
Mail: BANDIDOS c/o 37 Wallingford Road, Cheshire CT 06410
The CD is also available from mail order companies:
Miles of music (818) 883-9975 or Milesomusc@aol.com
Rockhouse Records (Holland)