http-equiv="Content-Type" content="text/html; charset=iso-8859-1"> < name="GENERATOR" content="Mozilla/4.6 [de]C-CCK-MCD QXW0320c (Win95; I) [Netscape]">
AL'S FAST FREIGHT
BETWEEN THE DEVIL AND THE DEEP BLUE SEA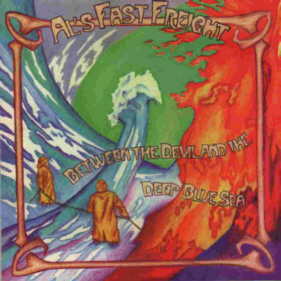 1.1 Need A Word That Rhymes With Idiot
2. Life Of The Party
3. Who The Hell Knows
4. Between The Devil And The Deep Blue Sea
5. You Don't Want Me Around
6. Ring In My Pocket
7. Heartburn
8. Safe In My Arms
9. Hollywood Be Thy Name
Produced and engineered by Byron Nemeth at Pacifica Studios
Howard Micenmacher - Vocals
Acoustic Guitar, Mandolin
Brendan Gilberti - Electric Guita
Dave Smoot - Drums
Janice Fields - Fiddle
Pete Ponomarenko - Bass
Bill Lestock - Mandolin (tracks 1 and 2)
Allen Collins - Backing Vocals

ALTERNATIVE COUNTRY; INSURGENT COUNTRY; GRANGE ROCK; NO DEPRESSION; AMERICANA
Whatever you call it, the increasing popularity of this genre is welcomed news to Al's Fast Freight who has already been filling clubs with the sound for several years. Thanks to the efforts of Son Volt, Wilco, BRS-49, Steve Earle, and many others, country music thrill seekers are finding new places to turn.
Al's Fast Freight has crossed the line between rock and country, and is now gaining acceptance in both formats with their own brand of insurgent country/original Americana songwriting. MAIA RECORDS has released "Between the Devil and the Deep Blue Sea", a follow-up to their CD "1-90". Al's Fast Freight's versatility has landed them opening slots for a wide array of national performers ranging from classic rockers, to modern bands just arriving on the scene along with some of country music's finest. In the past they have opened for the Outlaws, Dave Mason, Jorma Kaukonen, Simon Townsend, Little Feat and Rare Earth as well as for modern rockers such as Letters to Cleo, Possum Dixon, Peter Himmelman, and the Why Store. They have also appeared with country acts Tracy Byrd and David Allen Coe and Americana acts Whiskeytown, the Ranch, V-Roys, Freakwater, Richard Buckner, Jack Ingram, Blue Mountain, and Mary Cutrifellow.
For more information on Al's Fast Freight, please contact
Howard Micenmacher at (216) 271-5355.
MAIA RECORDS
P.O. Box 372, Wickliffe Ohio 44092-0372
phone: 440-247-4323 fax: 440-247-3177
e-mail: kctaper@aol.com

---
WHAT THE CRITICS SAID ABOUT
Al's Fast Freight
I N T E R S T A T E 90
(Maia Records MR-07 released 1997)
"If Al's Fast Freight lived in your town, you'd go see them every time they played, the tip jar stuffed, and their bar band originals would always entice another dance. Those twangy truck boys sure can write some great stuff, and there's a number of 'em found here ("Red Neck, White Trash, Blue Collar," "Interstate 90"). When they get tired of honky-tonkin', they switch to a jazzy R&B number ("Late Night Visit") or a cool pop-gospel ("Who'll Save Me Now") to sedate the beer-bottle-eating crowd." DIRTY LINEN 11/98 "High, lonesome vocals, loose, live, somewhat sloppy performance. Downright electric" SCENE 8/7/97
a heartfelt picture of a modern outlaw with ringing guitar" FREE TIMES 7/97
"appeals to kids who grew up with their parents' Dylan albums" BLUESUEDE NEWS #411998
---
BEETWEEN THE DEVIL AND THE DEEP BLUE SEA
(Maia Records MR-09 released 1999)
"Has a loose, relaxed feel that is easy to like and it is a worthy follow-up to the well received
INTERSTATE 90 album" CLEVELAND COUNTRY MAGAZINE 5/99

"Burrito Brothers-styled rock to straight honky-tonk...a high lonesome sound. Songs have a pretty tender feel with rich strings and smooth strumming... Clever lyrics. Al's is a good band" FREETIMES 3/17/99
"BEST AMERICANA BAND" 1999 CLEVELANDSCENE MUSIC AWARDS
---
AL'S FAST FREIGHT DISCOGRAPHY
AL'S FAST FREIGHT(1992 self released cassette only)
1. America 2. Headstrong 3. The Lonely Statement 4. Like Elvis
"LIVE" KEEP THE FREIGHT (1994 Sound Of The Sea AL2-007) 1. South End 2. Headstrong 3.
Light Goes On 4. Beating Heart 5. The Lonely Statement 6. Rock The Ages
Anna Nausea AM I ANNOYING YET? (1993 Sound Of The Sea SOS-5 CD) -Al's Fast Freight
members provide backing on many tracks.
MURDER (1994 CD only ALI-007) 1. New Orleans 2. Gloria Runs Free 3. This Kind Of Love 4.
Enough 5. These Tables Don't Turn 6. Place Of Creation 7. King Of The North 8. Fearless
Vampire Lovers 9. The Jordan River 10. Brothers Of The Light 11. Murder
THE AROARA COMPILATION (1997 CD) includes RED NECK, WHITE TRASH, BLUE COLLAR
INTERSTATE 90 (1997 Maia Records MR-07) 1. Interstate 90 2. Child in The End 3. Billy Johnson 4.
Red Neck, White Trash, Blue Collar 5. Charmed Life 6. Almost May 7. Tempt Fate
8. With These Guns 9. Late Night Visit 10. Brand New Pontiac 11. Who'll Save Me Now
UNDERCURRENTS 97(1997 CD) includes CHILD IN THE END
ACOUSTIC RAINBOW VOLUME 8(1999 CD) includes WHO'LL SAVE ME NOW (edit)
BETWEEN THE DEVIL ANDTHE DEEPBLUE SEA (1999 Maia Records MR-09)
Maia Records, P.O. Box 372, Wickliffe Ohio 44092
ph: 440-247-4323 ...fax: 440-247-3177 ...e-mail: ketaper@aol.com