Date: Sat, 3 Mar 2001 20:46:45 +0100
From : Aleksandar Lazarevic
To: settler@mailer.uni-marburg.de

Hans,
I started to listen to music when I was 12, that is in 1983. At that time, my brother in law had records of Led Zeppelin, Deep Purple, Iron Maiden, Uriah Heep. Funny, ha. But imagine a 12 year old kid recording first four albums of Led Zepellin, Deep Purple Live in Japan, and then first 5 albums of Black Sabbath. Well, what can I say except that I had a happy childhood : - ) Then in 1985 I've heard Ramones for the first time, and I instantly became a punk fan except for Sex Pistols whom I never liked. Misfits, Wipers, Fugazi, all day Black Flag...... I preferred hardcore and the motto: faster=better. But on the other side, I used to listen to The Cure and other psychedelic bands: Joy Division, Pixies, Dream Syndicate, Pogues, Camper van Beethoven. Then I bought Rapeman - Two nuns and a pack mule Fugazi - repeater Killdozer - 12 point buck and that completely changed my world. Noise, that was my true love this time : - ) Alice Donut, Butthole Surfers, Big Black, Shellac, Jesus Lizard, Killdozer, Boss Hog Pussy Galore, Jon Spencer Blues Explosion, Bewitched, Gun Club, Mule, Reverend Horton Heat, Scratch Acid, Lubricated Goat... Well, now you can imagine that I had very rich parents. No. Here in YU none of us had that much money. But we loaned LPs and tapes to each other and I must say that many of my friends are even better informed than some people from west who actually have easier access to new music. Then I met some garage music fans and another door was opened for me. I was already an expert for noise and they mastered garage music so we loaned different releases to each other and played them for days and days on. After that, I discovered some classics: Roky Erickson, Captain Beefheart, 13th Floor Elevators, Stooges, MC5, New York Dolls, Johnny Thunders, Velvet underground, ............ When I analyze that period now, I realize that I never liked The Doors and early Rolling stones (the same goes for their work after 1973). Probably because I found them hippie and as a punk fan I never liked hippies : - ) Same for Bob Dylan : -)
Coming back to garage music that I liked, I have to mention Sonics, DMZ, Lyres, Gibson Bros, Cramps, Dead Moon, Lazy Cowgirls Splatterheads, Cosmic Psychos, Clawhammer, Jack O'Fire, Mighty Caesars, Thee Headcoats, Monomen, Humpers, Man or Astroman, Radio Birdman, Mummies, Social Distortion, Blacktop, Gories, DM Bob and the Deficits, ... I really enjoyed noise and garage but, everyone remembers Seattle hysteria. Sub Pop was our favorite label, ha : - ) I liked some things they released but I still thought that the real stuff was in Australia, rough, rocking & pure energy. Aren't Cosmic Psychos daddies to the grunge ??? Well, then The Walkabouts released New West Motel. At that time I didn't like country at all but somehow New West Motel hit me like electricity. I couldn't stop playing it for months. I became obsessed with that album. There was one particular song that I really liked but I discovered that it wasn't written by them. It was Snake Mountain Blues and the writer was (for me at that time) some never heard of Townes Van Zandt.

| | | |
| --- | --- | --- |
| | Well, maybe I should find out if that Townes Van Zandt played some rocking stuff. That was my logic : - ) As I was looking around I found two TVZ releases at some of my friends: Delta Momma Blues LP and Rear View Mirror CD. Listening to Delta Moma Blues left me cold at that time but I still felt that there was something deeper there. Something moved me, which was not the music. Maybe I would forget all about it if the Rear View Mirror wasn't in my hands a week later. It hit me only the second time I played it. But something clicked in my head. Pure enlightenment. I realized for the first time that music is not only energy but emotions too. | |
For the first time in my life I met pure emotions in music. I was blown and didn't know how to react. Of course, not very long after, I collected almost all TVZ albums and Glitterhouse helped me by reserving the last copy of Townes Van Zandt CD Box with his 6 essential albums for me. Later on, I met some people who already had good collections of American music but I still had some antagonism toward country/singer songwriter music. However, I liked Uncle Tupelo and Jason & The Scorchers. In fact, Steve Earles' - Train is comin' softened my taste and opened the gate for me to new names like: Nick Cave, Violent Femmes, Bad Livers, Palace Brothers, Giant Sand, OP8, Thin White Rope, 16 Horsepower, Bottle Rockets, Uncle Tupelo, Steve Earle, Shivers, Willard Grant Conspiracy, Tarnation, Cowboy Junkies, Mazzy Star, Robert Earl Keen, Guy Clark, Gene Clark, Flaco Jimenez, Lyle Lovett, Joe Henry, Lee Clayton, Dave Alvin, Mike Henderson, Nick Drake, Waco Brothers, Terry Lee Hale, Nancy Griffith, Gillian Welch, Susan Vega, Leonard Cohen, Steve Wynn, Treat her right, Morphine, Van Morrison, Mojo Nixon, Tish Hinojosa, Kate Wolf, Drovers, Buch Hancock, Dan Zanes, Kimmie Rhodes, Gourds, Vic Chesnutt, David Olney, Chris Smither, Tom Russel, Ian Tyson, Bob Neuwirth, R.L. Burnside, Alejandro Escovedo, Robbie Fulks, Whiskeytown, Old 97's, Geraldine Fibbers, Quinsonics, Dan Penn, Terry Allen, James Mc Murtry, Bruce Robison, Scud Mountain Boys, Jim White, Jack Logan, Green on Red, Evan Johns, Greg Trooper, Ray Wylie Hubbard, Peter Case, Spain, Blue Mountain, Smog, Jesse Dayton, Eric Taylor, Chris Gaffney, The Silos, Sid Selvidge, Derailers, BR5-49, The Kropotkins, American Music Club, Mark Eitzel, Terrell, Ben Vaughan, Hayden, Jimmy La Fave, J.J.Walker, Kelly Hogan,Vulgar Boatman, Iris De Ment, John Prine,.Mark Olsen, Bob Neuwirth, Kevin Russel, Greg Leisz, Max Johnston, Victoria Williams, Murry Hammond, Lisa Mednick, Chuck Prohphet, Walter Salas-Humara, Mambo John Treanor.....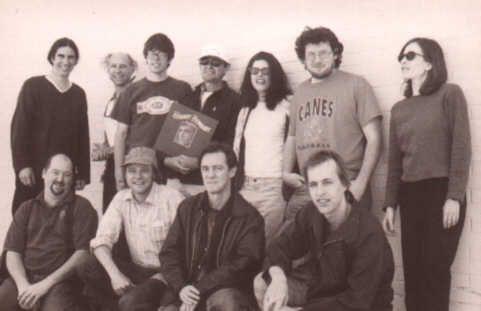 Mark Olsen, Bob Neuwirth, Kevin Russel, Greg Leisz, Max Johnston, Victoria Williams, Murry Hammond, Lisa Mednick, Chuck Prohphet, Walter Salas-Humara, Mambo John Treanor
It was a whole new world to me and I must admit it sounded much more sincere and real. I was really enjoying this music in a different way than noise and garage. This was deeper than anything before.

In 1995 I started to work for radio Mladenovac. I was a music editor for youth program and I mostly played Yugoslav music. Some western collectors know a great deal about our music scene. Yugoslav new wave scene was as good as British or American, believe it or not. Since then we had some good bands but never like in the beginning of 80-ies.

After a while, I started to play some American songs, too. At first, mostly sound engineers were the ones who liked The Walkabouts, Mazzy Star, Cowboy Junkies and other eclectic bands. But as the time went, gradually other people started to react. Then I've got my own radio show which lasted until the NATO bombing campaign in March 1999, only several days before the 4th birthday of the show.
After the war, I've got an offer from radio M+, a private radio station, and I started a show called Desperado for them. Owner of the radio station become my regular listener and as he was an old rocker he offered me to start one more show in which I would present, let's say, my personal view of the Americana history. That show got the name Hey Hey My My and it is still going on every Wednesday from 20:00 - 22:00 on Radio M+. A few months ago I had an interview for Radio Politika, which is a part of the biggest press corporation on Balkan peninsula. Politika is our biggest national daily journal, founded in 1902. Now it is a corporation with TV, Radio, and many journals and daily newspapers. Radio Politika has now a very interesting program. During the day, they're playing usual, commercial stuff but with first dark hours they're transforming into one of the best radio stations here. There are RAP, Techno, PUNK, Metal, Alternative, 70-ies, Psychobilly, Gothic music shows and now, of course, Desperado. I still don't know how it happened and can hardly believe it, but I've got the most exclusive time for the show
(every Sunday from 20:30 - 22:30). Radio Politika covers 70% of the YU territory so I have a good chance to infect more people with Americana. There are two other great shows which are at some points similar to mine. A friend of mine hosts POP DEPRESSION in which he plays everything from Japan pop to Australian Country and there's also MISSISSIPPI DELTA hosted by one great girl. She's mostly playing soft poppy stuff as Wilco, Go Betweens, Van Morrison, James Iha,.....





I must say that in my opinion, Yugoslavia has quite better shows than the States. This is because most of our radio stations are sponsored so that they don't have to play top 40 hits. Now we are starting a concert agency here and first names that we are trying to bring here are Chris & Carla (of The Walkabouts fame) and Willard Grant Conspiracy. BTW for your information most popular Americana band in YU is Calexico.


John Convertino & Joey Burns
Calexico
Of course, all this wouldn't be possible without many internet friends who helped me a lot and who are still helping me. In addition, I must say that most people were very supportive and surprised that someone from Yugoslavia knows such stuff, which most of Americans never heard of. We had here a famous MYSTERY TRAIN show since late 80-ies. That guy Zikica Simic played some great bands like Giant Sand, Thin White Rope, Violent Femmes, Dream Syndicate,.... and made a really good background for us. I remember that Urban Dance Squad were playing here and they cried when they had to go home. They had two sold out evenings with 2000 people each night. They couldn't believe it. Steve Wynn had two great shows with 450 people each night, Grant Heart had 650 people on one evening. As you can see, we at radio stations here, take good care of our listeners and properly educate them : -) Still most of the foreigners can't comprehend that I can play whatever I like at an exclusive time on one of the biggest radio stations here. That's why several American D.J.s asked me to send them regularly my playlists. Some time soon, I am planing to make a DESPERADO web site and promote this kind of music in a better way. I can't understand D.J.s who are just playing songs and they think it is enough. Americana is a genre with wide variety of bands and, as they're not commercial, it is very hard to promote their music. I think that most of the Americana D.J.s are huge fans, too, so they should help those bands. Most of the bands are really hard working with selfreleased CDs and not much money for adverts. Just look what happened to Lucinda Williams, 16 Horsepower, Richard Buckner, Guy Clark and others who were on big labels and didn't manage to sell more than 500 000 copies. Also Americana has a lot of great bands unknown to the wider audience and if we don't do our job in the best possible way, in a few years we won't have anything to play.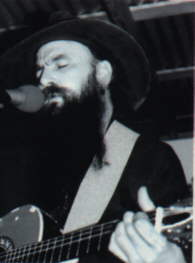 Blaze Foley
As you can see most of American bands are releasing their CDs in Europe first and then in USA (Willard Grant Conspiracy, 16 Horsepower, The Walkabouts, Silos,.......) Glitterhouse and Munich Records became best existing labels and they're European, not American. Munich discovered The Gourds, one of the best Austin bands. Glitterhouse signed Ramsay Midwood, one of the future heroes. Blaze Foleys' stuff is rereleased 10 year after he was murdered. Best Americana music can't get wider exposure while all this top 40 hoochie-koochie junk is on every radio station. With this situation things can't go better. I remember that we asked one American student some 10 year ago about Sonic Youth, R.E.M. and Husker Du. He was asking in reply: WHO? We couldn't believe it. That's the end of the
story.

Ramsey Midwood
You asked me who are my idols.
There's only one: Townes Van Zandt.
All others are O.K.
---
Finally the answer to your last question: what I'm doing now: I'm an ecology teacher in Secondary school of Economics of 4 years and I enjoy working with 16 year old kids. That saves my brain from getting older. They are always happy and there's always a positive energy. I'm a classmaster to a class with 34 girls and only one boy. Believe it or not but he is quite happy : - )

I hope this was what you wanted. If there are some questions (after that much writing I highly doubt : - ) don't hesitate to ask.

BTW part of this Sunday show will be dedicated to Townes Van Zandt (born 7th of March 1944) so I'll play some covers of his songs (Tindersticks , Paal Flaata (Madrugada singer), John Townes Van Zandt II, Gillian Welch & David Rawlings, Bob Dylan & Willie Nelson, Jonell Mosser, Michael & Margo Timmins, The Walkabouts, Steve Earle, Guy Clark, Emmylou Harris, Lyle Lovett, Willie Nelson,...

All the best,

Aleksandar

now playing Mazzy star - Black sessions for 15th time today.