http-equiv="Content-Type" content="text/html; charset=iso-8859-1"> < name="GENERATOR" content="Mozilla/4.6 [de]C-CCK-MCD QXW0320c (Win95; I) [Netscape]">
BLOODSHOT Records
ADD some classical glam on APRIL 20

ALEJANDRO ESCOVEDO
"Bourbonitis Blues"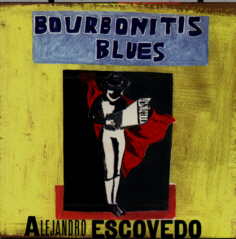 Feel a brand new heartache coming on?
S'probably a good idea to have a bottle of whiskey handy (for ·purely medicinal reasons, of course) because the niaster of internal disaster, ALEJANDRO ESCOVEDO (the Texas legend of Buick MacKane, True Believers, Rank & File, and The Nuns), is back with nine newly-recorded songs for your listening pleasure. But be careful -- before you know it, this combination of new songs and cover favontes will twist your guts into neat little knots -- just like the crying-on-the-inside street clown turns a balloon into a wiener dog. Better go ahead and break that seal, just in case.
Bourbonitis Blues follows 1998's critically hailed live CD More Miles Than Money -- and was recorded
straight up and all over -- in _Chicago (with Jon Langford, WACO BROTHERS/MEKONS and Kelly Hogan, ex-JODY GRiND/ex-ROC K*A*TEENS, sitting in), in Chapel Hill NC (with tarheel sessions produced by Chris Stamey and f~uring members of Squirrel Nut Zippers and Trailer Bride), and in Austin TX on his home turf. This is Alejandro and his "classical ~ Orchestra at their finest: David Perales' high-tension wire violin solos -- cello muscle from Brian Standefer -- Joe Eddy Hines' swaggenng electric guitar slinging -- and articulate and explosive drumming from Hector Munoz. This is a rawk-loose, but oh-so-tight affair -- just like their legendary live shows.
The brand-new original "I Was Drunk" starts things off fittingly with its careening waltz beat -- then it's on to chugging covers of tunes by Jimmie Rodgers, Ian Hunter, John Cale and the Gun Club, an achingly languid take on the Velvet Underground's "Pale Blue Eyes" -- and three more original heartbreakers to alternately hurt and heal. Yep Bourbonitis Blues, just like our old friend alcohol, is both the sickness and the cure. Might as well open that bottle right now, bub. You're gonna need it.


BLOODSHOT RECORDS 912 W ADDISON CHICAGO IL 606134339 U.S.A.
www.bloodshotrecords.com
---
ALEJANDRO WHIPS CRITICS INTO A LATHER...
"ARTIST of the DECADE" No Depression Magazine
"More Miles" is loaded with acoustic-flavored ballads, and the arrangements -- which blend strings and guitars with a richness seldom heard on a rock record -- are thick with ghosts. Greg Kot Chicago Tribune
Amid lyrics filled with death and solitude, pain and loss, his tender melodies make these performances exhilarajing; imagine Leonard Cohen with a musical foundation, a punk-rock attitude, and sudden urges to rock out. Scott Holter Seattle Weekly
Escovedo's songs are risky public disclosures of the frustrations and hard-won victories that come with juggling rock & roll fantasy and domestic responsibility. David Fricke Rolling Stone
On his three solo albums, Escovedo has made some of the best music of the '90s. His uncanny blend of Mexican-American story-songs, punk-rock and chamber-music strings suggests Lou Reed and Los Lobos remaking Van Morrison's "Astral Weeks." Geoffrey Hies Washington Post Top 10 Albums of 1998 "More Miles Than Money" voted #1
Like a roots-rock renaissance man, Austin singer-songwriter Alejandro Escovedo ca.n seemingly do everything --from blazing, guitar-driven rock and roll to folk-style emotional explorations, from aching country and and western to gripping real-life essays worthy of Bruce Springsteen. John Floyd Miami New Times
"More Miles Than Money" reveals a well-traveled artist who's lived, loved, lost and paid the freight. Raucous Stones-influenced rockers give way to sublimely eloquent displays of introspective melancholy, an abiding tenderness. Jim Musser The ICON
...deceptively sedate strings and the band's guitars provide a cathartic jolt.. .and Escovedo leads them all through a version of the Stooges' "I Wanna Be Your Dog" that sounds like Anarchy in the Orchestra Pit. Keith Harrison Tribune Media Services
Guitars, cello, violin, bass, and drums scratch songs down to a bare honesty, and then compound the sadness with their te&tural richness. Tristram Lozaw Boston Phoenix
This is Escovedo at his best, bending old songs to the demands of the moment, soaring on cacophonous improvisations, pulling melody out of maelstrom. If ever there was an unsung hero of American roots music, it is Alejandro Escovedo. Ed McKeon The New Britain CT Herald
Drawing upon such disparate influences as punk godfather Lou Reed and poet/folk iconoclast Leonard Cohen, Escovedo mixes the rock'n'roll animal instinct of the former and the moody imagery of the latter to make some richly resonating music. Michael Evans The Oregonian
No matter what he sings about -- pain, redemption, or glory -- Escovedo conveys a feeling of hard-won optimism and romance. And that, for most people, is what rock and roll is all about. Russell Hall Wall of Sound