http-equiv="Content-Type" content="text/html; charset=iso-8859-1"> < name="GENERATOR" content="Mozilla/4.6 [de]C-CCK-MCD QXW0320c (Win95; I) [Netscape]">
Accident Clearinghouse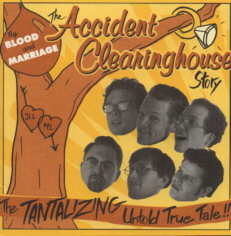 Accident Clearinghouse is pleased to announce the release of their third full-length CD, "By Blood and Marriage: The Accident Clearinghouse Story."
"By Blood and Marriage: The Accident Clearinghouse Story" is lust over 50 minutes long and has 18 songs, including, "Do You Like the Hula?," "Mr Fever" and "If I Said You Were a Nurse...," which have become staples of AC's live shows in the past year. The disc continues in the country-and-western, honky-tonk direction established by Accident Clearinghouse's first two full-length releases.
"By Blood and Marriage" features the three original members of Accident Clearinghouse: Quillan Roe on lead vocals and acoustic guitar; Mike Brady on vocals, electric guitar, and banlo; and Jeff Tranberry on the stand-up bass; and three new members: Rev. Matt Marohl on pedal-steel guitar; Kevin Riach on drums; and Rufus Moon on washboard, percussion1 and vocals.
The boys were also lamed by several great guest musicians: Steve Clarke, Jay Mote, and Buck Nelson of the Hot Head Swing Band on horns; Bob Barnes of the Deadly Nightshade Family Singers on accordion; Eric Christopher of Marina Glass on fiddle; David Zollo of High and Lonesome (from Iowa City, IA) on piano; Jim LaRocque on theremin; and Rufus's brothers Hoss, Rayfis, Cletus, and Emil on various "Hill-Billy" instruments.
"By Blood and Marriage: The Accident Clearinghouse Story" will be available as of April 10th, 1999, through the Electric Fetus One-Stop, the Electric Fetus, all metro area Cheapo's, Roadrunner Records, and other local independent record shops. It can also be purchased through Miles of Music.
jtranberry@accidentclearinghouse.com for Jeff Tranberry www.accidentclearinghouse.com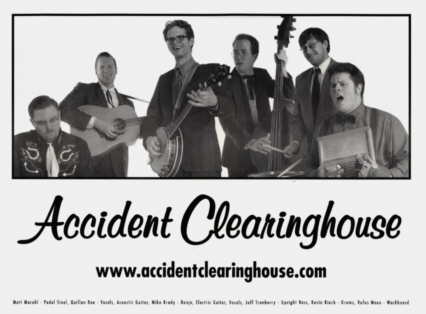 Accident Clearinghouse Personnel
Mike Brady, vocals1 electric guitar1 banjo; the Rev. Matt Marohi, pedal steel; Rufus Moon, washboard; Kevin Riach1 drums; Quillan Roe, lead vocals, acoustic guitar; Jeff Tranberry/upright bass

Background
Uke most, Quillan RQe, 24, is a country musician with a past. "[In high school] I was way heavy l," he explains. "Even wearing muscle shirts onstage.' Oh, my~ "I was in a whole bunch of crappy l cover bands, had long hair and wore skull rings. Everyone told me I looked like Sebastian Bach of Skid Row."
It's been a long road from l to alt-country to honky-tonk swing. Roe met Mike Brady during their freshman year of college in 1992 and started writing songs. After a brief incarnation as a hard-rock band called Wingnut, they formed Accident Clearinghouse, playing country-based -rock 'n' roll. Jeff Tranberry joined soon after. "We learned to play our instruments - through the band. Jeff had never played a bass, Mike didn't play banjo, and I could maybe thunk through a song on guitar," says Quillan. After a washboard and then a drummer, Kevin Riach stepped in in 1997.
"Every band goes through a stage where it's not fun anymore, and at that point you break up or you re-evalu ate," Quillan says. "We had gotten pretty Son Volt- heavy, mopey alt-country. There's nothing wrong with that, but it's not fun. We weren't getting the reputation we wanted. People said, 'Yeah, you're good songwriters but you're boring.' The drums brightened the sound, and Kevin has more of a jazz influence and brought in the swing beat."
(By the way, the name was made up In 1992, when Mike a~d Quillan heard a radio traffic report about an accident, and spied a Publisher's Clearinghouse mailer. at the same moment.)

Recordings
"Saginaw Sweetheart" (1997)', "Absolute Collision" (1998), "Live at the Bryant-Lake Bowl" EP (1998). Their newest, "By Blood and Marriage: The Accident
Clearinghouse Story," is out April 10.

Concept
"Heavy abuse of hashish." Just joking. Says Quillan, "I just love country. That is, I hate new country, but I like old blues, rock, jazz and country. They all lump in and we call it honky tonk. Our concept is just to have a good time. I have a job and we get to the end of the week let's have a good time, On 'Absolute Collision,' I was listening to a~lot of Sun-era Elvis, Jerry Lee Lewis and Johnny Cash. Now I listen to a lot of big band, and I can't get enough of Ella Fitzgerald, and the Gershwins are incredible."
On the fashion tip: "One reason I started was that I always wanted to be'a cowboy, and have a chance to wear boots and'hats, rhinestones and flashy clothes.".

Review
The sort of band country fans of all ages are going to dig, AC's most distinctive quality is their clean-scrubbed youthfulness. They may sing about alcoholic lovers and other classically tragic country-Western themes, but their voices are high, as are their spirits, and their melodies are consistently sunny. No menace here, little testosterone. Between an upright bass and their drum mer, AC fuses jazz and rockabilly seamlessly in a Big Sandy vein, which makes for good dancing and good driving. They've come a long way, if it's true that they didn't know how to play in '92, and present a cohesive, constantly evolving microcosm of the borders between rock 'n' roll, country and jazz.

---
I'm So Lonesome I Could Smile
Honky-tonkers Accident Clearinghouse create a country for punks
by Peter S. Scholtes
F rom only a glance, you might think you know what to expect from honky tonk swingers Acciidentt Clearinghouse. The playfully cartoonish sleeeve of their recently released third album shows the six band members looking wistfully at the album title, By Blood and Marriage: The Accident Clearinghouse Story. And the album's first number, "In Heaven There Is No Beer," does nothing so dispel the impression of a band working the sunny side of the eight-lane highway that divides good-time rockin' and No Depression moping in the y'alternative nation.
But Accident Clearinghouse is even more novel than that, spotting an affection for junk-shop eclecticism, a pair of fine singers, and a knack for gussying up viutage dance music with indie-pop melodiess. Sincec forming in 1996, the band has created soundtracks foran indie hillbilly porch party while subtly hending genres. Take the odd melodic touches on Blood aud Matriage. There's the freaked-out dicremin and threatening baritone sax of "Cannibal Man" (which features members of the Hot Heads), the Pixies-like tlirobof"General Washington," and Mike Brady's jazzy guitar chords on the otherwise straight-ahead, washboard-heavy rocker "H-E-L-L Bound."
"My playing style is based on a lack of any kind of knowledge of the music," Brady admits in a kind of Toni Noonan deadpan when asked about his banjo skills. "I borrow a lot from Half Japanese."
The most easily identified member of the band, Brady is tall, with a toothy grin and a pair of thick Clark Kent glasses. At times his warm, steady harmonizing with the band's dimpled and energetic lead singer, Quillan Roe, can sound like John Doe backing Buddy Holly. When the two mesh, they manage to steer '90s Americana into 80s Amerindie in a way that has seemingly never occurred to BRS-49.
It's no surprise, then, that the group doesn't register with hard-core countrry fanss. "We don't sound authenticc enough, admits Roe. "When we tried to play at Dodono's, the guy flat-out told me, 'You don't sound enough like Flatt & Scruggs."' What's less easily explained is the fact that, by the band's own admission, Accident Clearinghouse hasn't cracked the consciousness of Lee's regulars or No Depression magazine subscribers.
Perhaps this is due to a stylistic irreverence that's beer in the face to alt-country conventions. Brady, Roe, and Tranberry have been playing together since their mid-'90s (lays at the College of Visual Arts in St. Paul - initially experimenting with Fugazi -influenced post-hardcore, then techno, and eventually forming a Beasties-inspired hip-hop crew called Superknumb.
"Between '93 and '94 was when the Pharcyde's first album and Spearhead's first album came out. and I really wanted to do hip hop," remembers Roe. "But I was also just getting into bluegrass. For a while I was really torn. But then I heard a Bob Wills and the Texas Playboys record, and that decided it." The Ellington-influenced Western swing that Wills had popularized in the '40s and '50s became Roe's primary passion, and the avid fan of the Pogues and Uncle Tupelo soon convinced Brady, a Minutemen fanatic since his teens, to make a go of it around town. Initially taking a page from local roots rockers the Carpetbaggers, Clearinghouse played without a drummer for their first ten gigs, leaving rhythmic duties to upright bass slapper Jeff Tranberry before recruiting a full-time drummer, Scott Berndt. (Berndt has since been replaced by current beat keeper Kevin Riach.)
These days, the band's members occasionally stray from the Clearinghouse to ply their wares with other outfits Pedal steel player Matt Marohl lives in Chicago where he works as a Lutheran minister. Tranberry and Roe play with washboard scraper Rufus Moon in the Moon Brothers. Brady also fronts the moody indierock duo Clog and plays with Riach in the poppy Florida, while Roe and Moon play together in a Misfits tribute band called Der Kindestod ("Child Death").
This last project might surprise anyone taken with the musicians' wholesome, bookish appearances - four members wear glasses-but Accident Clearinghouse isn't hiding any dark edges. Band members say they don't take drugs, don't smoke, and don't drink much. Tranberry's worst vice is an addiction to collecting Star Wars action figures. Fact is, it's all but impossible to imagine that principle songwriter Roe has anything remembling the temperament of his fictional gunfighter from the new album's "Wichita Trail." But the exceedingly friendly singer admits to being a mean drunk in the past, and in lyrics he's still given over to Cash-isms like "I've got a cold, dead, black heart."
These days he has the passion of a proud new band manager, and he earnestly believes that Accident Clearinghouse - perhaps the most important project going for its memhers - couId be a ticket to seeing the world. The band has toured vigorously arotind the region and opened locally for everyone from gospel-influenced funkers the Sensational Joint Chiefs to punk rockers the Short Fusess. Accident Clearinghouse's headlining sets can last tip to four hours, and they've already written a fourth record and half of the fifth. "I'm trying to get a song ready for the seventh album," says Brady, laughing. "I need to reserve the space." The prolific Roe says he's also preparing an Elvis-style gospel album of devotiorial tunes.
Meanwhile, the band has enjoyed the tonic of swelling crowds, fuelcd in part by a dance trend none of them could have seen coining when they got started. "We came from a generation where you didn't go to a show to dance," Roe says. "Bringing back older styles of music in general and partner dancing in particular is really just a great excuse to touch somebody. I would have killed to do that in high school, to partner dance to Fugazi." cp

---
MINNESOTA DAILY
Thursday, January 30, 1997 Volume 98, Number 71 Minneapolis-St.Paul
ACCIDENT CLEARINGHOUSE
Volume I. Saginaw Sweetheart (OBI)
There is Americana, and then there is Americana, music so blatantly an homage to C&W, circa 1950, that listening to it on anything other than an AM radio corrupts its authenticity. Volume I: Saginaw Sweetheart from local band Accident Clearinghouse is that American~
Mandolins, banjos, washboards, spoons and Tide bottles all find places on this album. The tracks range from the blues-tinged "Different Life" to the dark ballad '~e Night That Daddy Got His G~" With lyrics soaked in alcohol and frequent references to drug use, murder, rape and romance gone wrong, Accident Clearinghouse performs songs you know Hank Sr. thought about but couldn't write. AM is authentic, but the FM age has advantages for artistic freedo~
Quillan Roe's Son-Voltish vocals and the grou~s fight ensemble playing on every track makes -you expect the next song you hear to be an~ electrified, radio-friendly Wilco rip-off single. But that never happens. There is Americana, and then there is Americana. With music planted in country roots and a topical nod to the '90s, Accident Clearinghouse is the genuine atticle.
-Alan Bierga
---
Accident Clearinghouse - By Blood and Marriage: The Accident Clearinghouse Story (OBT - preview release]
I received this CD-R copy of AC's third album right after Christmas, lust in time for the New Year's party. I can't think of any better way to start the new year than accompanied by Accident Clearinghouse. While their first two albums, Saginaw Sweetheart and Absolute Callision(see below), was genuine Honky Tonk, the boys also delve into swing territory with their next album. Especially on "The Hula", where theysound like they've been playing the clubs of New Orleans for years, with it's sing-a-long chorus and swinging horns. "Ain't Got No SweetBaby" is an instant classic, with it's traditional instrumentation and may be the best trad. country song I've heard since "Bye-Bye Pain", the opening track on their previous album. "General Washington" and "In A Whisper" are "pop" country songs, not too far from what Chris Hillman and, to a certain extent, Robbie Fulks have been doing. The perhaps biggest surprise on this eight-track preview is "If I Said You Were A Nurse", where they sound like a full-blown mariachi band (think Los Lobos with a sense of humor), with obligatory verse in Spanish (have no idea what it means, but it sure sounds good). If I were to draw a conclusion after listening to this preview, it would have to be that the band sound more mature, both in their songwriting and in their performance, much due to extensive live playing. Accident Clearinghouse is still the best Honky Tank/Hillbilly Swing band out there, and "I'll stand on BRS-49's soft drink table and say that..." (to paraphrase someone really Famous). If the rest of the songs are half as good as these, we have a true classic.

---
Accident Clearinghouse - Volume II: Absolute Collision [OBTIMiles Of Music]
If you thought the Carpetbaggers, Big Sandy or BR5-49 were the future of genuine hanky tank and rockabilly, you better think again. Accident Clearinghouse's second self-released album, (their first one, Volume I: Saginaw Sweetheart is just as brilliant) is precisely how hanky tank should sound in the 90's: smart, funny, charming and authentic. Every song an this album is a gem, and there's 18 of them. From the opener, Bye, Bye Pain to the closing track By The Light Of The Moon, the band never fails. Sure, there are traces of Lefty Frizzell, Buck Owens, Johnny Cash, Merle Haggard, Buddy Holly and Hank Williams Sr., but unlike new bands like BRS-49, Accident Clearinghouse know how to write a good song; This is the genuine article. If you're getting only one hanky tank album this year, Absolute Collision is the one. Then go out and buy their first. Bath albums are available from Miles Of Music.
Henning Kleiven - The Rural Route hftp://home.soI.no/~hekleive/records.html
---
ACCIDENT CLEARINGHOUSE By Blood & Marriage: the Accident Clearinghouse Story (OBT Records)
Accident Clearinghouse seems too damn young to write songs like old souls, but lust look at 'em go. On their third album, they pack 18 tracks into 50 spellbinding minutes, romping through vibrant juke joint tunes all but guaranteed to put a smile on your kisser. A "Wooly Bully" countdown of "uno, dos, tres, cuatro" kicks off "H-E-L-L Bound," a first-person tale of a man who's proud to be the biggest asshole on the planet (ill act like a monkey when I make sweet lovel If I see you on crutches gonna give you a shove"). When you hear "Lonely, Broken-Hearted Fools" you'll be checking the writer's credit for Carl Perkins' name. This band even brings back novelty songs, and in plentiful supply, too. "Do You Like the Hula?" is a staple of AC's live shows, and it seems to take its unabashed inspiration from the Elvis movie, "Blue Hawaii." "Cannibal Man" sports riotous lyrics and teams an out-of-control theremin with a catchy, descending stand-up bass line. My favorite, though, has to be "Griddle Cake Joey," on which Quillan Roe sings, "When I first met him he was on stack six' Maple syrup a flowin' and of course a side of grits." As corny as all of this might seem, you'd have to have a cold, cold heart to resist the revelry.
But the most impressive moment of all might lust be "If I Said You Were a Nurse." It's pure Tex-Mex, a lukebox song on the order of Freddy Fender, given extra luster by a Herb Alpert-like trumpet treatment and some comically dramatized Spanish lyrics. Accident Clearinghouse has a song for every occasion, and musically they're as sharp as the bob ties and sports coats they wear on stage. It's hard not to love 'em.
-- Henry Hormon - Pulse
http://www.daily.umn.edu/ae/Print/1 999/1 2/storys/musiside.html#a
---
ACCIDENT CLEARINGHOUSE
By Blood & Marriage: the Accident Clearinghouse Story (OBT Records)

All those in search of knee-shaking, head-bobbing, pseudo-country fun, raise your hands. Accident Clearinghouse is lust what you're looking for. These local boys' third album has tripped the secret honky-tonk lover in me, kicking out over fifty swinging minutes of country chaos lams on By Blood and Marriage: The Accident Clearinghouse Story. They even have a few surf guitar influenced tracks (such as "Cannibal Man") that might interest Los Straightjackets fans.
The more off the wall the lyrics are, the more fun the songs become. The call and response routine, the lyrics, and the silly playful vocals in "Do You Like The Hula?31 made me laugh out loud. These songs have been in my head all week, and without my copy of the disc I'd be going through some wicked withdrawal.
-- Jessica Hampton - Twin Cities Daily
http://www.daily.umn.edu/ae/Print/1 999/1 2lstorys/musiside.htmi#a

---