TWILIGHT HOTEL
"Highway Prayer"
(CoraZong Records)

The folded-out digipack shows us the picture of Brandy Zdan and Dave Quanbury, standing up to the elbows in the middle of a wide field full of coleseed. Only a couple of electrical towers in sight, as they call Winnipeg home, this must be the prairie region of Manitoba... They are blond and young (24 and 29), they're a couple, they got engaged on Valentine's Day 2008. Yet they look more like each other than my brother and I do! They first met in 2002 at the Trout River Music Festival in Ontario. Both were there supporting other artists, and although they chatted, it wasn't until a post-festival jam session around a campfire under the stars, that they began really getting to know each other. "It was definitely a romantic meeting", Brandy remembers. They played cover songs for each other, and soon some of their own songs, and not before long a new romantic and musical partnership of the classically trained folksinger and the rock&roller was born.
By then Brandy had already released a solo-album, "Live At 280" and Dave would soon follow with "No Vacancy" (2003). Together they made "Brandy Zdan & Dave Quanbury" in 2004, one of the featured songs was titled "Twilight Hotel", so it isn't such a wild guess that their group name originated there. "Bethune" was released in 2006 and now the prolific couple made "Highway Prayer" and says: "We feel like this is actually who we are".
The CD was recorded in Nashville with Canadian blues artist and producer Colin Linden at the helm. Dave claims, they knew they wanted to capture a certain magic. "We wanted something that was based around what Brandy and I do. We had worked really hard on setting up specific arrangements for songs, and we road tested them for a very long time, so we felt like we were in the middle and Colin put instruments around us to emphasize what we were doing." "Highway Prayer" features a number of guest musicians including the late Richard Bell (Janis Joplin, The Band), Stephen Hodges (Tom Waits) plays drums on one song, veteran Bryan Owings (Shelby Lynne, Buddy Miller, Delbert McClinton) on two others and bassist Dave Roe has played with Johnny Cash.
And now the music... Opener "Viva La Vinyl" brings a rockabilly & fifties feel with an upright bass and two electric guitars. Dave sings the leadvocal and Brandy joins in. They are both avid vinyl lovers themselves! Some tracks feature the crackling vinyl sound starting in or we hear some talking for a natural studio feeling. The leadvocals on the various, very long (four and five minutes plus) tracks are equally devided among the duo. "No Place For A Woman" is a song about miners, bluesy, Richard Bell playing the organ and we can enjoy Brandy's trained voice to the fullest. Sugarsweet country duet "Impatient Love" was undoubtedly inspired by the famous couples from Nashville's golden years and the duo accompanies themselves on acoustic guitars here. Titletrack "Highway Prayer" is most definitely the highlight of the album, Brandy sounds here like Carla Torgerson (The Walkabouts) at her best, it's atmospheric and a little spacey, the interplay between Richard's organ and Dave's electric guitar is top-notch musicianship! "The pedal steel drips from the car stereo / The bass fills out the spaces in my tired soul / Jesus are you coming, don't you think it's time". There we are at the subject of the song, I-35 running straight through the heartland from Duluth, Minnesota to Laredo, Texas is the 'road to salvation' according to some Christians: "Billboard preachers talking roadside redemption". The song "Slumber Queen" sounds like it's born somewhere on the Californian coast, close to the Mexican border, great 'surf' guitar! Brandy recites and speak-sings the verses on countryblues-inspired "Iowalta Morningside", a microphone-effect is used, the result is a one-of-a-kind song, ending in Brandy's vocal show-off!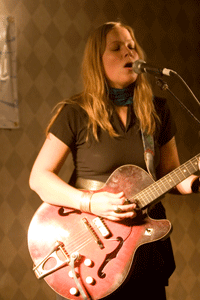 Brandy plays accordion too! "The Ballad Of Salvador And Isabelle" is my other favorite on this CD. There are never too many songs about the hardworking Mexican immigrants. Dave sings leadvocals here and goes from the general opinion "what he stole was an American job" to the conclusion about "the jobs that no real American wants for their own". It's not as good as the early Robert Earl Keen ("Mariano"!) but it comes close and the tragic story ends with a ray of hope: at least the baby was born in America! More accordion, Brandy singing here, on "Shadow Of A Man", this could be described as gypsy folk. A Calexico-sound enters on "The Critic" and that guitar riff at the beginning, coming back several times, is stunning... Mostly because it sounds exactly like one of Terry Lee Hale's favorite riffs!! This must be a freak coincidence, as I can't imagine they ever heard Terry Lee play. "If It Won't Kill You" has a very interesting arrangement too, piano, gorgeous dobro (the master Colin Linden himself!) in some kind of catchy bluesy swing, with a forties touch. As the jilted lover in "Sometimes I Get A Little Lonely" Brandy explores the sultry, jazzy side of the blues. The cool drumming here is done by Bryan Owings, the piano solo (Richard Bell of course) is definitely worth mentioning and it proves again what a killer voice Brandy has! Heartbreaking confessional "Sand In Your Eyes" is the perfect duet, where the couple is only accompanied by various guitars. An untitled bonus-track (it shows a little picture of the flame from the CD-cover) turns out to be an instrumental by Richard Bell on piano and mellotron with Colin Linden on dobro. This might be a spontaneous improvisation, done by two very talented musicians. During his concert at the Take Root Festival 2006 Colin was talking about his best friend being in the hospital, that must have been Richard!
"In a sense it's country. Some of it is blues but most of all it's our own thing, which I'm really proud of," says Brandy about their sound. Add folk and a bit of alternative rock to the organic, earthy mix and we're getting there. Colin Linden's input, as a versatile producer and musician, can't be underestimated. Brandy is by far the most talented singer of the two, but this combination works very well. The lyrics of the first four songs are already posted on the website, the lenghty press section and of course the journal are well worth reading, this is after all the generation that grew up around computers! And the generation that will keep us supplied with great roots music for years to come...
---
Written by Johanna J. Bodde, June 2008
=====