Dennis James and Lauryn Shapter have picked a truly inventive name for themselves, when they decided to travel the highway of music together. "After brainstorming ideas that evoked life on the road, America on the move and the midnight truckstop diners, with tacky knick knacks for sale, you know, little air fresheners, tractor caps and velvet Elvis paintings, Lauryn said: "Why not Truckstop Souvenir?" according to Dennis in the press-kit. They sound kinda like an acoustic Buddy & Julie Miller, yes, they're husband and wife too, with a good love-story!

Dennis was born in Texas, got some influences from the many singer-songwriters around there and in his early twenties he fronted the Fort Worth band Fresh Coffee. He left the music scene for about ten years, moved to Seattle in 1999, took out his Guild guitar again and started a solo career, playing locally. Lauryn on the other hand, was born in New York City, a classically trained violinist and tutor. She went to rural Colorado in the mid-90s and started playing bluegrass, also doing session work. In 2001 she moved to Seattle, attended an open mic, was moved by one particular song of Dennis James and introduced herself... Dennis encouraged her to write and sing her own songs too and the duo Truckstop Souvenir was born! The list of artists they played and recorded with, reads like a playlist of Alt.Country Cooking: Corb Lund, Sara Hickman, Corinne West, The Mike and Amy Finders Band, Anna Coogan, The Starlings, Ruby Dee and The Snakehandlers, last but not least Rachel Harrington. Although they're playing a lot of gigs, they couldn't keep up with the high cost of living in the Seattle area, so they moved East to Iowa in October 2006.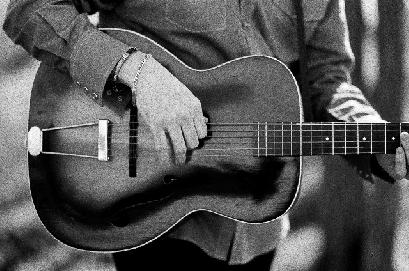 From there they sent us debut CD "Leave Nothing Behind", with that great antique suitcase featured in the lay-out. Ten original songs plus one cover in the vein of acoustic country, folk and old-time music, recorded in a crispy clear sound that recalls the Appalachian mountains. Dennis says: "I hoped our music would fall somewhere between a lost field recording by Alan Lomax and outlaw Nashville fare of the 70s", while Lauryn adds: "We wanted to make a record that pulls the listener in, that seeps in the more you listen to it, rather than one that hits you over the head." They both wrote five of the original songs, also singing leadvocals on those tracks, Dennis plays lead and rhythm guitars, while Lauryn plays her fiddle, viola and also some rhythm guitar. Additional musicians bring in mandolin, harmonica, some drums and upright bass, resulting in a sparse but powerful base for perfect harmony singing. Both Dennis and Lauryn have beautiful voices, different but blending very well together.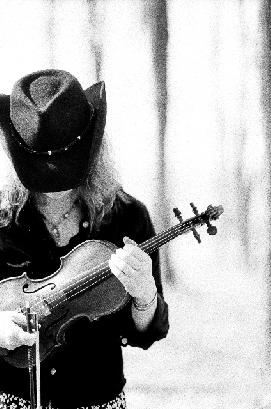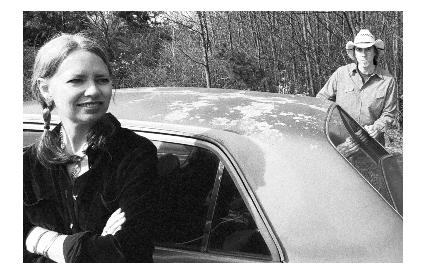 Dennis starts off with the ballad "Pretty Woman (You Walk On My Soul)", aching over betrayal audible: "But your eyes, they wander towards distant skies / Pretty woman, you're running around." "Mama's Debt", the modern version of a murder ballad, Lauryn's fictional story about a fourteen year old girl who kills her father: "Nine years is a long, long time / To live in that kind of hell / So I stabbed him once for every year", with the explanation: "But the devil isn't running through my veins / No, he was living there with me". Title track "Leave Nothing Behind", with drums, upright bass and pretty fiddle-solos is reminiscent of The Woodys, but a lot less sugary sweet: "So get out your map and draw yourself a line / Just make damn sure that it don't cross mine". The songwriting is simple, yet touching and effective. She again in "My Heart Ain't Yours": "I'll find my way, been down this road before / But my heart ain't yours no more" and he, also in a slow song: "Your whiskey whispers in her ear" ("It's Simple Here"). "The Bootlegger's Daughter" is a fun-song: uptempo, old-timey with mandolin and smartly done a capella ending. It's about a bachelor's party: "So we went to see the dancing girls / We gambled all night, we drank till morning's light", do I need to tell more? Lauryn does the very slow, below her breath, Margo Timmons-like leadvocal on "All-Night Franchise Diner" and we see it right in front of us: "Two a.m. at the all-night franchise diner / Regulation coffee, bitter like hell-fire", haven't we all been there too often? The only non-original is Dicky Betts' indestructible "Ramblin' Man", an uptempo duet with great acoustic guitars and bass. This is the only right way to play a cover: totally different from what's done before! I just love that line "And I was born in the backseat of a Greyhound bus / Rolling down Highway 41" surprisingly sung here by Lauryn! "Horse And Rider" is a very good dark song by Dennis, with a touch of "Ghostriders In The Sky"and a magnificent chorus: "If you ride that hard you're runnin' / And if you run that long you're dyin' / You die that young you're tryin' / You ain't never gonna be a peaceful man." Lauryn wrote "Front Porch And You", so recognizable: "Got a song on my mind but a job on my hands, cause the bills need to get paid", while "There's a bird outside my window, but I can't hear her sing / She's fighting with the world outside and all the noise it brings". Last song is the 8min27 storyballad "Memorial Day": "So when those men in uniform say be all that you can be / Johnny signs on the dotted line, a soldier at nineteen", from there everything goes realistically downhill for him, his wife and the baby...
I'm curious what the next album of Dennis James and Lauryn Shapter is going to be like. I hope they'll include a few more uptempo songs and I'm sure they keep working hard on their songwriting, so the last few filler lines will disappear. Then Truckstop Souvenir could be the acoustic Buddy & Julie. But... Dennis & Lauryn: don't kiss on stage, like The Woodys!
---
Written by Johanna J. Bodde, March 2007.
=====