THE TRIPWIRES
"Makes You Look Around"
(The Paisley Pop Label)

"Minus 5's John Ramberg steps out with The Tripwires". That's the headline on the info sheet. I also notice a connection with R.E.M. The connection with Neko Case is interesting. And I know that all the releases on Jim Huie's Paisley Pop Label are of consistent high quality! I don't claim to be an expert on poprock, rock&roll, new wave, powerpop (as most of my compadres like to call it), etc. I just know when music makes me feel good! So..., let's give this a try.
A little bit of name dropping and explanation from the bio first: "The talented singer-songwriter for the Model Rockets during the 90s, John Ramberg has also been known as the Minus 5's 'Secret Weapon' on lead guitar plus lead & backing vocals working alongside Scott McCaughey (Young Fresh Fellows, Robyn Hitchcock & The Venus 3, R.E.M.) and Peter Buck (R.E.M., Venus 3, Tuatara). John Ramberg has also written, recorded and toured with country chanteuse Neko Case.
Between four studio albums and many tours of Spain with the Model Rockets, John began work on a solo album with the help of drummer Bill Rieflin (R.E.M., Ministry, Minus 5). Those sessions evolved into the formation of the group The Tripwires with his pals, Johnny Sangster (noted engineer for Mudhoney, The Posies, etc.), Jim Sangster (Young Fresh Fellows, Sgt Major, The Picketts) and drummer Mark Pickerel (Screaming Trees, Mark Pickerel and His Praying Hands, Neko Case).
The group finished the album with a little help from the ubiquitous Scott McCaughey (organ, piano, bass harmonica, vocals, etc.) and Kurt Bloch (Fastbacks, Mudhoney, Supersuckers), who mixed and mastered it. The group has honed its blistering live show with regular gigs at Seattle's clubs as well as the SXSW Music Fest in Spring of 2007. "Makes You Look Around" is a rock&roll record, but it isn't all down and dirty, it's bright, propulsive and poppy, filled with big melodic hooks, the polish glistens at all the right moments. It's a masterful fusion of pub rock classicism, new wave pop and pre-Beatles rock&roll -particularly Chuck Berry and The Everly Brothers- that bristles with energy. John Ramberg and co. have created a brilliant modern rock&roll album inspired and informed by the past. Albums this effortless sounding are rare jewels."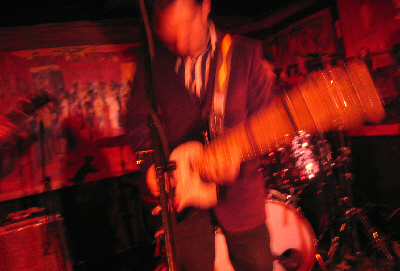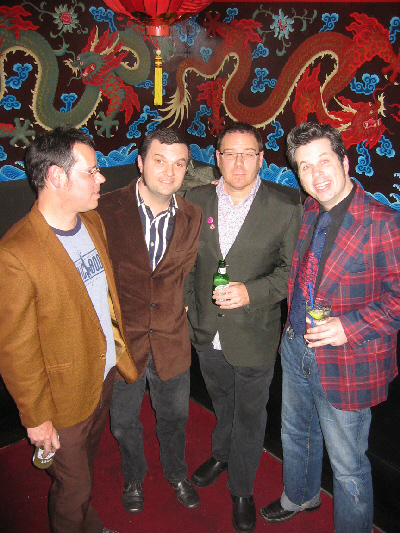 O.K., I'm impressed already. Let's look & listen now. Nice artwork, very good choice for a rock&roll band, with those guitars everywhere. I guess the music is far more important than the lyrics here, as they are nowhere to be found. John Ramberg wrote all the original songs by himself. And after listening I'm even more impressed... Absolutely flawless production and mixing!! All more or less uptempo songs, of course. Starting with poppy rocker "Lessonpony", fabulous electric guitarwork. The drums get more attention from the beginning on "Arm Twister", the vocals sound like a less well-behaved pair of Everly Brothers indeed! "Big Electric Light" is what we would call Beatlesque pop, also introducing the acoustic guitar, a perfect song with a wonderful solo. "Monument" has been described as "honkytonk thunder", some sort of rockabilly, driven by drums with some keys added. "I Was Afraid Of That" (the one I picked first for airplay in my radio show), has a charming beat -great drummer!- and more Beatlesque singing. That cheerful singing surprises on "I Don't Care Who You Are", in combination with the electric guitar force! I luv the melody of "Comedienne", marvellous guitars, this one's Byrdsy!!

"Spins The Wrong Way" features the acoustic guitar on into and outro, the song spins around too and the keys enter the scene a bit later... More powerful drumming on fast paced "I Hear This Music". We hear fifties rock&roll on "Johnny Get Gone" and I keep repeating myself: these guitars are so great to the strong background of the drums! I feel like singing along on the chorus of "How The Mighty Have Fallen", it has a bassguitar solo and it sounds really inspired. Yes, there comes the only cover, Chuck Berry's "Tulane" in a rowdy 'barnstorming' version. It opened one of my radio shows, as there can never be enough covers played like this! And who's duckwalking to that solo?? Short last song "Sold Yer Guitar Blues", a perfect little closer, catchy old-time rockabilly. You will still hum this one the next morning, tapping your feet...

Like I said, I just know when music makes me feel good! And makes you feel good! And you, and you, and you!

---
Written by Johanna J. Bodde, May 2008.
=====