Tom Mank
talks about
"Where The Sun Meets The Blue"
(Self-Released)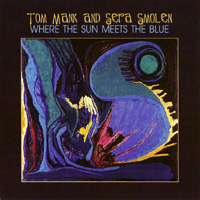 INTRO:
"Where the Sun Meets the Blue" is my fourth album and the third recorded as a duo with my wife - cellist Sera Smolen. The first 3 albums were recorded at Electric Wilburland Studios near Ithaca, New York also featuring many of the great singers and musicians from the Ithaca area as guest artists.
"Where the Sun Meets the Blue" was recorded in Bearsville, New York (near Woodstock) mostly featuring singers and musicians from the Woodstock area. It also is our first CD recorded and produced by Julie Last, an accomplished recording engineer from Los Angeles and New York City.
I am not the sort of songwriter that picks a subject and sits down to write a song about it. The songs more or less "come to me". Some "ideas" had been hanging around for a while – while others came out instantaneously. Sometimes I write 1 song in a year. In other years I may write 6 or 7.
When we moved temporarily to Bearsville from Ithaca, we actually had no intention of recording a new album. But as fate would have it, our neighbor (and landlady) turned out to be Julie Last – who had just finished setting up her studio – complete with a gold record hanging on the wall - for being assistant recording engineer for John and Yoko's "Double Fantasy" record. So … who could resist! I decided to at least make a go at recording a few songs there for a CD that we could eventually finish in Ithaca. Again, as fate would have it, the house we were renting was once occupied by Levon Helm in the 1970s – there was so much music energy there that a flurry of songs started to come to me. There were so many birds singing at dusk that we called it "the birdhouse". The result was our CD "Where the Sun Meets the Blue".
OFF-BEAT RHYME
This is the first song we recorded in Julie's studio. It was mostly written in Ithaca a few years before, but was completed here in the studio. Sera and I first performed this song on our tour of The Netherlands / Belgium in November 2005 (also performed it live on Alt.Country Cooking). The "groove" tag that kicks off the song is my interpretation of how a bass player might play – for fun. The images in the song are basically a story about falling in love with someone in a town who is an "outsider" – someone that is mysterious and exciting – but also in some ways disrespected. This creates a struggle between passion and doing the "right thing". Amy Merrill, a jazz-violist from Belgium, happened to be visiting the USA - so she was recruited to record. Julie Last also is a beautiful vocalist – she did a great job of adding background vocals throughout the CD. As usual, Sera improvised her cello parts, compounding the "groove" and trading solos with Amy's viola.
[guitar tuning: DACGAD]
KEEP CROSSING THAT LINE
I grew up in a racially-divided city in the upper south called Baltimore. I was reading a book about Baltimore baseball called "Black and Blue". In the book they noted that Dr. Martin Luther King had come to Baltimore in December 1963 and had called it "the largest segregated city in the country". That quote left an impression on me and sat in my mind for a while. It brought back images of my childhood and things I had seen and experienced. I was actually in the hospital recovering from a ruptured spleen the night Dr. King was killed – and in the days after when bandaged young men started arriving into the general ward I was in. They needed my bed and sent me home. I wrote this song sitting in front of the big fireplace at "the birdhouse". The background vocals were in my head but not completed until Julie brought Kirsti Gholson into the studio. I encouraged them to improvise vocals at the beginning. Sera wrote the cool arrangement for the hand "claps". She also pointed out that the music I had written is in "7".
[guitar tuning: DADGAD]
WHERE THE SUN MEETS THE BLUE
The day we were packing our truck to move back to Ithaca it was pouring down rain. We had no idea that the same rain was hurricane strength off the coast of Rhode Island – and that our dear friend's daughter Molly was lost at sea that day with 3 others – never to be found. This song was written 2 days later – took about 15 minutes to write (maybe with a little help from "Molly"?). The "bridge" of the song is to the motion of the waves. I HAD to have a concertina or an accordion play on it and finally found one right in Woodstock – David Hornung's accordion worked out sweetly to compliment Sera's cello. The duet vocal was recorded in Nashville - Pam Daley and I knew Molly since she was a little girl.
[guitar tuning: EAC#EAC#]
SEE WHAT THE NIGHT BRINGS
This is a love song about meeting someone while you're already in another (questionable?) relationship. We'll just have to wait and see what happens and how "serious" it gets. The guitar and cello tracks were recorded in Bearsville with Julie. Then, in Ithaca, Sera and I were able to get Eddie Smith play percussion in the studio before he moved cross-country to California. This is the same memorable day that Amy was visiting from Belgium with her "borrowed" viola. Back in Bearsville, Julie and Kirsti added background vocals including the "oops" I heard in my head (my "instructions" were to sing a note like you were blowing across the top of a soda bottle).
[guitar tuning: DACGAD]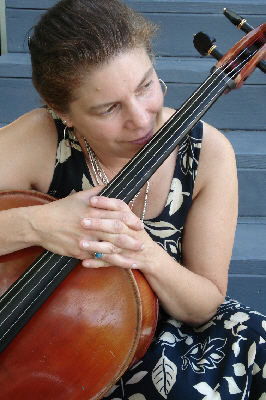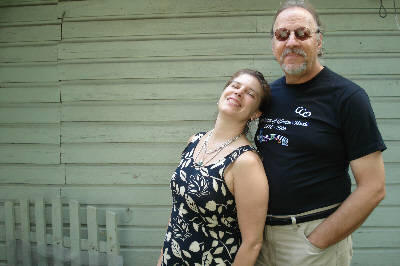 MEET ME ON THE MOUNTAIN
This song was co-written with Julie Last. I wrote the basic music and lyrics at "the birdhouse". Julie added the "break it down" phrases and we rewrote the lyrics together. Here we were, Julie, Sera and me, living way out in the woods – a long way from Baltimore and Rome and Los Angeles and New York City – just writing back to the cities to come visit us up here on the mountain. Of course it could also be a song about a long distance love affair – which many of us have experienced. Sera played cello and Bundt pan – a beautiful sound …
[guitar tuning: DADFCE]
SARKORI
[From Sera Smolen]: Sarkori was created somewhere between mediation prayer and practicing healing. It is in 10: 3 + 3 +2 +2. They say music in 4 is more intellectual, while music that groups 3's and 2's reflects the rhythms of the heart. I love music in 5, 7, 10 and even 13 for this reason. I love trying to create order out of mystery.
SAINT PAUL STREET
The chorus came first on this song and bounced around for a while. This is another song started in Ithaca and finished in the studio. Sera and I first performed it in The Netherlands / Belgium in November 2005 (also on Alt.Country Cooking). I keep stacks of unfinished songs around [suggestion: never throw them out – you never know when you might need them to "spark" an idea or finish some lyrics] and resurrected some images I had not used before. This is basically an impressionist song about driving by someone's house to see if they're home. Maybe I'll go in, maybe I won't – but I'm thinking about it! I actually did have a "girlfriend" in college who lived on Saint Paul Street in Baltimore. And I did sometimes drive by her house. And I did sometimes go inside. So I guess that is where the whole song got started – back in my memories. When we were in Woodstock we shared a couple of gigs with Michael Veitch and got to know him. Sera played some cello on his "Painted Heart" album – and Michael played electric guitar in the studio on this song. Sera had just come back from The New Directions Cello Festival and had learned how to "chop" on the cello from Rushad Eggelston of Crooked Still and she incorporated that technique here.
[guitar tuning: DACGAD]
WHERE'S THAT TRAIN – 1940
When we first visited The Netherlands in 2005, we performed at the KHL Coffeehouse in Amsterdam. The woman who organized the shows there was Marijn Wijnands. When we got back to the US, I sent Marijn the music to this song (which had a few lyrics) – and she added more words. When I took the song into the studio, Julie had even more ideas to improve the lyrics and that's how we ended up with a 3 person song credit on this song. I wrote the music but all 3 of us contributed lyrics. Marijn has since brought out her spectacular CD "Harbour" with her band Ma Rain, and I am especially honored to have her as a co-writer. This song is about what it could feel like to be an old Swing musician remembering the old Jazz days when they were the hot, new band! Beautiful improvised cello again! Julie and Kirsti on backups.
[guitar tuning: DADFCE]
LIT BY THE MOON
On every album I have worked on, there is always one song that gets written from scratch as the CD is being recorded. This is this CD's song. Playing around in the same tuning as "Where The Sun Meets The Blue", this song came out in about an hour's time – lyrics pretty much intact. It's the last song on this CD, which is fitting – since we were about to move back to Ithaca – an ode to Woodstock, center for the arts since the early 1900's when an artist commune was first founded there. Artists from all over the world settled there, followed by the musicians – most famously in the 1960s – but throughout all the years up until now. I believe Woodstock still has more recording studios per capita than even New York City (2 hours South). It was Julie's idea to add lap steel (finding great musicians around Woodstock is not hard!) – thus Josh Roy Brown. Plus Sera and Julie and Kirsti. As the saying goes, short but sweet …
[From Sera Smolen]: At the end of the song you will hear layers of cello playing a whole-tone scale superimposed on a pentatonic scale.
[guitar tuning: EAC#EAC#]
That's it! Thanks for reading this far. Thanks to Johanna Bodde who supports acoustic music with so much passion. Thanks to Yvonne Böhm from Haarlem for booking so many performances for us in The Netherlands. Thanks to Amy Merrill for performing with us and setting up gigs in Belgium. Thanks to all the special listeners at "In the Woods" and elsewhere. The listening in The Netherlands has always touched us and has left a lasting impression on us. We are back in Ithaca – also home to Patti Witten, Jennie Stearns, Richie Stearns, Johnny Dowd, Hank Roberts, all four of the Burns sisters - and others. We hope to travel again to The Netherlands and Belgium – and also to Germany and Wales – in April of 2009.
=====