Steve Robinson
talks about
"Away For The Day"
(Sunshine Drenchy Records)
My bio says that "Away For The Day" is all about creative renewal and rebirth and getting off your arse and singing your song, and I'm not one to argue! It was recorded entirely at home on a Korg 16-track recorder. To my surprise, I sold every last one, so until I get around to re-pressing it, it's available only as a download on sites like iTunes, Woven Wheat Whispers etc.
About the songs then...

HOW THE MIGHTY HAVE FALLEN
When we're younger and full of ambition, we sometimes are very tough on ourselves and our perceived failures. Hopefully we get to a point where we are more forgiving.
BRIGHT SIDE OF THE MOON
An affectionate nod to the late Syd Barrett. I used to wonder what Syd might have been thinking when he'd see the relentlessly obsessed fans hiding behind his garden wall, hoping for a glimpse of their reclusive hero. One day, I was talking about this with a friend, and off the top of my head began singing in my best faux-Syd voice-- "I made my mind up and it became clear, I put the walls up so no-one comes near, I rode my Bike straight off the rails, Into the drink there's no way to fail..." It was all a bit of a joke really, but I began to add more and more silly words to it here and there; mixing in a couple of Syd song titles for good measure, until a song began to take shape. To my surprise I began to take a real liking to it, dropped the over-the-top Syd Barrett vocal inflections, and set about recording it for the album. I still have a soft spot for this song that came out of nowhere.
THE GOLDEN AGE OF STEAM
When I was a kid in Northern England, I remember my grandfather telling me the story of his courtship with my grandmother. Apparently he used to ride his bike every week to see her in the village where she lived, and told her that when he'd finally ridden a thousand miles they would get married. I'm not sure how accurate his story was, but I always thought it a lovely old romantic tale and a nice idea for a song. It's a shame it took me twenty years to write it. I wish I could have played it for the two of them.
AWAY FOR THE DAY
This jaunty little seaside singalong is a bit of an aural family snapshot. Inspired by an old black and white photograph that sparked memories of seaside day trips as a child in Northern England... donkey rides on the beach; striped deck chairs; fish and chips cafes; funfairs; fried donuts; English rain-- you name it, I crammed it into the song.
LUCKY 7
When I was 14, I received my first electric guitar as a Christmas present. It was a white hollow-bodied Egmond Lucky 7 (made in The Netherlands no less) and I don't think I put it down for several weeks. I wasn't actually playing it at that point; it was more of a prop to use to lip-synch to T.Rex records with, but the spell had been cast. I traded the guitar for a solid body model some 30 years ago, but still have a soft spot for it. This song sprang from thoughts about the guitar and wondering where on earth it might be now.
WEIGHT OF THE WORLD
One day you're all safe and sound at school; then it's out into the real world with its all too rude wake-up call. Funny how those traumatic schooldays full of adolescent angst appear more and more idyllic as you grow more distant from them. Am I a nostalgic old git or what!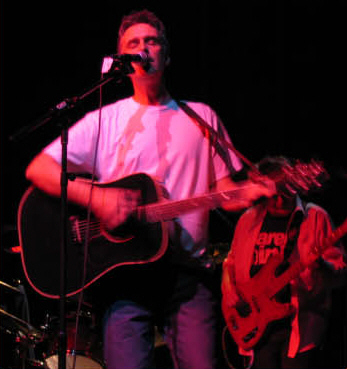 HALF-TIME ORANGE
This one is a lot of gibberish to be honest. I'd been listening to an album loaned to me by a friend, and as I browsed the lyric sheet began to laugh at how pretentiously artsy the words were. I jokingly lamented to my friend "I can write lyrics just as nonsensical as those!" and before I knew it, the opening line "A mis-shapen piece of the puzzle racing green or sleeping blue" tumbled out. He burst out laughing and that was all the approval I needed. In a flurry of stream-of-consciousness scribbling, "Half-Time Orange" was born.
LIFE ARROW
It doesn't matter how many times I hear that there comes a time when you have to let your children go; let them make their own mistakes, and stop catching hem before they have the chance to fall-- I just seem to hold on tighter. This one started as a sketch/demo that I intended re-recording at a later date, but as I added parts to it, I began to like the feel of it, and after having my friend Mike Salyers add a hastily recorded drum track on it, I decided to leave it alone rather than run the risk of polishing the life right out of it. Then there was also the fact that I was too lazy to start over...
THE THINGS WE DO
This one was a leftover song from my days with The Headlights. We'd played it live a couple of times, and it almost made in onto our "Roundhouse" album, but it had never quite gelled. I didn't want to give up on it, so I changed the key and played a brush snare on it to give it a lazier, softer feel. Waste not, want not!
FAVOURITE ENEMY
I had a phrase that I liked-- "a dusty picture on the mantelpiece", and set out to make a bleak and desolate sounding song of resignation and regret, to match the mood that the phrase seemed to suggest. If this one depresses the hell out of you, then I've done my job.
ALL THAT GLITTERS...
This one's a bit murky, but it appears to be about letting go of the past. It also served as an excuse to rattle off a bunch of T.Rex and Slade song titles in homage to the glam-rock heroes of my youth. Funnily enough, I played a bodhran on this track, which may well be the least glam-sounding instrument in existence.
ENGLAND'S GREEN
As a child, I threw a tantrum when my grandparents announced that they were selling their house. I'd always loved the place and couldn't bear the thought of them moving on. When I was in my early twenties I moved on myself; leaving my family and taking off, guitar in hand, to America. I think my mother thought I'd be back in a few weeks. I still have feelings of guilt about the fact that I never looked back. When she passed away, these feelings strengthened somewhat.
GOOSE FLESH
A personal song of renewal and creative rebirth, and a tip of the musical hat to Neil & Tim Finn, Phil & Don Everly, and Brian, Carl & Dennis Wilson. Brothers in harmony all!

--
The links to downloads of Steve Robinson's music:
=====