SEAN O'BRIEN
was in
THE MEANTIME, TRUE WEST, DENIM TV
and
THE MARIETTAS
. What can I say? It's a huge honor to have him here on the Insurgent Country page!!
A little bit of history from his bio: "Sean O'Brien is the former lead singer of several California-based rock groups going back in time almost twenty-five years. First was MEANTIME, a power pop quartet that eventually mutated into the Davis, CA psychedelic cowboys, TRUE WEST. Next came DENIM TV, whose two albums, "Denim TV" and "Starving Rich", both broke the CMJ Top 100 in college radio airplay upon release, leading to a very successful national tour.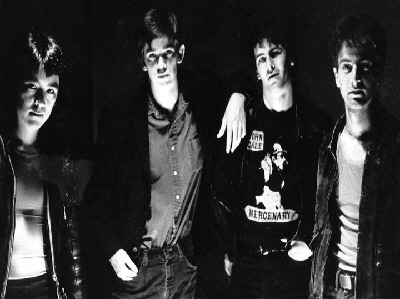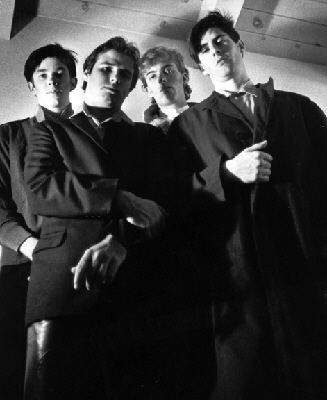 Meantime True West


In 1991, Sean moved to Los Angeles, where he collaborated with math professor and former Angry Samoan Gregg Turner on "Sante Fe", by The Mistaken for the independent label Triple X. This winsome CD garnered some pleasant press and appeared in the Top 35 radio airplay in The Netherlands upon release.

1999 saw the release of "12" by The Mariettas, a powerful punk-pop quartet which included former members of several legendary LA-area groups; such as The Leaving Trains, Baby Lemonade and Arthur Lee and Love. "12" drew great notices in the US, as well as in the United Kingdom, in music magazines such as Luke and Bucketful of Brains.

Sean returned to his native Bay Area in 2001. He recorded several new songs acoustically and refined the material for "Too Personal", the first solo CD of his career. Sean plays guitars throughout, though two guest musicians do appear on the album. Polly Klemmer, of The Mistaken, plays piano on two tracks. Also, on "The Answer is In", Sean is joined on acoustic guitar by his old friend Russ Tolman, solo recording artist and former guitarist of TRUE WEST.

In 2006 Sean released "Seed of Mayhem", featuring members of all of the above mentioned. That year he formed his permanent group, Sean O'Brien and His Dirty Hands: featuring Jeff Kane on lead guitar, Bill Davis on bass, and Matt Shelley on drums. The Dirty Hands have already started recording their first CD, which they hope to finish by the end of the year. That album will be called "Goodbye Game"."
A compilation of Sean's work with all the bands he played in, "The Drug Of Memory", will be out early 2008 on Mabuhay Records. This CD includes lots of interesting live-recordings and previously unreleased or hard-to-get material. Yes, Sean will be back here by then, to tell more about these future projects!
And these albums "Too Personal" and "Seed Of Mayhem" come highly recommended too. Not only for the music lovers who are into the alt.rock of former members of the Paisley Underground Scene, like Steve Wynn and Chuck Prophet (for them it's a must-have, actually), but also for anybody who's into singer-songwriter music with intelligent, poetic lyrics. Sean even got his poetry published! What else can I say?? Let's hand that microphone to Sean himself...
-----
SEAN O'BRIEN talks about "Too Personal"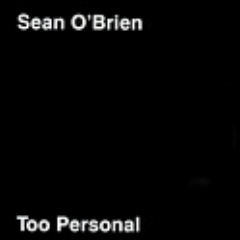 TOO PERSONAL (First Cold Press)
Around 1999 my band The Mariettas broke up in Los Angeles and I was a new father. I was changing my daughter's diapers and feeding bottles and feeling like maybe my music days might be over. Responsibility with a big "R" had come a knockin'. The songs I had at the time sort of fell into two piles. The rocking material; for what would have been the second Mariettas LP that never happened; and another group I called my 'orphan' songs. These tunes tended to be quieter and ballad-like and never seemed to get recorded with any of the bands I had played with over the years. Fallen through the cracks they had. I demoed a lot of them at home on my old Tascam 4-track (pre-digital era). Some are live in the studio takes. I left the occasional bum note in the performances if I thought the feeling was right. Most musicians take all of those bum notes out in order to get things to be "perfect". Sometimes they take out the emotions when they do that too. I stopped writing for awhile, unsure of what I wanted to do. Then one day "Free of Deceit" came along as I was plunking on my guitar. I got the first two lines and everything started to work in my mind:
"What will make you sing again, and draw you out of your room….? And end the bitter broke light of your days…?"
This is a quiet record. It was never intended to be Top 40. It's a late night record to put on at 3 AM when you have broken up a relationship. My friend Paul says it's depressing. But I have always loved darker music. I think two negatives make a positive. I always think wow, that guy or gal in the song has it worse than I do. I feel better afterwards. As the great Leonard Cohen once said, "….sincerely, L. Cohen."
"Here to Serve" – I am a big fan of Richard Thompson's work and wanted to write something with an almost Celtic feel. One musician friend said I ripped off Oasis instead. Ooooppps!
"Free of Deceit" – As soon as this song came along, I knew I wanted to do an acoustic record. The lyrics mutate. All those Catholics out there can understand the fire and brimstone section I am sure.
"Their Home Life" – A very old song I recorded several times trying to get right. I like this version best because it sounds like I am not thinking about what I am doing too much. Always an asset for a musician I think. Painters get their work put on walls for all to see, but writers/musicians' work gets put on shelves to be selectively reviewed.
"Pro-Choice" - A tough song about a couple that decide to terminate a pregnancy. Not a situation I was in, but I tried to imagine how I would feel if I was. Recorded live at Chick Corea's studio in Silverlake, on his piano with the wonderful Polly Klemmer on the keys.
"Possum Ate The Cat Food" – I found a strange chord and finger picking pattern that reminded me of Nick Drake. Based on a true incident in my backyard in Los Angeles. Later recorded in eastern/raga/psycho-del-ic style on Seed of Mayhem.
"I Married Myself (And You)" – I was married by a minister of metaphysics. The song conjures the feelings and the wicked sunburn I received that day. Somehow the chords remind me of the theme from the movie M*A*S*H*, "Suicide is Painless". Played live on my in-laws' Requinto guitar, purchased in Mexico City in 1968 during the Olympic Games. My daughter now uses the guitar for her lessons.
"Amoral Stars" – An old Mariettas' tune that seeks to understand this country's obsession with celebrity. Played on my friends' old, beat-up 12-string. I was in Los Angeles during the riots in 1992 and the song kind of came out of that experience. I once had a girlfriend too that lived in white rooms, with white furniture and a white cat. A bit creepy.
"Damned Either Way" – We have all had a friend that drinks a bit too much. I think of Lucinda Williams when I sing this now and would love to hear her sing it someday. My friend is in recovery now and well.
"No. 1 Grandson" – You don't hear guitar and piano alone very often. I like the way this track rocks without drums. Recorded live again at Chicks' with Polly. The original title for this record was "Not a Drum Was Beaten". My hands are shaking too obviously.
"The Hatred Shop" – I saw a news report on CNN of the KKK setting up a clothing shop in Charleston, South Carolina. I couldn't believe it. Protesters were lining the sidewalks demanding it be shut down. I believe it was eventually. I had the song in about ten minutes after the news report.
"The Answer Is In" – Sort of a thank you song to all psychotherapists out there. They have helped me a bit over the years. Featuring the great Russ Tolman live on the same Requinto guitar previously mentioned. We recorded a take and Russ said let's do another one even quieter, like Big Star's Sister Lovers. This version is that take.
"Flag and Rifle" – The first tune I wrote after 9/11. I was sick of the hyperbole I was hearing from both sides. But I also saw a real inflated Santa Claus floating in the sky after escaping from some holiday tree lot. Couldn't let that image get away.
"Sure It's Good" – The oldest song on the album dating back to my Denim TV days. Lives session recorded by my friend Malcolm Fife. I have video of us playing it live on a public access TV show. The stream of conscious lyrics really remind me of where I have come from emotionally. A song about fulfilling your promises. Later recorded with The Mistaken on their album, Santa Fe.
"Owes You Nothing" – The last track recorded for the record in my bedroom. I like the motion of the chords. They seem to be falling forward somehow. I was going through a tough time. The vocal is very raw but I just couldn't change it. My apologizes for my less than stellar xylophone playing. I am still learning.
---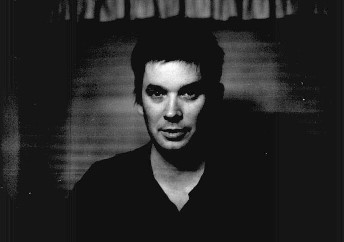 SEAN O'BRIEN talks about "Seed of Mayhem"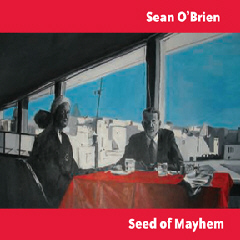 SEED OF MAYHEM (First Cold Press)
I had this tune "A Bee's Tale" and it was one of the most powerful moments for me during The Mariettas final shows, up to the point we broke up. I made an excellent demo of it with a drum machine with Henry Liu, but something was missing. It needed real drums. I felt like I was on a mission to get a proper recording of the song. I also knew I wanted to use my brother Liam's painting for the then "hypothetical" CD cover. It's a wonderful portrait of my grandparents from the 1940's. It's obviously derived from a black and white photograph, but I love the way he replaced shadows with color in unexpected ways. Also, the tablecloth in the painting was originally pink, which addressed for me the whole "blue for boys, pink for girls" cultural cliché. Then, ten years after he had finished the painting, he decided to paint the tablecloth a vibrant blood red. It's amazing how it transformed the painting. I got a hold of my old friend Jeff Kane, a wickedly good guitar player, whom I had know for decades but never played with. We made a deal. If I played in his Rockpile/Nick Lowe/Dave Edmunds cover band Trouble Boys, he would help me with my tunes. This record took almost a year to finish. I used just about every musician I knew and a few I didn't know. Finally got "A Bee's Tail" nailed down too. I rest easier at night.
"This Could Hurt" – The Mariettas used to open with this one, so I flew Doyle Dean out from his home in Indiana to play on it. Manfred and Tom Hofer sing the "oh no no" bits. A tribute to glam rock with post-modern references to the street people of San Francisco, whom I meet on a daily basis. Iggy Pop and X are big influences on this one.
"Stumblebum" – My theme song. When I went up to receive my high school diploma, a superior mind in the crowd said, "Where is he?" I must admit I was very skinny back then, but the timing always baffled me. My eternal gratitude to Jeff Kane for his Dick Dale-like surf guitar invocations. Transplendent…and Cowabunga!
"7.5" – A goofy ditty about my weekly task of filling out a timesheet in order to be paid. I particularly like the ghostly falsetto vocals. The Shirelles have always rocked the house for me.
"The Bottom of The Toy Box" – Inspired by "Cello Song" by Nick Drake and "Goodbye Pork Pie Hat" by Charles Mingus. But not necessarily in that order. I was never an old Goth dad; as described in the song, but I envisioned such a conservation between child and parent, something along the lines of "…in my day, the black lipstick was, well, …blacker!"
"Damned Either Way (electric)" – Someone in Nashville should record this. Kim Martini from the great band 99 Tales sings along on this one. Probably my first duet. If anyone knows George Jones' management, please contact me. The demo version appears on my first solo CD, Too Personal.
"Tranny Ignored" –.San Francisco is a place where people dress up. They walk the walk and talk the talk if you know what I mean. The greatest irony for me about this song was a recent concert, where I played the song and then went up to the bar and was served a drink by a very attractive…..?
"Dough See Dough" – Originally the main riff was slower and grinding but it ended up sounding like the Pixies. I sped it up and suddenly the song became bluebeat/ska! Whatever perceived jauntiness the tune may acquire I think is undercut by the rather cryptic lyrics, which deconstruct the notion of 'homeland security'. Dedicated to the great Robyn Hitchcock.
"Possum Ate the Cat Food (another meal)" –.I really do not like paying money to re-record tunes once they are memorialized. However, sometimes you just have to. A vainglorious attempt to capture the spirit of my favorite Beatles' track, "Tomorrow Never Knows". A big thank you too to The Great Raagini.
"Eyewear" –.As strange as it sounds Madonna is partially responsible for this track. At the time, I was upset at the vilification and impeachment of Bill Clinton at the hands of the neo-cons. He made many mistakes (see arms to Turkey), but what hath his tormentors wrought I wonder?
"Torn Sweater" – Is it fun or sad to watch punk rockers age? I should know I used to be one, if not in fashion sense than at least in ideology. Another tune The Mariettas often opened their show with. The middle eight makes no sense I know, but it was indeed as homage to the great Television, and their beloved "Marquee Moon".
"The Good Fight" – A bit of speechmaking about the horrible situation in the Middle East, squeezed into a Nick Lowe-like pop song. My apologizes to Nick.
"She Wonders" – I tried to marry a Jimi Hendrix chord progression on the choruses with a sad country tune on the verses. Hope it worked. Kicking screaming Gucci little piggy….
"Cleaner That Way" – So perplexed have I been with Cheney, Rumsfeld, Bush and the march of the neo-cons, that I wrote a tune from their perspective. An attempt to better understand a flawed philosophy. Others have tried to devalue human beings and failed miserably. My daughter Miranda's vocal debut. She nailed her line in two takes and now wants entire songs written for her. What have I done?
"A Bee's Tale" –The start of all the mayhem. I found something close to my heart on this song though I am hard pressed to tell you what that is. I hope some forgive me the beehive analogy. I can only say I will never forget the feeling of playing the tune with my friends Manfred and Henry and Doyle onstage. It was the low, rumbling sound in the aftermath of the explosion.
---
My CDs are also available in digital format on
7digital.com
in Europe.
=====