Sean O'Brien
(and His Dirty Hands)
talks about
"Goodbye Game"
(First Cold Press)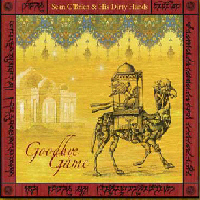 I am a fan of 'goodbye' songs. The album started with nothing more than a desire to write a good 'goodbye' tune. And while my humble little song will never equal the enduring power of such amazing pop milestones as "Goodbye to Love" by The Carpenters, or "Asleep" by The Smiths, I am glad it rocks nicely in its own little way. The CD was recorded more quickly than "Seed of Mayhem" because I had a fabulous regular band, The Dirty Hands. We cut the record as live as possible, keeping overdubs to a minimum. Still I found some time for a bit experimentation, using keyboards, sound effects, hand drums, and my daughter's toy piano. A number of the songs have a connection to the Middle East and my friend Jenny Stovell, came up with the brilliant artwork utilizing some of my suggestions. If the CD gets misfiled in the "World" music section of the local record store (cherish them before they disappear), I will have succeeded in my mission.
TAKE YOUR PILLS - A tune to all my friends on anti-depressant medications of various kinds. I have seen them do a lot of good. Sort of a fusion of "Time is Tight" by Booker T. & The MG's and anything by the genius Paul Westerberg and that old band of his…..
WARM & SANE – A loving tribute to the late great band Sleater-Kinney. Those girls rocked hard and I am a lucky man to have witnessed a few shows of pure bliss. Thanks gals!
AFTERMATH FEARS – A sea chanty in waltz time about a mess that continues to cause suffering for too many people. Julie Wolf, who has toured with Ani DiFranco and the Indigo Girls add the amazing organ. Reminds me of Keith Emerson sticking knives and screwdrivers into the boards to get sustained madness. Thanks Julie!
BONES SNAP – A ditty about being alone on your birthday and accepting the situation instead of moaning about it. I love the descending guitar line on this one, though Jeff Kane plays it better than I do. Reminds me of Richard Thompson somehow. Thanks to Chris von Sneidern for the fab vocals!
ALL THAT I DON'T KNOW – Kind of a Merle Haggard tune. Live vocal in this one. It had a certain vibe I didn't want to destroy. This song seems to be going over live very well. People seem to relate to the situation of the narrative in the song. I am most grateful.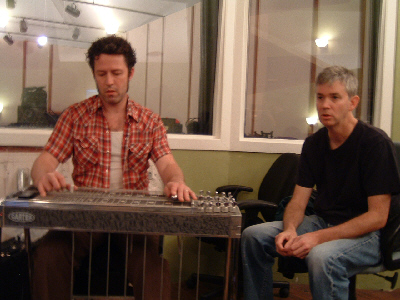 HOPE FIILL UP – An unusually upbeat tune about a dialog between a fictional author and fan. In China a thousand Buddahs were buried at an ancient temple. The legend is that if you walk in front of all of them, you will find at least one that looks exactly like you. I would enjoy that walk I think.
GET OVER TUNIS – My first instrumental in nearly thirty years of recording! Thanks to Doyle Dean for the tapes and Matt Boudreau for the out-of-tune piano for that early Jamaican Studio One sound! He that liveth in darkness… hath blinded his eyes.
HOME TO PENELOPE – Started with one my favorite tunes by Television, "Ain't That Nothin'" and then threw in some snake charmer riffs. Bake and serve. I am always a sucker for sirens singing at the shore.
NEW HOME TONIGHT – Jeff Kane and I had a Rockpile cover band called Trouble Boys. We learned Nick Lowe's "Without Love" one night. I went home, changed the chords around, got this song in about five minutes. Jeff wrote the hook on the choruses. I too have tried searching for my answers online, but to no avail.
WALK THERE TOO – In a moment of bad parenting my daughter ended up walking on a hot sidewalk without shoes one day. She walked in the shadow of the wires and the song started to appear in my mind. Someone recently described this tune as Love meets the 70's band Spirit. Works for me. R.I.P. Arthur Lee.
BAD FAITH – I coaxed the great Sylvia Juncosa out of semi-retirement to play guitar on this. Very glad I did. Recorded some of the vocals at home in the hallway where acoustics are quite good.
GOODBYE GAME – Written after the demise of The Mariettas while I was living in Los Angeles. Sort of a requiem for that band and some other painful severed alliances. Of course, there is a little of The Beatles' "Dear Prudence" thrown in too. I can't figure out if the backwards vocal bit sounds better than the ones moving forward.
Peace
S.O.B.
=====