PERRY KEYES
"The Last Ghost Train Home"
(Laughing Outlaw Records)
To tell you the truth, I'm now already looking forward to playing "NYE" from "Meter" again in December! When "Meter" was released in 2005, Perry Keyes was compared to Springsteen. As reviewers often do, when somebody writes storysongs situated in blue collar neighbourhoods, playing them in a quite rocking way. It's not so bad to be compared with the early Springsteen though, it's an honor, as I never forget the country's toughest DJ literally sobbing on the air, after playing "Meeting Across The River", as it's so true and so damned beautiful. But... how convincing is a multi-millionaire these days? And Perry is convincing and most definitely for real! There's only one way to find out if a singer-songwriter is for real, when he comes up with something about working class heroes. Ask him or her to describe the smell... How did their father and big brother and uncle and neighbour smell, when they came home from a night shift at the factory or the ships repair yard or the blast-furnace plant? There's something so undeniable in that smell of oil, tar, grease and sweat! Hey, maybe it even comes off this new CD by Perry Keyes!
Some background info, quoted from his bio: Perry has been writing songs since he was a kid and has played in a variety of bands. Most notably, in the late eighties, he fronted "Perry Keyes and the Stolen Holdens" a band which everybody had heard of, but no one actually saw. Mark that down as just another of the many mistakes, made growing up.


No other Australian songwriter is writing about Matraville, the Barbeque King, the abandonment of working class suburbs or the way a kid loves a footy player - few other Australian songwriters are writing about anything with such honesty, heart or insight.


The world Keyes sings about is one of growing up in the Sydney neighbourhoods of Redfern and Waterloo, of embracing the working class culture that dominated the inner-city in those days, and of family. Of being at one with the winners and losers lurking at the TAB, the local pub and greasy spoon, the rugby league, the speedway, the boxing. Of chancing your arm amid the tawdry but endlessly romantic neon glitter of the Easter Show. Of love and drugs, sleeping rough and risking being incarcerated for things you may or may not have done. Of busting a gut driving a cab or slaving in a factory from dawn to dark to pay the rent, maybe buy the new Clash record and a feed of beef and black bean on Friday night with your best girl.


Keyes's scenes and rich gallery of characters are photograph-vivid and anointed with acutely-observed and brutally-honest detail that brings them roaring to life. His images and anecdotes, some poignant, others the stuff of nightmares, loom at you like sylphs and hellions from a ghost train gloom.


Once again, Keyes is backed by his band, Give My Love To Rose, featuring Edmond Kairouz on guitars and vocals, Earl Pinkerton on bass, and the extraordinarily talented Bek-Jean Stewart on drums and shimmering back-up vocals that tingle the spine. She recently released her own excellent and intriguing album "Junior Years". And Michael Carpenter, a familiar name on records by Australian artists, is also credited for some playing and recording. Oh yes, the front cover painting is made by Jon Langford, figuring that out takes only one glance!

I listened, like this was a long and spell-binding story, divided in several chapters. A gritty, realistic and yet poetic story. The kind of story cabdrivers and those other kids from working class families know all too well... Memories coming back: when the big whistle blew, go and wait for Dad, who walked through the factory gate smoking his self-rolled cigarette. And this story also features such grrreat music!!

---
Written by Johanna J. Bodde, September 2007
---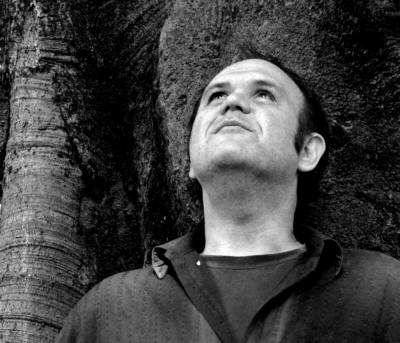 And how about the rabbit killers in old Ford 

 

Perry Keyes himself wrote an awesome "Glossary" of 
four pages small print. Here are some of the most interesting 
parts:




"The Last Ghost Train Home"

 is a collection of 

songs that have at their core the theme of community. The songs examine what 

happens when the cultural touchstones - work, sport, food, music, family, the 

neighbourhood - that are used to bind people together as a community are 

dismantled and dismissed in the face of a grab for real estate or just plain 

ignorance. The consequences of acting as if a people's culture is redundant are 

plain for anyone to see. To say that the things that they care about are not 

important is to say that the people who have invented, cultivated, passed on and 

shared these things with each other are themselves, not important. The culture I 

grew up in had tremendous worth, especially in its capacity to create a sense of 

community. It made people feel like they were a part of something much bigger 

and that, maybe, the struggle was a little less lonely... Most of it is gone 

from around here now, along with the people that made it up. In that way, these 

songs are a kind of ghost story.




THEY DAY JOHN SATTLER BROKE HIS JAW

"John Sattler was a Rugby League football player 
for the South Sydney Rabbitohs - the team actor Russell Crowe now owns. He 
played in the 1970 Grand Final. His jaw was broken in several places in the 7th 
minute. He played on for the entire game, refusing his team mates repeated 
requests to leave the field. He was the team's captain and he led them to a 
famous victory. His effort is often cited as one of the most courageous in the 
annals of Australian sport. When I was old enough to start drinking in pubs, it 
seemed that every hotel in the inner-city had the famous photo of John Sattler 
being carried off the field on his team mates' shoulders. Jaw broken in a couple 
of places, blood on his torn jumper but unbowed and defiant. It was like this 
photo had replaced the portrait of the Queen that some pubs used to have hanging 
over the bar."




The song mentions the Railway View Hotel: "It was 
situated directly across from Redfern Railway Station. In those days it seemed 
there was a pub on every corner thoughout the inner-city of Sydney. The Railway 
View Hotel was in a prime position for pulling in the workers just before they 
had to jump on a train on their way home from the railway yards and factories. 
It was usually teeming between 5-6 pm with men spilling out onto the footpath, 
cloaked in thick cigarette smoke and talking loudly. Kids would hang around and 
score soft drinks and chips. The pub shut down in the eighties as the area fell 
into a steep economic decline and the railway yards and factories were being 
shut down."

Falcons: "A man used to come around sellin' dead rabbits from the back of an old 
Ford station wagon. Folks would cook 'em and eat 'em. He would skin and gut them 
on the tail gate right there in front of you! I guess he was one of the last in 
a long line of men who were known as 'Rabbitohs' throughout the old working 
class areas of Sydney."




KIDS DAY

"At the annual Royal Agricultural Show - more 

commonly known as 'The Easter Show' - that was held at the Sydney Show Grounds 

every Easter, a day would be set aside for children to get in free of charge. 

Often this meant that the more socially disadvantaged families would be able to 

have a day at 'The Show'. It was also a day when some of the kids who slept 

'rough' - homeless children - would be able to escape from the inner-city 

streets and lose themselves for awhile in Sideshow Alley. Show Bags were bags 

sold to children at The Royal Agricultural Show. They were full of crap like 

mini-jars of peanut butter and rubber geeks on sticks and plastic cowboy pants. 

They were/are amazingly over-priced. They're pretty cool if you're a kid, 

though. My Mum and Aunties worked in the stalls every year and would bring me 

back show bags. My favourite was the World Championship Wrestling bag with the 

Brute Bernard mask! Brute Bernard was a famous Canadian Wrestler. The Brute. 

Incomparable. Favourite move was the 'Brain Buster'." Also mentioned in the song 

is 'The Wild Cat': "A roller-coaster. They would give you a badge that said 'I 

rode the Wild Cat!' I was a bit of a pussy as a kid and, therefore, can't claim 

to own such a badge of honor."

DOUBLE ON THE MAIN GAME

"Double On The Main Game Tickets were betting 
tickets sold at football grounds. If you got the first scorer for each team then 
you'd win money. They were often sold by guys who would wander around the 
football ground who were, kinda, borderline homeless alcoholics. Collecting your 
money was half the fun." And who was Jimmy Sharman? "Jimmy Sharman ran a 
travelling boxing troupe. Before it was banned by the government, he would set 
up at the Easter Show and put on exhibition bouts. Outside the boxing tent a man 
would beat a giant bass drum while the barker would shout 'Who'll take a glove?' 
Men in the audience could win money by taking on one of the Jimmy's fighters and 
lasting a round or so. Around this time you would see a lot of men walking the 
streets where I lived with black and blue faces. The answer to the Barking Man's 
question." "Folks often roll tobacco to make their own cigarettes. If they use 
Champion Ruby Tobacco it's sometimes called 'rolling a Ruby'." "Luna Park is an 
amusement park adjacent to the north pylon of the Sydney Harbour Bridge. I was 
never real good at working out a place to take a girl out on a date. Luna Park 
always seemed like a safe bet and even though it was pretty much shut down when 
I'd go there, at least we got to ride across the harbour on the ferry... One 
night, the Ghost Train at Luna Park caught fire and six kids were killed... Big 
Dipper was the famous roller coaster at Luna Park. Some time in the 80's, 
apartments were built near the park and were soon filled with 'young 
professionals'. They complained about the noise - which had been a part of the 
area for fifty years - and the Big Dipper was closed down." And how about the 
Red Rattler Trains? "Old trains that were a distinctive red colour. I used to 
love riding red rattlers on the city circle when I'd go into the city to buy 
records and guitar strings."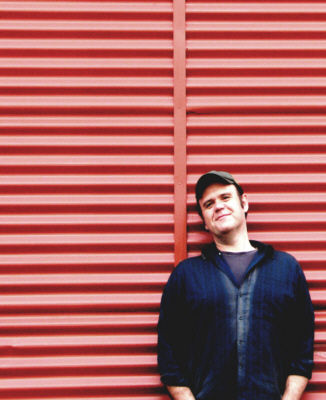 "This was the main thoroughfare that ran through the middle of the carnival section of the Easter Show. It had all the usual stuff - Ghost Train, House Of Mirrors, Fortune Tellers, Headless Lady, a half boy-half chicken and the Boxing Tent. Tom Waits would've loved it!! Driver Avenue is the main road that runs along side the Sydney Cricket Ground and the Show Grounds. Tens of thousands of people would fill this road whenever there was something on. When I was a kid, this stretch had a number of old wooden bus stops and they were often filled with men & women who would sleep and drink in them until the cops moved them on." Who was Ronald Ryan? "He was the last man hanged in Australia. His impending and subsequent execution caused a great outcry and still resonates today. I thought using his name for the main character in this song was kind of apt."
PETER COTTONBALL
"Prince Alfred Park Municipal Swimming Pool is a council swimming pool that's situated inside a huge park that runs alongside Cleveland Street and down to Central Railway Station. The back area of the pool would slope down towards the train tracks that run along the back of the park. Once a week, council workers would clean out the needles and broken bottles that littered the area. When I was 17 I had a girlfriend and we would lay on this slope and watch the trains rushing by while we drank beer... The songs 'N.Y.E.' and 'Bonfires Of June' from 'Meter' are about her and that time. My high school had this whole area as its playground - it was somethin' else!" And there are cars mentioned? "Muscle Cars! Every year there was a motor show at the Show Grounds. It was where you could go and see all the latest car stuff and get your photo taken in the Batmobile!! The Holden Torana XU1 is an iconic Australian muscle car of the 1970's, while the Ford GTO is an iconic American muscle car of the 1970's." And sportsmen? "The Bomber Man (Footy player John Peard) and The Galloping Ghost (Footy player Brian Bevan). Sportsmen with nicknames always seemed a helluva lot more interesting than other players to me when I was a kid. Maybe now, too." And a train station? "Central Railway Station, Sydney's largest railway station. Built on a cemetary, it has 27 platforms. Central Station Tunnel is an underground thoroughfare that enabled you to walk from one side of Central Station to the other. There's always a lot of busking going on down there. I've never busked, though Joe Strummer seemed to be into it quite a bit."
AT THE SPEEDWAY
"The Sydney Showground Speedway is no longer there. Sidecars, midget racers, hot rods and smash up derbys!!! As the area around the Show Grounds became gentrified, less people appreciated the value of a place like the Speedway. It was quite a thing, though. The floodlights, the track announcer's frantic exaltations and the noise of the bikes & cars would spill across the adjacent streets. Just like the people who once flocked to it, The Speedway was shifted out west." The Olivia Newton-John song "Down By The Banks Of The Ohio" is mentioned? "My Dad would take me and my brother on drives on Saturday nights when we were kids and this is the sort of stuff they would play on the radio in between the greyhound races. TAB Tickets were betting slips. If my Dad had a good day on the 'punt' (gambling on horse racing) he would take my Mum, my two brothers and myself out, invariably, to a Chinese restaurant. If he didn't do so well, we'd stay home and watch Hawaii-Five-O. The Canton Cafe was a Chinese restaurant on Botany Rd in Redfern. The pre-eminent Chinese restaurant where I grew up. Situated next to the local TAB, winners and losers alike would seat themselves behind a formica top table in a cramped booth and enjoy everything from the more up-market Prawn and Pork Combination Omelette to the Losers Special - chips & gravy with a small fried rice. When I inevitably die of heart disease this establishment will have been primarily responsible for my (and many others) early death." And a few references to music: "Django Rheinhardt, a Belgian Gypsy who could play guitar with just two fingers. Concise as it may be, this is hardly an adequate description of Django. The Gibson Flying V guitar, a guitar that came to prominence when Jimi Hendrix, among others, started using one. The first guy who I ever started a band with stole one from a guitar shop on Cleveland Street. He was a drummer... but he loved playing Van Halen riffs on his Flying V. 'Space Truckin' is a Deep Purple song off 'Machine Head' album. When I was 8 years old I had a cousin who was about 15 at the time. He told me that Deep Purple's 'Machine Head' was the 'loudest' record ever made!! His Mother was deaf and mute so he would crank his stereo up to the max and never get into any shit for it!! He was also into Neil Young's 'Harvest' which, when he would play it at full volume, would sound just as loud as 'Machine Head' in parts - funnily enough."
MATTHEW TALBOT'S BLANKET
"The Matthew Talbot Hostel, since just before the last world war this has been a shelter for homeless men in Sydney. It provides over a quarter of a million meals a year and its beds are used almost 37,000 times a year. One night, after finishing a taxi shift -I sometimes drive a cab-, a couple of drivers were talking about a homeless man who was found outside the major cinema complex on Sydney's main street. He'd lain there, dead, for almost 12 hours before anyone noticed."
IN ANCIENT ROME
"I first started driving taxi cabs just before the 2000 Sydney Olympics. One of the things that struck me hardest during those initial night shifts was the amount of kids who were sleeping rough in around the central parts of the city. In the lead up to the Olympics the government installed new park benches and bus stops that would make it harder for somebody to sleep on. The Wall is an infamous stretch of road on the fringe of the red light district. Young men lean against the sand stone wall that runs along side Sydney's Central Criminal Court Building with their heads bowed, covered in hoods, waiting for work from the passing cars." And how does the 1963 Ford Fairlane fit in? "My girlfriend once hired an old vintage car for me on my birthday and we got driven around in it with the top down - I felt a bit like Lucy Jordan."
DALE BUGGINS DREAM
"Dale Buggins was a dare-devil stunt motorcyclist. He'd perform all around the country, a lot of times in rural areas where not a lot of entertainers of note would go. I remember when I was about 15 seeing a guy on the news. He was about 40-50 years of age and he was crying. I asked who it was and my older brother said it was Dale Buggins' Dad. It turned out that Dale had just shot himself in a motel room in Melbourne. He was 20 years old. Dale was like Australia's Evel Knievel. Evel was a big deal when I was a kid. Heaps of broken collar-bones on my street... Mini-Bikes, when I was a kid it was every boys dream to own a mini-bike. Most of us had to settle for a skate board. My little brother 'scored' one when he was about 14. I think it came from one of the carnivals down on the beach... he gave it back, later. The Dragstar Bicycle, high handle-bars and a long sloping seat. This was the shit in 1975." And how does Eli Wallach fit in here? "The western was a big deal in our house. From 'Bonanza' to 'Once Upon A Time In The West'. I always loved that scene in 'The Good, The Bad and The Ugly' where Eli Wallach says 'We don't need no stinkin' badges!' Where I grew up there were a lot of guys who lived that sort of attitude. I tried to get Warren Oates into the song but I couldn't get it to work. Maybe next time."
JOE STRUMMER
"Joe Strummer wrote the best rock'n'roll lyrics, ever. He had the biggest rock'n'roll heart, ever. An absolute Inspiration!! 'City of The Dead' is a Clash song title from the 'Black Market Clash' EP. Montgomery Clift, an American actor and inspiration for The Clash song 'The Right Profile'. Arthur Scargill was the leader of the British Miner's Union during 1985 miners strike. When the British miners went on strike in the mid-eighties the nightly news would be full of images of the picketing workers facing off long lines of English Bobbies... Margaret Thatcher, Ronald Reagan and Rupert Murdoch, the Forces of Darkness had taken hold of the reins with only Ken Loach standing in their way! In those days I looked at the world through a naive kind of rock'n'roll filter and I remember watching the TV and thinking - the world needs The Clash to get back together... real quick."
THE LAST GHOST TRAIN HOME
"Every weekday during the evening rush hour around Sydney's Central Station, thousands of commuters on their way home make their way toward the various terminal entrances. Later in the evening, after most people have left the city, the homeless congregate in the various parks and thoroughfares that, just hours earlier, were teeming with commuters. The title comes from the question - What kind of train do you catch to get home when you no longer have a home to go to? The Clock Tower of Redfern Post Office: every second Thursday on Redfern Street a long line forms outside the Post Office doors as people wait to collect their welfare. And The Sky Bar, opposite Redfern Post Office: Once paid up, a lot of folks then cross the road to play the poker machines that, nowadays, fill up large sections of every pub in Sydney."
=====