PATTI WITTEN "Sycamore Tryst"
(Potent Folk Records / I-Town Records) www.pattiwitten.com

Patti Witten contributed to the albums of label mates Tom Mank and Sera Jane Smolen, sounding good enough to make me now grab greedily for her own CD "Sycamore Tryst". No one less than Rosanne Cash wrote a recommendation, featured in the beautiful ecological digipack, in which she declares to be a big fan of Patti... In 1997 a songwriting workshop with Rosanne changed Patti's life completely. Before that, she played in bands already, but she had also a small drinking problem and her husband died, as well as several family members and friends. Her debut came out in 1999 and "Sycamore Tryst" is her second complete album, filled with poppy folkrock. Patti sounds a bit like Joni Mitchell, Shawn Calvin and Aimee Mann, whose influences she mentions herself too. However, the way she performs her songs makes us think of Rosanne Cash again.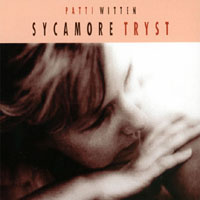 There are songs about relationships, of course, "Black Butterfly" is special in that department. "Goin' Back To Moline" is an old-style countryfolk song with banjo and pedalsteel, whereas "Nine Boys In Texas" reveals sense of humour. The goose bumps track is "Sunny Day In Terre Haute", that comments on the trial and execution of Timothy McVeigh. Patti's father laid on his deathbed, while McVeigh prepared the van for the bomb attack in Oklahoma City. The following track "Another Minute More", with trouble provoking electric guitar and loops full of distorted voices is linking up to the former as a lamentation for both. And I do have to mention "Sweet Home" ("I used to call the DJ at WPKN") and "You Can't" as well. In the future we sure have to keep an eye on Patti!
---
Written by Johanna J. Bodde, translated by Yvonne Bohm. Dutch original of this review previously published on Real Roots Cafe, The Netherlands.
=====