PATRICK BLOOM
talks about
"Moses"
(Mud Dauber Records)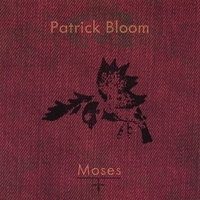 "Moses" is my second solo release, my first being "(Songs From) The Pink Sofa", which was released in 2004 on Trailer Records in the US and on Sonic RendezVous in Europe. It took about 4 years to get "Moses" released for several reasons… the primary one being that I became a father, which dissolved all of my excess time and income. Another reason was that in that time Trailer Records dissolved as well, which led me to create Mud Dauber Records as a home for "Moses" (Mud Dauber now has a small family of artists and is steadily growing). "Moses" was also funded in part by a major grant from the Iowa Arts Council, and I was fortunate enough to record with absolutely stellar musicians.

Here are some comments on the album...


CORNER OF THE WORLD
This is really just a small snippet of what could have been a longer song, recorded with just my guitar and me. I wanted to capture the feel of the album and give it a sense of place, much like a foreword in a novel might do. In this case it was pretty straightforward… driving in a car in winter, watching birds in the sky, seeing fallen trees in the corn fields. This is very much an Iowa scene.

MILLION MILES AWAY
This is probably the most popular song on the album, but that didn't come without some effort. I actually had to re-record this song, as it originally wasn't settling and it took me a while to figure out why. Then it hit me… the original version of the song sounded too upbeat. It sounded redemptive when it should not have, which is interesting, as redemption is usually a theme I'm quite happy to explore at length. Anyway, we had one rehearsal in which we deconstructed the music, and then we went into the studio and caught it in one take. A great gent named Eric Straumanis was the electric guitar player on the majority of the album, but he moved away before I could track this song for the second time, so Bo Ramsey provided the guitar work on this take. The rhythm section is comprised of Billy Valencia on bass and James Robinson on drums, and they tour with me. Amy Finders provides harmony vocals and Nate Basinger is playing the Hammond B3.

QUEEN OF OKLAHOMA
The story line is simple enough and, I suppose, possibly controversial, especially in the States. But really, it's just a song humanizing a character and attempting to remove all of the usual cliché that one might find involved in this sort of a story. The band did a phenomenal job on this… the second half of the song reaches into a much deeper place musically than the first half, and David Zollo adds a piano part that helps to lift the song and push it into new territory. Not a happy song I suppose, but as true as I was able to make it.

HEAVEN ON THE RADIO
This is the second most played song from the album. The inspiration was simple enough… I do a lot of driving when I'm touring, and I was hoping to capture the arc of slipping between places and losing myself with just the car radio for my company. Old country tunes, public radio, American gospel, late night ministering, caffeine.






MOSES
I spent a lot of time on this album trying to break down characters to their most basic forms, especially the more iconic people with whom we are probably already familiar. We know the bible stories from our childhood, but Moses actually having regrets or feelings of loss was never presented to us as an option. I like options. The lyrics themselves are just two very small verses, and the rest of the song is a slow build with the band, eventually gaining more and more momentum.

JERUSALEM
This is a song that I had originally recorded with my old band The Letterpress Opry (later called The Mayflies) for our album "Americana Gothic", though the song was much more of a hoedown on that old album. This was a simple folk song for me, again taking those iconic characters we know… Moses, Jesus, Joseph… and thinking about them as actual people. Trying to remove their burdens, as it were. Me on vocals and guitar accompanied by the amazing Bob Black, who used to play with Bill Monroe back in the day, on banjo.

IOWA
Guitar, voice, bass, drums, piano, banjo, pedal steel. This is a song about Iowa, but wrapped up in images of the land and the odd folks who inhabit it. Apparently a Celtic band from Belfast covers this song.

DIXIE ROYAL LANES
Not sure how to explain this one. The entire song takes place at a bowling alley, and it takes small pictures of the people inside. Again, I was looking for the simple human stories to which I'm drawn, and maybe the aforementioned idea of redemption. Simple, imperfect people. I'm proud to say that I've drawn tears from audiences on a few occasions with this song.

GREEN LANTERN
I was originally worried as to whether or not this song would be appropriate for the album, as it is indeed a story based around Green Lantern (or, I should say more specifically, his original DC alter ego Hal Jordan), but I didn't want to create a caricature. At the risk of sounding redundant, I again wanted to get past the cliché and dig deeper. I created a story starting in a gas station after Jordan has discarded his responsibilities and has gone looking for something different. In the end it turns out to be a love story.

MISSISSIPPI RIVER LULLABY
This is my personal love song for Iowa, complete with three-part harmony, strings, and accordion.

=====