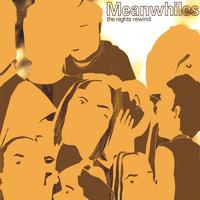 How to introduce Meanwhiles from Brooklyn, New York? Josh Allen introduced himself to us actually, after we gave airplay in the radioshow AltCountry Cooking to a CD he produced and played on: Patrick Crowson, self-titled. But this is different music and it can't even be caught in a style. What does the bio say? "Meanwhiles' music does not echo the kinetic, traffic clamor of the city itself, but rather the exhausted beauty of the people continually caught up in its whirlwind. The characters in their songs (who may or may not closely resemble brothers Josh and Todd Allen) live on the fringes of the metropolis. They watch from the outskirts with tired eyes, knowing all the while they'll eventually be lured back into its epicenter and be swept up and spun around by it once again."

The brothers originally started separate bands, Josh sang and played guitar, while Todd was more interested in bass and drums. In early 1996 (they were 22 and 19 at the time) they joined forces as Meanwhiles and combined their sources of well-crafted sonic texture and raw energy. They played the clubs of the live-music scene in Williamsburg, Brooklyn and met Martha Wainwright there. A series of EPs was made and Meanwhiles toured the NorthEast and Pacific NorthWest, but just before they were going to record their first full-length album drummer Jason Green left and after their attempts to find a new one failed, they began recording anyway, in their Brooklyn apartment. "Creating layers of drum rhythms by banging on furniture and acquired hunks of metal, using salt shakers and distorted finger scratchings." On tour Todd was drumming with one hand, while playing a keyboard bass part. Although the recordings had grown large with layers of keyboard loops, atmospheric effects and up to nine guitar parts on each song, they were so thrilled with Todd's live-drumming that they wanted to record it alongside the rhythmtracks and detailed electric noises.

The results are described as: "An innovative blend of textured, ambient orchestration with the force and power of rock drumming, creating an intimate, close performance with a big far away sound." The mix was done by Alan Weatherhead, producer of Sparklehorse, so it sounds very professional, not as the typical home-recording at all! Balanced, not cluttered, although there are a lot of instruments and sounds featured: Josh plays guitars, keyboards, harmonium, piano, harmonica, occasionally drums and percussion. Todd handles the electric and bowed bass, drums, percussion and picked piano bass. Guestmusician is Katey Wood on viola and Alan Weatherhead plays pedal steelguitar on two tracks. Josh sings and he has a beautiful, rather high, plaintive voice. A fellow-critic made a comparison with REM's Michael Stipe and I can hear why. Martha Wainwright sings wonderful harmony vocals on two songs.





So here we have a singer-songwriter, wandering around in shadowy soundscapes filled with thunderstorms, but he knows exactly where he's going! He gets his emotions across, singing about the dark side of love in poetic lines that you want to think about. "I took what I needed for a time / And still I'd never trade your lies for mine." ("Kinder") "Middle Of Nowhere" with the gorgeous line "Still write songs for you / Though I know we've been through for a long while now", with harmonica and Martha Wainwright probably comes closest to a singer-songwriter track. Together with introspective alt.country-ish heartbreak duet (yes, incredible Martha again!) "Long Walk Home": "Looking back and you're turning away / With all my questions of yesterday / To be answered some other way." With pedal steel... If Gram & Emmylou had been twenty-somethings after the millennium! "Trouble" is a short guitar/pedal steel song, following as a kind of "Part 2". "All This And Nothing" appears as an intense alt.rock track, while "Wake In Place" is orchestral with strings: "Don't show me your mask today / I see through it now anyway." "In Between" starts off with hypnotizing soundeffects and winds from the ears through the mind like a slow stream, beautiful! "Broken as a string you've played..." "Dry Season" shows off Josh's expressive singing and in last track "Ecstasy" we find the title of the album: "I'm feeling the nights rewind / Like you're still around."

I asked Josh to fill out the line "This is for listeners who also like..." and -although he thought it was a tough question- he came up with a very cool list of names! Will Oldham, David Lynch, Russell Banks, Neutral Milk Hotel, M. Ward, The Jayhawks, Chris Bell, Wim Wenders, Lars Von Trier, Grant Lee Buffalo, Galaxie 500, Townes Van Zandt, Iron and Wine, Mary Timony, My Morning Jacket, Early REM, George Harrison's "All Things Must Pass", Jim Jarmuch's "Dead Man", Tom Robbins' "Fierce Invalids Home From Hot Climates"...
---

The EP "TV / Tell Me How It Ends" (total of 15.47 minutes long) that Meanwhiles just finished, is a little more rootsy than the album -let's call this alt.folkrock, with a touch of early REM indeed- but it has the same beautiful intensity. Josh tells: "As far as the new EP: it's more of a focus (as will be the whole next record) on the raw emotions of the music.., the songs and the performances... With as few barriers, studio effects or otherwise, between the instruments, vocals and the listener. Its objective is to be intimate, because it's so closely recorded, yet powerful in the force and momentum of the band's playing and building of the songs as they grow in size... Lyrically and stylistically, these new songs really call out for bare-knuckled simplicity and a live feel to the singing and playing. We want listeners to hear that it's real people playing loudly in a room together. We want the vocals to feel like they're bursting out of a vinyl turntable."

Although he confided: "It's very hard to describe our own music!!", I think he did a good job... and I want to add some lines from the lyrics. In "Tell Me How It Ends" we hear poetry like this: "Another Summer and I'm stuck in this place again / And my lover just sighs / Autumn rain in her eyes..." "Last night I dreamed / Way into the future / Of quickly shifting scenes / Winners and losers and / Woke up out of time". "TV" tackles a very interesting subject with a little wink and the snippets of TV-shows are worked very well into the long track. For my generation the DJ in the radio was our friend who never let us down, for the 20ish and 30ish people that's the TV: "To turn it on at sunrise / To never be alone"! "The pace of pictures moving / The rhythm and the speed / The flickering will soothe me / As the color schemes / Coming off of my TV... / Like a steady stream." And this hammer-hits-the-nail line: "Speaks to just you only / And everyone."

Please, take your time to check out the website of Meanwhiles, the featured artwork is done by Kim Rosen, who also designed the looks of the CD, it all goes very well together with the music! This is special & beautiful, for music lovers who have the patience to let music grow and take effect, who are not afraid to explore that landscape just beyond the horizon...
-----
Written by Johanna J. Bodde, March 2007.
=====