KRISTA DETOR
"Mudshow" + "Cover Their Eyes"
(CoraZong Records)
Somebody on the info sheet says: "I feel very lucky to be among those who can say, Hey! I heard this first!" He's enthusiastically talking about "Mudshow"and I remember all too well how Theo and I received a copy (and a mini-poster) from Krista herself for our show Alt.Country Cooking. Always a bit puzzling how artists find out about us... We were fascinated by the now famous cover art of the elephant on Krista's grand piano and then soon after also by the music! Anyway, we were the first DJ's around here to play Krista Detor songs, way before her well-deserved success came along, together with the worldwide exclusive recording contract with Dutch label CoraZong, before playing the big rootsmusic festivals or opening for Suzanne Vega and Joan Armatrading.

It's so good to listen to "Mudshow" again. The title track opens the album, it's the fascinating story of Krista's partner: producer & guitarist David Weber. That piano, the slightly shrouded alto voice singing closely into the microphone, there's also an accordion featured... One of those discs that pulls you in immediately and doesn't want to let go! Suspenseful ending: "The wheel of death is turning and the wheel walker fakes a fall / Wish that they were faking when the car crash took 'em all / Wish that he was faking when the cop made the phone call".

And the lady with the long red curls, wearing long black skirts with black lace tops keeps fascinating us with her own unique brand of folk. The piano plays a very important role, literally. And I still don't know what a "field organ" is... Most songs are slow to midtempo (with "Steal Me A Car" as the only fast exception), melancholy too. Krista looks at the world and draws her own conclusions: "We're all constantly absorbing the physical and social landscapes. We process mountains of information every day... How could anyone single out one inspiration, one influence? There isn't ever just one. My biggest influence is every word I've ever read, every melody I've ever heard... and Leonard Cohen right after that..." Listen for instance how she handles small town gossip in "Abigayle's Song", one of my favorites, I love the beautiful instrumentation. She lives with David in one of those small towns: "Around the turn of the century, she inexplicably found herself in the Midwest and fell in love with the rolling green hills of Southern Indiana", her bio tells.

One of my other favorites is "Dancing In A Minefield". I just can't get enough of the intensity of this epic song: "You're dancing in a minefield like Ginger Rogers / Like anybody looking hard couldn't see / The sunken eyes and the hands a'trembling / And every step is farther from me / Every step is farther from me." The drums and the electric guitar solo, also featuring the accordion. And "The Ghosts Of Peach Street" of course, that must be the true story about that one haunted house Krista lived in, besides the Louisiana shotgun shacks, the flat in Seoul, the travel trailer and the thirteen different apartments! Great intro, harmonica, the solo is done here by the strings... "And you are drinking whiskey from the flask your father gave you / And sometimes you don't know if you can make another day / And ghosts are looking up at me from underneath the floorboards / And someone better talk to them before they go away."

"Steal Me A Car" is the song that got most airplay. Cool kickdrum, along with banjo, dobro and fiddle, a hint of rockabilly even. And then "I'm Still Here" grabs us again with its emotion: "Here comes the snow again / Probably gonna bury the trailer down the road again / Doesn't much matter, no one's lived there since Eisenhower". The old lady in the story states: "So there's not much that you can say to me / That I've not thought or I've not heard / Sometimes I don't say a word for days and days / You should try it some time". I LUV that line!! And then she concludes: "So I think I'll go and bring the horses in / And get the fire going before the cold sets in / I know my mind, I've made my way / I'll make it through another glorious day / Do what you want to - I'm still here." From now on we'll never look the same at old ladies living alone, I hope we don't! Catchy lullaby "Tell Me A Story" is enchanting too, almost literally, including all these fictional characters... "Tooth fairy on my dresser stole money from my drawer / And Santa Claus up in my chimney / Ate the cookies that you made me". "Leprechaun took all my gold I didn't find him fast enough". And how about the bridge: "The boogieman's still in my closet dancing with a vampire while / The monster underneath my bed is tangled in the phone wire / And the angel of darkness is drinking with your mother..."

No, there's nothing negative to say about this record, not one word, not one remark. In one word: it's GREAT. Period. And part of the proceeds goes to the endangered elephants.
---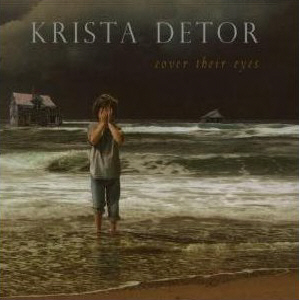 We still find the elephants in the artwork of Krista's brandnew CD "Cover Their Eyes", but we need to look a little closer. The main theme of the even more fascinating surrealistic art all over the luxurious digipack (same designer, Hugh Syme) is a flood. Krista stands up to her hips in the water and the elephants walk away on the shoreline.

All the good stuff from "Mudshow" is still there. And then there's more. It's another folk album, but much more versatile. The recording and mix, vocal prominently up front, are the same. David Weber is still the producer. There's a big role for the piano again but there are tons of other instruments too. Most of the musicians from "Mudshow" are back, they are joined by many others. Including talented guitarist Jason Wilber (see elsewhere on this webpage), a very pleasant surprise! So the instrumentation is richer, almost orchestra-like here & there, with inventive combinations of the influences from different musical styles. And Krista's voice only got better and stronger in the meantime, she uses more of her vocal range now. Maybe she took some singing lessons, maybe it's just the experience of many performances, but she sounds even more wonderful.

Let's check out some tracks... "Pretty Horses Run": "The Studebaker plant is closing down / Horses running loose all around town / And where will we watch the sun go down / Now that the world is turning, turning." Drums adorning the chorus, Krista's vocal more enchanting than ever. "You dream of horses falling from the sky / Never hit the ground, watch them fly, watch them go / Horses light on the roof / Of the Studebaker plant and the one looks like you / And the other looks away." More drums are used on this CD, sounds great, also on "Marlene In A Movie" (written in Bonn, Germany) with a jazzy touch. The trombone, saxophone and flute are excellent additions to this track! I clearly hear something Irish in slow ballad "The World Is Water", the timbre of Krista's voice creates solely that illusion, kinda incredible...

"Go Ahead & Wait", whistle in the intro, sounds so sunny, a song for the early Spring: "Listen to the wind blow, just the way I like it / A little winter in it, a little winter chill if you will." Great arrangement. That tuba!! The melody of the title track "Cover Their Eyes" has this nice rolling sound, the pretty mid-song solo is being played by the violins and dobro. "Anemic Moon" stands out: Krista speak-singing at first, joined by Art Heckman, the overdubbed vocals end up sounding very powerful, accompanied by the sound of a jazzy jugband featuring banjo and mandolin. "You talk so pretty - like a preacher / In the television way / Noble goals and dried up tears like / Organ grinders play / I thought my love could keep you here / At least beyond today." "But I know it, it always ends too soon / In between the light of dream / And some anemic moon / And 'love you forever' goes walking out my door / And I don't know if I can bear to think of you / Anymore." Yes, powerful lyrics too!

"Dinner With Chantel" has the lazy jazz lounge sound that goes perfectly with the title: "Paris wasn't light the way I thought it would be lit / A photograph or two, maybe a chance - a postcard view / But no sparkle in the wine, love to compare / Was just a city, another city and paper falls out of the air." "Paris never had me singing in the rain - no April rain / No umbrella to dance under, no framboise with my champagne / No eyes that met at last - no reverie, no lover's play / Was just a city by a river and cars go by, go on their way." Well, I'm glad my own memories of Paris are somewhat better... "Waterline" is the rare uptempo song, acoustic guitars plus dobro, outstanding solo by Gordon Lowry on fiddle and Slats Klug on harmonica!

My favorites are haunting "Robert Johnson Has Left Mississippi" (one of the best titles of the year!). "Follow the line of the railroad track / The sky is raining fire, baby don't look back". And "Icarus", beautiful slow ballad, the cello is being played by Esme Folley of the London Philharmonic. "And Icarus fell while no one was looking / We had places to go, and what could we do / He fell out of the sky, disappeared in the blue unending / Maybe it's better there on the other side / I hope that it is / For my sake and for his." The CD ends with a potential single (although the lyrics are somewhat dark for a hitsong), the strong duet "Lay Him Down" with Carrie Newcomer plus a great combination of -among many other instruments- drums, accordion, dobro and the cool tuba! The song has an obvious connection: This year (2007) Krista completed the collaborative CD and stage show "Wilderness Plots" with Grammy-winning songwriter Carrie Newcomer, as well as Tim Grimm and a small group of talented Indiana based songwriters. This limited release album and the stage show itself received rave reviews. A song from this show "More Than I Dare Say" is included in the CoraZong compilation album "The Fine Art Of Music". The work itself is based upon the book by noted author Scott Russell Sanders and the show has been touring nationally in the US during the month of September. In October and November Krista toured Europe. One thing's for sure: she will be back in the Spring of 2008 and hopefully many times after that!

---
Written by Johanna J. Bodde, November 2007.
===