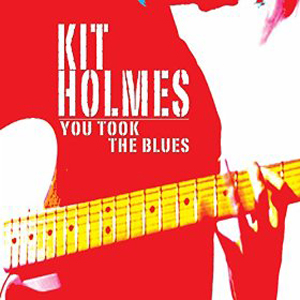 It's ten years since talented British guitarist and singer-songwriter Kit Holmes released her debut album. In 2008 I already wrote a piece about her, just scroll down here on the Insurgent Country page to find it! I described her then as a talented, somewhat mysterious lady. At the end of this month Kit releases her fourth full album and her first electric outing 'You Took The Blues'. It's time to look ahead, but also to look back on her third album 'Driving Into The Blue', which was called "Impressive!" (with four stars) by renowned newspaper The Guardian.
'You Took The Blues'
has a stronger blues and soul vibe than Kit's previous releases. The line-up this time is: Kit Holmes on vocals, electric and acoustic guitars; Allan Greenwood on guitar and keys, Pat Illingworth (Dave Stewart, Corinne Bailey Rae) on drums and there is a new-comer: Sam Vicary on double bass.Kit's trademark sultry vocals and virtuoso guitar playing are in evidence throughout with her band creating a dynamic muscular support. The album was produced by Kit and her long-standing collaborator Allan Greenwood. Recording took place at The Chairworks Studios with veteran engineer Simon Humphrey. The album was mastered at Abbey Road by Sean Magee, who has previously worked on tracks by The Beatles, Pink Floyd and U2. The look of the album has become typical for Kit: modern and in primary colors, mostly red, white and yellow this time.
Let's listen to the album, track by track:

-
"You Said I Said"
: A mid tempo blues fuelled instrumental opening track, with indeed the two electric guitars talking to each other! It only takes half a minute max to get used to this new sound...
-
"Short Walk To Heaven"
: I absolutely love this song title, my favorite on the album! "Cause there's a different wind blowin' round the corner each day / It's a short walk to Heaven, but it feels a long way". A gorgeous soulful ballad.
-
"That's Why We Need"
: A funky song with wah-wah guitar (I always love that wah-wah sound!), keys and overdubbed chorus.
-
"We Shared The Night"
: This can't be anything else than a soul ballad! With a well-deserved spotlight on Kit's film noir like, sultry vocals. Fade out...
-
"You Took The Blues"
: The title track. "You took the day and turned it to night / Left me all alone on the wrong side of right". That's the Blues indeed, with a capital B. Here we welcome back Kit's acoustic guitar. Again it strikes me, how she is in total control of her beautiful, relaxed, unusual voice. Awww, those last seconds...
-
"Sci-Fi Blues"
: Uptempo, fun & funky! Acoustic and electric sounds combined, great guitar solo, echoing chorus - sounds effortless but this can only be done by skillful musicians!
-
"Can't Do"
: Melodic, mid tempo with folk influences. It is the only track on the album that has Kit's vocal and acoustic guitar with double bass, which helps to create a very special atmosphere. Such a pretty song!
-
"Looking For Love"
: More folky acoustic music, upbeat - Kit's vocals on the verses are reminiscent of the great Bob Dylan, with a delicious little chorus in between.
-
"30 Second Street"
: A funky street it is! The electric guitar shines in a rather short instrumental.
-
"Breakout Blues"
: Kit's final solo acoustic tour de force, almost five minutes of sheer beauty.
My conclusion:
I'm IMPRESSED
(again). Not a bad note on the whole record! Every music lover with good taste should have this album in his or her collection, period.
In an interview with Gareth L. Powell Kit says about writing songs: "It's more of a getting up at two o'clock in the morning kind of thing, when you've got something going around and around in your head. Just when you're on your own, really. I don't write in one particular way. It depends on what you're doing. You could go and see an exhibition. I've recently been to the Gauguin exhibition and the Bridget Riley exhibition, for instance. Or you could be reading a book like Geoff Dyer's 'Jeff In Venice', which I absolutely love at the moment. Or you could go and see a film like 'The Big Lebowski' or 'The Godfather'. Anything like that can trigger it. There's got to be a part of you in your songs, but I like to think of mine as a little bit more universal, rather than autobiographical. When I went to see the Gauguin exhibition it was so awe-inspiring that afterwards, you don't know when or how that's going to come out in a song. I think that's the way I work: collecting fragments. Whether that's from reading a book or doing something as banal as going to the supermarket and hearing somebody say something that's either inspirational or completely zany. You might pick that up and use it in some way."


She also tells how she got started: "I had guitar lessons as a kid and went up through all the grades, as you do. I took up violin originally, from a very young age, and then one Christmas, when I was about eleven, I got a guitar. I remember working through the entire tutor book that Christmas; my mum and dad never saw me. And that was that, really. From then on, I was up in my bedroom practicing for hours on end." and: "The initial spark for my musical activity was my dad, who is a massive music fan. He would play Led Zeppelin followed by Bach followed by Captain Beefheart, all at the same volume…very loud."
---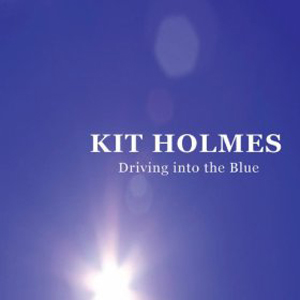 Let's go back a few years, to
'Driving Into The Blue'
and pick up that CD again... Yes, the lay-out and even the disc are in blue, with some soft pink and grey for the inner pages of the booklet. Legendary double bass player Danny Thompson, who worked with Nick Drake, Bert Jansch, Richard Thompson and many, many more - is still featured here. She met him through a mutual friend, Pete Zorn, from the Richard Thompson Band. Kit herself plays acoustic guitar. The songs cross all boundaries in music, there's folk (with a small 'f' as she says herself), rock, pop, blues, jazz and even flamenco, basically a little bit of all the things she likes to listen to herself. The other players are the familiar names Allan Greenwood on guitars and Pat Illingworth on drums. In an interview for Spiral Earth she says about working with Allan: "Sometimes things work really quickly, and others seem to take forever. Al will have a sound, or phrase, in his head and basically I have to try and get it out, the way he hears it". They recorded at home and at favorite local studio The Chairworks (praised for its great atmosphere) with engineer Simon Humphrey, then they took it to Abbey Road to be mastered, like the two previous albums. Nick Webb, who worked on those, had since retired, so they asked Adam Nunn, who showed also a slightly different approach.
-
"Kitty's Blues"
: A short guitar instrumental, this track was recorded in mono for a more old-fashioned feel.
-
"All Alone"
: Starting with vocal and all instruments right away. A beautiful melody with some sound effects and cleverly constructed chorus. "Dividing my time between today and tomorrow". Here comes the album title from: "Driving into the blue sky behind me now".
-
"One Thing"
: Easy-going, with wonderful overdubbed background vocals. Yes, that one thing is love - of course.
-
"Kinda Girl"
: This little song is also lighter in mood. Breathy, witty, tongue-in-cheek - with that fun fiddle solo!
-
"Blues For Muse (One For John)"
: Instrumental, recorded with the reverb on it, instead of putting a fitting reverb on afterwards - to give it more of a live sound. "It came about because numerous players that I like are called John: Renbourn, Fahey, McLaughlin, Williams, Etheridge, Martyn…"
-
"Roundabout"
: Great melody, playful with a lot of swing. You can't sit still during this one!
-
"Arriving At The Station"
: There's again that aspect of catchy girlish fun, adorable. The wah-wah guitar takes convincingly part in the conversation: Yakkety Yeah!
-
"A Time A Place"
: A very slow delicate instrumental. Late night music... Fire place, furry bedspread, candles and this track on the stereo. Pure seduction...
-
"You Try"
: Uptempo with ringing acoustic guitars, summery background vocals and even whistling. "She could sell shells to the seashore". Singing the pain away: "Cause love sometimes hurts". Brilliant.
-
"Hola (House Of Memories)"
: Acoustic guitar instrumental, better said: a six and half minutes long demonstration of Kit's virtuosity in... flamenco! By now everybody should be totally convinced of Kit's talents.
-
"Stella"
: A slow short instrumental to close off and wind down and already reach for the repeat button.

This is the acoustic album, the new one is the electric - maybe you could purchase both?
Kit Holmes is going on an extensive autumn tour as a special guest for the legendary jazz/fusion guitarist John Etheridge. She tells about him: "John and I have been doing gigs for several years and they are always lots of fun. We do a duet for the encore and as you can imagine it is very exciting playing at such a high level and with John you never know quite what he's going to do next. John's such a well-respected musician, having been in the business for 40 years, so with that wealth of experience there's not a great deal that he hasn't come across, as far as gigs go. All kinds of things happen before, during and after a gig and one of the main things I've learnt from John is to try and stay calm in every situation."

A final quote about playing live: "I was talking to someone the other day and I said that when you're up there on stage, it's like that's what it feel like to feel really alive. That might sound over the top, but that's what it really feels like when you're up there playing the guitar, doing the best that you can, and just enjoying the moment. You're never going to have that moment again, not in the same way ever. And hopefully the audience will go with you and just enjoy the moment too. It wouldn't be the same experience without them."


-----
Written by
Johanna J. Bodde
- September 14th, 2014.
=====