KIT HOLMES
"Catch The Echo"
(Silent Pocket Records)

Some artists have massive amounts of information available about themselves. Lengthy bios, detailed tour diaries, every aspect of their musical and personal life can be found on their MySpace. British talent Kit Holmes (not to be confused with the American Kit Holmes!) isn't one of those artists. Her debut CD "Seeing You" arrived out of nowhere a few years back and I still don't know much about her. It isn't really necessary. After all, this is about her MUSIC. And besides, I like a little bit of mystery!
The latest news came in a few days ago from her representative: "Kit has just been invited to play for the prestigious Anne Frank Awards, 16th July, at the BBC Radio Theatre, Broadcasting House, London. The event includes some of the top names in TV Sport, Comedy, Acting and Music." That made me decide to write an item, I hesitated before, as a non-player I can't possibly do justice to her incredible guitarplaying here. But I can recommend her music, right?
The lay-out of this CD is in white, yellow and blue. A modern looking packaging, a museum of modern art kinda thing. Platinum blonde Kit looks like a nice, funny personality in the pictures. All the info is featured in the booklet, Kit sings and plays guitars and strings. Allan Greenwood (guitars and keys) wrote all the material and produced the album. Which info can only be found in the small print... (The man in a genius!) Pat Illingworth is the drummer, while the great Danny Thompson plays his double bass on three tracks.
The album "Catch The Echo" unfolds with short instrumental "Shapes In The Sand", it fades in and out again. The title says enough: I love music that rolls over me like waves... "Happen Twice", sturdy uptempo acoustic rock, features Kit's vocals in a reflection on love & life. And a remarkable voice it is! Comparisons try names like Beth Orton, Macy Gray, Cyndi Lauper, even Jewel and Janis Joplin. But it's sultry, hypnotic, breathy, relaxed, seductive and sophisticated. It's Kit's distinctive voice! "It's Over" got a stunningly beautiful arrangement, this is one of my favorites on the album. Listening to the person you still love on an answering machine: "Is that the only way I can hear you? / You took me from a world that I knew / And left me lost in a love without you." The emotion gives me goosebumps! Danny Thompson does his virtuoso thing, Kit's vocal sounds slightly jazzy here, she even sings her own harmonies and the end is great too: "You said it's over / But that doesn't mean / I can't still love you..." "No You No Me" is the ultimate sultry & seductive song with strings. And with Danny Thompson's playing. "Close the curtains, lock the door / Let's pretend we don't live here anymore / Turn the lights down, lay by my side / Shut out the world, in the darkness we can hide / Let the phone ring its melody / Without an answer there's no you no me." For some reason it makes me think of Linda Ronstadt singing Dylan's "I'll Be Your Baby Tonight", this is new and different but just as good! Let's not forget that Kit is a guitarplayer extra-ordinaire... "My Sweet Blues" is a gorgeous instrumental piece. Kit plays in this 'rolling' technique that always wins me over, although I know much less about guitar playing than I would like to know!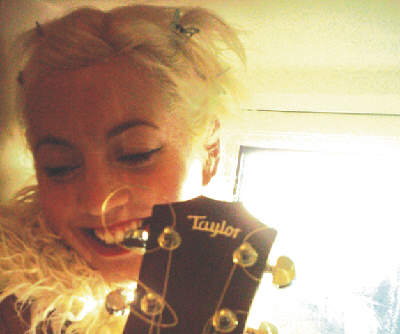 If it were still an LP, the B-side would kick off with "Thinking About You". Full band set-up, uptempo, pop & rock influences. More wonderful guitar and here's the Macy Gray likeness. Cool lyrics: "I don't want you to think that I don't think about you / I don't want you to think that I don't care / Just because I don't say it out loud all the time / Don't mean that it ain't there." Moody "Who Says" starts and ends on a feedback soundeffect, this is the third song Danny plays on. I like this observation: "What makes some days seem to last forever / While others pass by without even a plan." Another instrumental composition, "Before You Came". Kit started playing guitar when she was eleven and is a fan of Leo Kottke's music, a few of the facts I could figure out. "Said And Done" is my other favorite with vocals, yet another magnificent arrangement, the song is catchy and rather uptempo. "And when there's no pain between us left / And nothing else to lose except the love that we once shared." I just love the ending in a questionmark. "Catch The Echo" is a long instrumental (title) track, starting off with a percussion thing... Heck, even the guitar is doing some sort of percussion! And it has an echo indeed. This is just Kit's guitar, but it sounds like more guitarists are in the studio, ghost guitarists. The instrumental pieces are definitely not the type of fillers found on some other albums, they are just as good as the songs with vocals, maybe the real guitar enthusiasts think they're even better! "Too Far Away From" closes off, yet another interesting composition and number eleven also hides a hidden track: that's "Shapes In The Sand" again. It's such a great find to do this and close the circle!
I'm a fan. I love this album. The virtuoso playing as well as the vocal. Although there's not that much of a simularity, Kit always reminds me of the young Marianne Faithful, or better the feeling that Marianne's music always gave me. I don't think Kit will mind my comparison with a young, mysterious Marianne...
Also recommended: "Seeing You", recorded in 2004 with the same line-up. Besides original work, it features two traditionals. There are also CD-singles: "No You No Me" / "Before You Came" and "It's Over", featuring two tracks off the first album "Seeing You" and a live version of "Gow's Lament".
---
Written by Johanna J. Bodde, June 2008.
=====