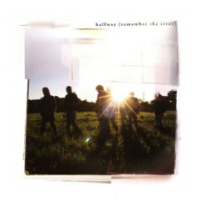 "Remember The River" was a great time for us as a band, people seemed to get the first LP & it felt pretty good to kind of finally get your point across. It was a challenge to try & put together an LP in a fairly short time (6 months) which would stand up along side our first "Farewell To The Fainthearted" which we had the luxury of spending about 3 years putting together. It was recorded in the hills of Byron Bay in a huge house with the band set up in the middle of it basically recording live passes of the LP (Some overdubs were done later at our rehearsal space, the Halfway House in Brisbane. We recorded with two of our heroes, Wayne Connolly (producer - You Am I - Vines) & Rob Younger (front man from Radio Birdman/New Christs).
We covered similar themes to the first but tried to dig a little deeper. I personally for one reason or another tried to tackle some of the tougher times in my life and document them. The band itself worked fairly simply, someone brings in a song & everyone does their best to help make it work.
The time went quickly, we had a few drinks, listened to the Go-Betweens, talked about everything from Steinbeck to Anthony Mundine and made our record. (John Busby)
The comments below are done by the main writer of each track.
RIVER ROADS: Ben Johnson
This one has a fair bit of attachment to Brisbane City. There is a river that cuts the city, and a particular road runs along this river. I remember writing these words driving back along this road after a show one night, when the bushfires were in full swing on the outskirts of Brisbane.
DEAN & THE FITZROY: John Busby
I wrote this song about a friend of mine who was attacked and eventually murdered below the Fitzroy River bridge in my home town of Rockhampton C.Q. I never planned to write a song about it but it just came out & I hope it honours his memory. It was the first time in my life where I realised that things will not always work out OK.
DEAREST MOTHER: Chris Dale
A pop song about that joyous time when you think you're in love. The initial setting is a diary entry of a young boy. His over-protective mother finds the
diary and instructs the boy that his time would be better spent cleaning his room.