EDO DONKERS
talks about
"Warning Signs"
(Inbetweens Records)

Amsterdam based singer-songwriter Edo Donkers talks about origins and making of 'Warning Signs':
Since I was thirteen and first picked up a guitar, I have wanted to write songs in English. During those adolescent years, my style was already developing towards the American songwriting style. My first public performances during highschool were greeted with much enthusiasm. Music was also my focus when leaving high school.

During the 90s, I moved to Amsterdam and continued my musical pursuits while working in record stores. During this time, my musical taste broadened and reached a deeper level. Surrounded by the CDs on the record store shelves, I was further inspired by the work of Jackson Browne, Tom Waits, John Hiatt, Mary Chapin Carpenter and countless other American songwriters. From 1993 to 1994, I performed throughout the Netherlands with a cabaretduo - a Dutch art form combining comic sketches and music.

Although doing cabaret was exiting and a good learning experience, I continued writing songs in English afterwards. A funny thing, maybe, but I found I expressed myself more easily in English. I guess all those years of listening to American and English songwriters had already pushed me towards the English language.

After years of playing in bands and making demos, I decided to take a few months off from my busy job and write the songs for my first full album. I left for the Greek Cycladic Islands to see what I would come up with. I consider the making of an album as a serious craft. Many good CD's are not just 'a bunch of songs', but are more like a book you pick up and want to experience 'from front to back'. For me, albums by songwriters like Shawn Colvin and Rodney Crowell really stand out in that genre. These and some other CD's were really inspiring examples.

So, I wanted to deliver an album in that tradition. Many songs developed, and, looking back, I feel that the songs of 'Warning Signs' really represent my state of mind during the last few years. But, of course I hope the music and lyrics have enough universal meaning to connect to any listener. Although I do not prefer to 'explain' music, as it should speak for itself, I personnally feel that there are a few themes - or 'read threads' if you wish- that occur on 'Warning Signs'. A fight against mediocrity, the zeitgeist, finding and trying to capture the essence of happiness. But most of all, following one's deepest wishes and... to quote myself... ignore the warning signs - whatever they are - and follow your heart and 'do your own thing'.

'Warning Signs' - Song by Song:

WARNING SIGNS
The album's theme and title track. Best described as in the paragraph above. What I particularly like about this track is that it really 'rocks' on the acoustic guitar, bass and drums. BJ Baartmans' excellent guitar and mandolin work really give the song colour and space, but the basic rhythm tracks were really a choice for the album's total sound. I have to thank three guys for that: Matthijs Ament on drums, Daan Baars on bass and last but certainly not least my wonderful producer GabriŽl Peeters. He really did an wonderful job in the arrangement and mix. I wrote this song on the island of Syros, in deep contact with my personal situation at that particular time. But I hope it will ring true for a lot of folks out there.

DRIVING DOWN TO BALTIMORE
An older song I wrote around six years ago. Inspired by a visit to the States. I am proud of the guitar part which merges quite well with the lyrics. The drum arrangement and Marinet Koeman's heavenly vocal harmonies really finish the song.

LAST JUNCTION HOME
A less outspoken and more mystical song. Although it refers to certain cultural and societal processes, the atmosphere is undefined and I guess a bit ominous. BJ Baartmans slide and psychedelic rhythm guitar really lifts the song to a higher level.

STILL SHEER DELIGHT
Finding happiness is hard enough, but how on earth do you keep that precious experience? Remember that moment walking along the shore, on a mountain top, strolling around an ancient village when you realised you found happiness. Despite the deepest wish and resolution to pursue that feeling, day to day life wipes it away again. Musically, this is another guitar arrangement I feel very comfortable about. Praise also to Mattijs Ament's subtle drum and percussion, Daan Baars' fine sliding bass notes and -again- BJ Baartmans' well fitting guitar and mandolin strumming. It heavily inspired by it's Greek Cycladic surroundings, but I again feel it has a universal theme.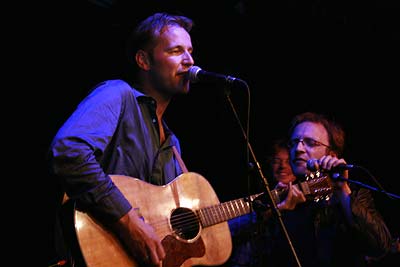 STEAL A LITTLE TIME
The first song on the album where Stephen Turner Bruton's wonderful guitar work can be heard. I'm really proud he appears on my first album and his great crafts and GabriŽl's engineering mix and harmony vocal work really make the song work. A song about the letting go of the rush of everyday life and choose 'that other road' and just see what you will find.
WORTHY OF YOUR LOVE
I think the lyrics are self-explanatory. It all sounds pretty straight forward and logical, but a really nice song to freak out your fellow musicians, because of the rhythm, ha ha.
MORNING TRAIN
I like the fact that there are also a few straightforward songs on the album. The early demo version song evoked the remark from my producer GabriŽl: 'we can record that song one right away - in one go. It doesn't need any more arranging'.
REINVENT MYSELF AGAIN
A song connected to the album's title and theme. When old ways don't work anymore, you have to dig deep in yourself to find a new kind of way to get through this life. It's quite heavy subject matter I guess, but I can't define it otherwise. It was a thrill to play both of the acoustic guitar parts within a short time frame in the studio. Right when I was playing the second part (on the right channel for the listener), it felt like I was listening to a finished song on my headphones. Felt magic.
PURE SEXUAL THRILL
Talking about thrills. The story of this song is really a pat on the back for my drummer Matthijs and bass player Daan. I just handed them this rough demo with just a kind of rushed acoustic guitar track and vocal. These guys just started playing this kind of Johnny Cash-style rhythm, and provided the song with the sort of sexual drive it needed. It works really well live, too. The many Stephen Bruton guitar parts we recieved from Texas were really 'topnotch' and sound fantastic when just played together. The song works very well live too, and top guitar players Koppe and Sanne Koppeschaar from my band really rock out on this track. In the spirit of Bruton's style but with their own signature sound.
MOTHER'S HAND
However personal the loss of my mother is - she died already seventeen years ago during the time of writing- I feel this is a very general song about the loss of a dear person in one's life. You can never predict when a feeling of that magnitude will show up again in your life. I want to mention two other musicians here. Renť Hogeboom does some wonderfull stuff on the piano and Matthieu Brandt gives the song a warm and dreamlike taste with his esoteric electric guitar parts. This one is for my mum, whose loving hand and memory will always be with me, wherever I go. And for all people who cherish a memory of a loved one they lost.
And finally, a sincere thank you to producer GabriŽl Peeters, who did a magnificent job to make the songs sound so well and natural on my first collection of songs. I am a lucky guy to have found you at the righ moment, maestro! ;-) And by the way, we had a lot of fun too!
=====