Various Artists "Second Chances" - Songs In Other Voices by DOC SCHNEIDER (Self-Released)

www.legalguitarist.com www.cdbaby.com/cd/docschneider2


This is the kind of project you can get my attention for at any time! A good songwriter, who also loves to play the guitar but thinks there are better singers in the world than him, so he asks other voices along. That's lawyer Doc Schneider's story in a nutshell: "But oh what it feels like, to sing a homemade song." He put a lot of efforts in "Second Chances", there are eighteen tracks on the disc, the digipack has Lu Steed's detailed painting of Doc (while thinking: "What if my law partners see this?") on the front, the booklet contains lyrics, photographs and Doc's liner notes about the project: they read like a novelette!
The producers are Jeff Jacobs (who plays in Foreigner and on Billy Joel's albums and tours) and Ben Wisch (who worked with Marc Cohn and Eugene Ruffolo, among others). No big surprise, that this singer-songwriter music often was turned into well-produced, melodic popballads with strings, keyboards and lovely guitars. If you like James Taylor, Paul Simon and the earlier mentioned artists, not too much can go wrong while listening to this collection of songs. The "other voices" (Doc only sings on the last track) are those of Eugene Ruffolo (well-loved in The Netherlands), Lucy Kaplansky (would have liked to hear more of her), Jon Allmett, Cheryl Wilson, Greg Ferguson, Josie Aiello (sounding so fine!) and Jeff Jacobs himself.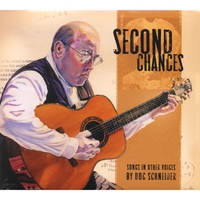 I want to close off with some compliments regarding Doc's songwriting talents. Lyrics like: "They sip a glass of chardonnay in Amsterdam / and listen to the songs of sad guitars / they walk across the footbridges hand in hand / as the surface of the water fills with stars" ("A Second Chance") and "It was New York, it was ice cold / there were hundreds of smiles / skating around that tree" ("Hint Of Heaven") paint a pretty picture. While he also doesn't close his eyes for what's going on in the news: "In the heart of a war torn nation / in the faces worn by pain / where it takes too much strength just to face it again" ("Turn The World Around").
I myself am a bit of a "rough edges" person, but if you like your music more perfect & polished, I'm sure you will enjoy Doc's collection!
---
Written by Johanna J. Bodde, January 2007.
=====