CONRAD FORD "Don't You Miss Yourself" (Tarnished Records)


www.conradford.com www.myspace.com/conradford www.tarnishedrecords.com

Conrad Ford, a new singer-songwriter? Nope, a duo from Seattle: Andy McAllister and Jordan Walton, releasing their intriguing debut "Don't You Miss Yourself". They named themselves after cinematographer Conrad Hall, as they admire the stark characters he captured and after western film director John Ford, because of his big skies. It sure makes a good-sounding -the two d's on the end- combination. Although Andy and Jordan play an incredible amount of instruments, they can only handle one at a time, so they recently recruited multi-instrumentalist April Sather and drummer Nathanael Butler to bring their show on the road this year.

All the unusual instruments (from ukulele to ominchord) make Conrad Ford's CD so special... These ten songs received the royal treatment with brilliant arrangements, all very different from each other, the various sounds taking turns up front in the mix, fading in and out. "Godfather" with trumpet solo and wonderful keys intro. "Don't You Miss Yourself" features plucky banjo and singing saw, the banjo is back on "Nitelite", together with harmonica and pedalsteel. More steel and melodica on perfect alt.country track "Stay Up" and it must be the mandoguitar that we hear on "Radio Station". Sounds of an often-played record on an old player are added to more effect towards the end.

This mostly slow music can be filed under alt.country or alt.rock, think Wilco, Eels, Sparklehorse and Willard Grant Conspiracy. Andy McAllister also found a lot of inspiration during his stay in Austin, according to his bio: "His ears were washed with local heroes Daniel Johnston and Townes VanZandt, and he soon filled his nights romancing downtrodden country songs into an ill working 4-track. After celebrating his two-year anniversary of unemployment, McAllister tucked his tail and returned to his native Seattle." Nothing wrong with unemployment, if it eventually results in the creation of wonderful music! Jordan Walton worked previously with Damien Jurado, who does simular things and wasn't Lisa Smith, who plays cello on three tracks here, sharing Damien's success during Roots Of Heaven VII? The songs aren't being dragged out unnecessarily, the longest is 4min23 and the short ones of barely two minutes make us beg for more!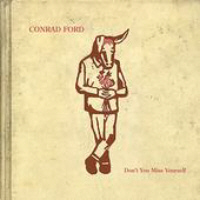 Andy has an interesting voice: the somewhat raspy sound goes together with quite a vocal range here! I do like "You Are My Town" a lot, it makes me think of Gram Parsons' "A Song For You" and -surprisingly- one of my own poems about young people in a post-war town. Too bad the brooding poetic, impressionistic "looking for lost love" lyrics aren't featured in print, that's what I don't like with most digipacks nowadays! But Andy has promised to put them on the Internet soon...

And how about that lovable creature on the cover of the CD? Art by Matt Wainwright, the credits say and Andy says: "Yeah, the creature was drawn by my older brother's childhood best friend. We reconnected with him a few years ago only to discover he'd immersed himself in art. We just wanted an illustration that showed that feeling of screwing up with someone you love. I told someone at a show last month that it was a jackass, but they corrected me and told it was a Minotaur because it had arms and hands. So I guess it's a Minotaur."
---
Written by Johanna J. Bodde, February 2007.
=====