When the band Blue Mountain came apart in 2001, it didn't upset Cary Hudson very much. He just went on, solo, which isn't too hard for a singer-songwriter and gifted guitarist. He got help from bassist Justin Showah and drummer Ted Gainey, they made an album with the appropriate title "The Phoenix", then Cary became a father and with doubled motivation plus a new CD he returned on the scene!
"Cool Breeze", prettied up with paintings of trees, features mainly countryblues and also some rootsrock, recorded as a trio with occasionally a piano or some organ added, there are tracks where Cary plays all by his lonesome too. He brings in acoustic and electric guitars, the slide is handled in a virtuoso way and his harmonica is also worth mentioning. The harmonies by lady vocalists are sometimes very lovely ("Little Darlin'" - for the baby), sometimes downright irritating (the title track and that dumb giggle on "8 Ball Blues"!).

Cary has a pleasant but not really striking voice, so his songwriting is even more important. About things that change or just stay the same, the lyrics are intriguing in a sultry, southern way, not surprising when we consider he was born in Mississippi! Sometimes he even leans towards the music of Tony Joe White. "What The Old Man Told Me" paints a wonderful picture of a Sunday afternoon visit to the grandparents. "Bay Street Blues" is somewhat odd but good: "It's Cinco de Mayo at the trailer park..." The catchy drumming makes "Free State Of Jones" my favorite track and the album ends with coyotes "singing" along with the harmonica!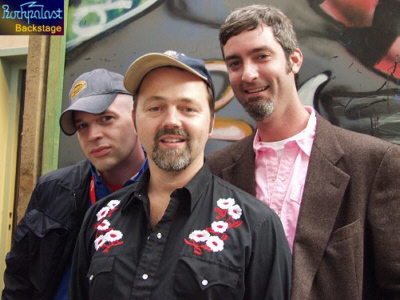 (In the meantime Cary Hudson released another CD, "Bittersweet Blues". Folkblues, Cary solo with his acoustic guitar and harmonica.)

-----
Written by Johanna J. Bodde, Dutch original of this review previously published on Real Roots Cafe, The Netherlands.
=====