BRAD COLERICK
talks about
"Cottonwood" and "Lines In The Dirt"
(Back 9 Records/Hemifran)
Anybody who's a friend of Chris Hillman, is a friend of mine. And anybody who's playing that typical Californian countryrock (here officially called a blend of americana, folk and country) is a friend of mine too!
Brad Colerick is originally from Nebraska though. "My parents are from western Nebraska, my Dad from a small town not far off I-80 and my Mother from a family of cattle ranchers." Nobody in his immediate family was overly musical, but a grandfather had been a fiddle player and Brad was handed down the broken pieces of his fiddle. He eventually restored the vintage violin but guitar was the instrument he chose for himself. "I was interested in music early on, I started playing out in clubs while in college and was heavily influenced by James Taylor. What I loved more than anything was James's vocal delivery." Jackson Browne, Neil Young and the Eagles became also huge influences on his songwriting and singing. He worked as a club musician for a time in Nebraska and released a solo record there. "When I moved to California I got a job with a music production company which was the perfect day job." He wrote music for advertising and his work was getting noticed. In 2002 he won a London International Advertising Award for a song he wrote and recorded with blues icon Buddy Guy for an ad. One of his favorite sessions came when Brad produced Johnny Cash for another commercial. "I actually had Johnny call my father from the studio because he was a huge fan. I don't think any of his golfing buddies back in Nebraska believed it." (Excerpts from a piece Phil Sweetland, Country music and Radio contributor of The New York Times wrote to accompany "Cottonwood".)
His current bio tells us about "Lines In The Dirt": Brad Colerick drew a line in the dirt twenty years ago when he gave up making records to make music for commercials. With the release of "Cottonwood" in 2005, he crossed that line and now takes a big step forward with his follow up CD "Lines In The Dirt". Brad states that "Cottonwood" took nineteen years to make. "I made a couple of records in the 80s, before I came to California, then I succumbed to 'blue check fever' as it was known -- a reference to the color and allure of union residual checks." Most of the songs on "Lines In The Dirt" were written in the last year though, and road tested as Brad Colerick traveled the West. The perfect production was done by Ed Tree at his Treehouse Studio. "Ed's like a bodyguard -- he never lets anything get in the way of the song or the vocal, but every player gets a chance to shine."
I'm real happy that Brad Colerick reworked the notes on "Lines In The Dirt" especially for us at Insurgent Country! I pieced together a few more of Brad's lines (from his bio and website) regarding my favorite song "Juarez" and I couldn't resist also quoting a lot of what Brad told about his previous CD "Cottonwood". So, here we go: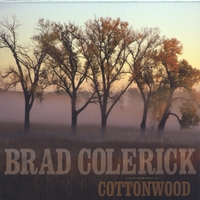 COTTONWOOD
COME WHAT MAY w/ Gabe Witcher, violin
Written and recorded with my good friend Rob Laufer in an all-night session at his studio in LA. Rob sang the first incarnation of this song that appeared in an indie film called "A Little Inside" which ran on Showtime and HBO. It's a great little family-friendly movie you should all rent. The song is featured in a montage scene toward the end and continues into the end credits. It was also used in an episode of Felicity from the Season 2 DVD. We sweetened the track at Ed Tree's studio,­ took out harmonica and added Gabe Witcher on violin which was an amazing experience. He made three passes at it and gave us headaches trying to decide which great parts to use.
THERE'S A LIGHT (ODE TO JUNE & JOHN)
I had the incredible good fortune of working with Johnny Cash in 1998. My wife and I got a chance to spend some time with John and June on their tour bus before a show at the Telluride Bluegrass Festival. Working with Johnny was amazing but seeing him with June and the way they looked at each other was purely magical. I began writing this song after June passed away in May of 2003 as sort of a nod to the Carter family. I finished it a few months later, just after Johnny passed away.
COTTONWOOD w/ Gabe Witcher, violin
On a solo drive back to Nebraska in September, 2002, I spent the night at the home of my friend Rick Schlichtemeier in Denver and left early the next morning. As I reached western Nebraska the sunrise was spectacular and the song sort of poured out quickly. This is a very special song to me and it fast became the title cut and tonal centerpiece of the record.
'TIL SOMETHING BETTER COMES ALONG w/ Chris Hillman, mandolin & Herb Pedersen, BG vocals
Co-written with Steve Hanson, we got a good start on this song at his home in Lincoln but it took me a couple years to finish back in LA. Original tracking on this was done at Tom Larson's studio, BG vocals added at Rob Laufer's and then we added Chris Hillman on mandolin at Ed Tree's place. Chris showed up with a cast on his arm which was a little startling but it was a removable one that he took off when it was show time. What a thrill to have a founding member of the Byrds add his magic to this song. About a year earlier I worked on a Coors Light commercial for which we licensed and re-mixed a song Chris wrote called 'So You Wanna Be A Rock & Roll Star.'
TIME AWAY w/ Skip Edwards, accordion
Written just before mother's day 2001 for Celeste shortly after the birth of our son. This one is very personal and was used as the soundtrack to an iMovie I did of the arrival of Kal Joseph Colerick.
I got a call from my sister a few weeks prior to my parents' 50th anniversary asking if I would write a song for the occasion. Two weeks later I was still scratching my head trying to come up with something. But there's nothing like a deadline to jumpstart the creative process for me. Recorded at Ed's. Cathy Anne Whitworth -who sang BG vocals- couldn't get a baby sitter so while she and Ed worked, I was outside entertaining her baby Jesse Christopher.
EVE ATE THE APPLE w/ Herb Pedersen, banjo
Or as my niece, Eva Prentiss, likes to call it, 'Eva Ate The Apple'. This one was really fun to write although some theologians may question its scriptural accuracy. Tracked in Lincoln at Tomıs, Herb Pedersen's banjo and BG vocals were added at Robıs and we actually had a wonderful singer-songwriter named Marc Fosson do a spoons part that got cut in the end. No reflection on Marc's ability with a spoon, there was just already enough going on and I didn't want to clutter the track.
HOW OUR LOVE WILL BE w/ Rob Laufer, bouzouki
Written for my sister Julie's wedding in 1986 and originally titled 'Journey To The Sea.' I wasn't completely satisfied with it so I re-worked it with Rob Laufer a few years ago.
MERCIFUL MAN
My wife's favorite song on the record. I began writing this driving in the hills around Franklin, Tennessee. It lingered unfinished for quite some time until I read an article in the LA Times about a hanging in Texas. There was a suicide note but much speculation that it was fabricated. This jumpstarted my thoughts on the song and took it in a different direction. It certainly didn't end up being what I envisioned when I began.
EVERY SINGLE DAY
This was written over a three day stay in Nashville with my good friend Bob Cheevers. Bob was basically in shock from a break-up with his girlfriend and every conversation seemed to lead back to her. My acoustic guitar part was recorded at Rob's, Dave Ristrim's dobro was added in Nashville along with a pedal steel part we ended up not using, everything else was recorded at Ed's.
FIRE ON THE RIVER w/Gabe Witcher, violin
This one was written with and at the home of my good friend David Grow who was living at the time in Paradise, California. This was one of those songs that I didn't fully understand as I was writing it but it was an extremely emotional experience. It was nearly cut from the record early on but Ed Tree convinced me to finish it. The vocal session with Dan Navarro and Gene Klosner turned into an in-depth discussion of The Monkees. Both singers have an alarming amount of Monkees trivia in their brains.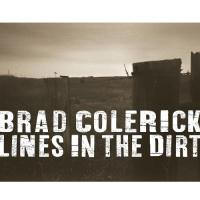 LINES IN THE DIRT
Written by my good friend, Brian Joseph. I did a bunch of shows in 2006 with Brian, and I sang with him on the song. Brian's a great writer and performer and, despite the fact that it was written well before we met, he wrote my life story here -- which pretty much revolves around where I can get a good fish taco.
I wrote most of this one on the way to a show in Los Angeles. Inspired by a young couple I know, we shot a video of this one partially at Entourage Studios in North Hollywood and the rest at the Station Inn in Nashville. It was great to get April Verch to play fiddle on this though in the video, Gabe Witcher (who played on my last CD) plays April.
I knew when I started writing this that it would be the title cut. I began writing it driving west across Colorado on Interstate 70 and finished the last verse in a Boston hotel room months later after a flight to London was canceled due to terrorist activity. I laid down a guide track and sent it to Nick Vincent who played drums at his home studio (possibly naked, we'll never know). He sent us back the drum tracks which really captured the feel perfectly, then we sweetened from there.
Steve Hanson and I were doing some shows in Winter Park, Colorado and we had a day free. I wanted to write; Steve wanted to fish. So we sat down for a few minutes and worked on an idea then Steve set out to catch our dinner. Although the trout won the battle that day, all was not lost. The inspiration for the song came when my wife and I visited a grave yard in central Nebraska and saw a tombstone of a three year girl with a sweet inscription from her father. It's always a thrill working with Herb Pedersen who added some nice banjo and harmony vocal and my good friend, James Gillard, from Australia was passing through LA and came up with the nice high string guitar part that kicks off the song.
My car broke down in El Paso years ago, and I saw a bumper sticker that said "Jesus Lives" as I was looking out over the border at Ciudad Juarez. I thought, "Jesus lives where? Here?" I feel a lot of compassion for immigrants who come and work incredibly hard under difficult conditions to support their families. The idea for this song stayed with me a long time until it finally surfaced as we were finishing "Cottonwood". Ed Tree helped me paint some pictures and refine the song to its current form. A very ironic thing happened the day I finished the song in Chicago. There's a statue across Michigan Avenue from the Intercontinental Hotel that I used to frequent. I had seen the statue from afar countless times but never knew whose likeness it was. I wandered over and discovered it was Benito Juarez, former president of Mexico and namesake of the city. Charlie White put his heart and soul into producing this and played almost all the parts.
Rob Laufer and I wrote this hoping to place it in a Hewlett-Packard ad campaign. Although it didn't work out for HP, we did license it to Etch-A-Sketch for a TV campaign which won a bunch of awards. Dave Ristrim added some really nice dobro, the whistling is me but I wish I could have gotten my father on it, who is an incredible whistler.
This was a fun song to write except for the ending which I struggled with for some time. Eric Lowen gave me a nice suggestion for the vocal arrangement at the end which made it all come together. He and his long time musical partner, Dan Navarro, sang background vocals.
My favorite summer delicacy growing up in Nebraska although the Tapatillo (hot sauce) was a west coast addition to the recipe. There's a nice double meaning when I sing "glorious pot of gold" which can also be "Gloria's pot of gold" - my mother.
Although I don't have an ex-wife, I have a lot of musician friends who are outnumbered by theirs and whose pain inspired this little ditty.
I got to work with the Man in Black a few years before he left us, on a commercial for Sears -- definitely a highlight of my musical career. It was a thrill to have Suzy Bogguss contribute to this. I've known Suzy a long time and sent her the track to see if she would add some harmony. She asked if I would mind giving her the 2nd verse and making it a duet -- I couldn't have been happier.
A somewhat autobiographical song about my move to California from Nebraska and what I came to find. Larry Klein's bass part really made this track come alive for me.
===