She wears a polka-dotted dress from a vintage store, she looks just as pretty as the two Indonesian-Dutch sisters I used to work with and Anna Fermin from Chicago has a VOICE. Even Jimmie Dale Gilmore, blessed himself with a remarkable vocal, complimented her and she's rightfully proud of that. I first heard her on the Wanda Jackson-tribute "Hard-Headed Woman" and was impressed right away, so I'm real happy with this new release "GO"!
The group's name Trigger Gospel originates from an old Western novel and they play a versatile mix of country / countryrock / rock&roll. In 1997 they released their first EP, two full albums and a live CD followed. Anna sings and does all the songwriting. Her three bandmates are Scott Ligon on guitars, piano, clavinet, B3 organ, Wurlitzer and mellotron, Paul Bivans (drums, percussion) and Michael Krayniak (bass). They all participate in the backgroundvocals. Scott, who also worked with Kelly Hogan and Nora O'Connor is the co-producer, together with Jay O'Rourke. I want to compliment this Mr. Ligon the keys-lion on his fabulous piano and organ playing, he has "talented" written all over him! Wow, the keys (B3 organ and Wurlitzer) on "That Kind Of Love", spellbinding right from the intro... And now we're talking intros anyway, listen to Anna's spoken first lines of "Further Along"!

The only cover "She" -written by Gram Parsons and Chris Ethridge during their Flying Burrito Bros. time- is actually done too often, but when a singer like Anna even tops the performance of diva Emmylou Harris, I have no problem at all with that! And there's no weak one among the eight originals. Fast, upbeat countryrock in "Romance", another great melody with catchy chorus for "I Know You" and nothing wrong in the lyrics department either. Interesting lines here & there: "The blackbirds turn to yellow and follow my lead" ("Where My Heart Begins") or "I walked a thinning mile, barely grown and made of stardust" ("Heaven In My New Shoes").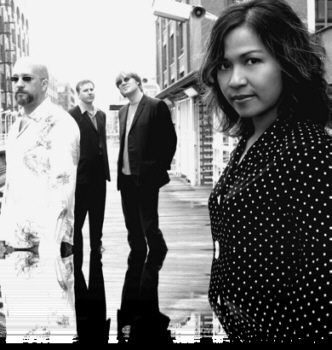 But still most important on this album is Anna's expressive voice! From intimate and caressing to a strong stormwind within a couple of minutes... In her impeccable phrasing she could just as easily be successful singing jazz, I do like that jazzy touch of hers. Some people are truly blessed with talent, aren't they?
---
Written by Johanna J. Bodde, March 2007.
=====